Ohio University Women's Athletics receives historic gift from two-time alumna
Published: December 1, 2022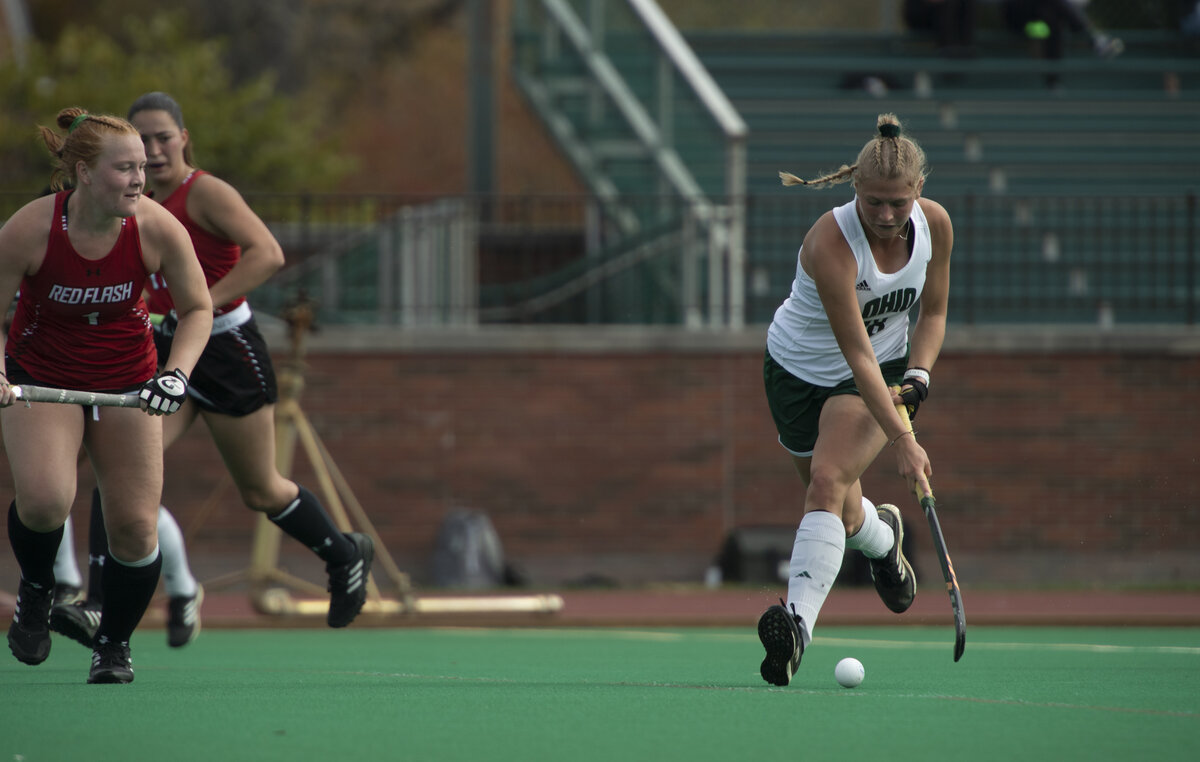 Fifty years ago, the passage of Title IX of the Education Amendments Act brought historic changes to education in the United States, enshrining equal opportunity for women within college athletic programs. Today, Ohio University announced another landmark in women's athletics: Alumna Jackie Reau, BSJ '92, MSA '12, has committed more than $2 million to enhance women's athletics at OHIO, the largest philanthropic gift to women's sports in OHIO history.
The newly established Jackie M. Reau, '92, '12, Fund to Recognize and Enhance Women's Athletics will support facility enhancements, equipment and supplies, travel, recruiting, and more, according to OHIO Director of Athletics Julie Cromer.
"We're so thankful to Jackie Reau for this historic gift to our women's teams, the significance of which cannot be overstated," Cromer said. "Her leadership and generosity will enhance the lives of countless Bobcats, leaving a legacy of support for the transformational experiences our female student-athletes enjoy at OHIO."
Ohio University President Hugh Sherman echoed Cromer's thoughts and thanked Reau for her continued support of her alma mater.
"Ohio University greatly appreciates Jackie for her years of support," President Sherman said. "She has demonstrated a great commitment to student success through her generosity over the decades."
Reau, the CEO and co-founder of Cincinnati-based Game Day Communications, said the leadership of Cromer and others, as well as the passion for OHIO that alumni share, motivated her to make a gift in support and celebration of women's athletics.
"I want every female athlete to get a great education like I did, while having the resources she needs to compete at the highest level," Reau said. "I want women's athletics to have everything they need and more to compete and win championships for Ohio University."
Reau's inspiration for her gift began with her high school basketball coach, who led the Toledo-area team to the state championship while, according to Reau, instilling the life lessons of "time management, being prepared and ready, and doing your job properly."
"For example, I love when I see that a golf team is going over to Ireland to play a couple tournaments, but then they're [also] going to go to museums and they're going to learn about another culture," Reau explained. "I love what sports can bring to somebody's well-roundedness — it's not just a golf game, but it's a lesson in life. I was very fortunate to have that with my high school basketball coach, so for me it's a way to pay it forward for everything she did for me."
At OHIO, Reau studied public relations while enjoying intramural sports, working for The Post, and immersing herself in Greek Life through her Sigma Kappa sorority — what she calls "the best four years of my life." After graduation, she began her career in health care before serving as director of marketing at the Cincinnati Art Museum. In 2002, Reau and her business partner and former ESPN anchor, Betsy Ross, founded Game Day Communications, which specializes in brand experience and engagement activation strategies to connect brands with their fans and consumers.
Reau, a current trustee of The Ohio University Foundation and previous member of the Ohio University Alumni Association Board of Directors, hopes her gift will ensure future OHIO students receive the same life-changing experience she had as a student.
"I always say education is everything. I am indebted to Ohio University for a great education," she said. "Making this gift is really just paying it forward for everything Ohio University has done for me."