Influential advancement director and alumnus Richard Bitters honored with dedication in Cutler Hall
Published: January 11, 2023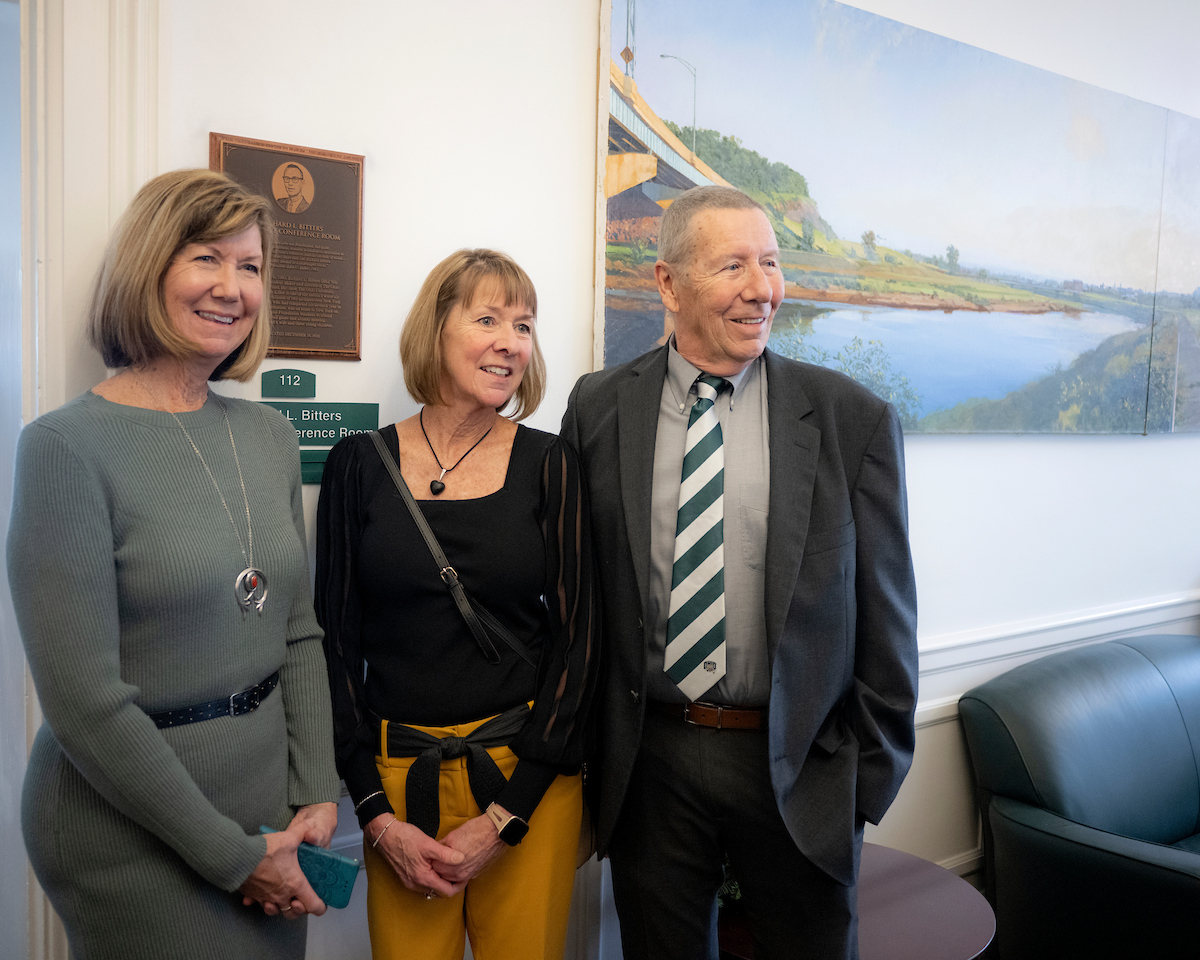 Richard L. Bitters was the start of a long line of Bobcats throughout his family – 24 to be exact – but his dedication to Ohio University went far beyond his education and family tree. He worked to advance the University through his role as director of the Ohio University Fund, a precursor to today's Advancement division, and was honored for his work and service with a dedication in Cutler Hall on Dec. 16.
Tragically, Bitters was killed on Dec. 16, 1960, when a passenger plane he was on collided with another plane over New York City, leaving behind his wife, Martha, and his three young children, Joel, Joyce, and Jenny. He was traveling to New York to help raise money for the school and to catch the Bobcat basketball game that was there that weekend. The accident is considered one of the worst aviation disasters in American history.
"It is an honor to be here today honoring Richard Bitters," Nico Karagosian, Vice President for University Advancement and President and CEO of the Ohio University Foundation, said during the dedication. "His story hit home with me - being in the same role and also having children and a wife that I leave when I travel on University Business. I'm so glad we could do something to honor Mr. Bitters and what he, as well as his family, gave. It's unimaginable what happened to him and the grief that came with it, but I'm hoping that this dedication allows the date of December 16 to be seen a little differently than it has in the past."
To honor his work, life, and legacy, a dedication was held with family and University leadership present to name Cutler Hall's first floor conference room the Richard L. Bitters Executive Conference Room.
"On behalf of myself and my sisters, Joyce and Jenny, as well as the rest of our families, we are extremely grateful for this honor to our dad," Joel Bitters, Richard's only son, said. "It is so special to us that this University has seen fit to honor our dad who worked so hard and was incredibly dedicated to this University, ultimately giving his life in pursuits to make sure this was a better place."
Inside the conference room itself, individuals can now view the actual resolution from the state of Ohio in honor of Richard Bitters, a piece that is from Ohio University's archives and still in its original frame from 1961. On the outside of the conference room resides a plaque highlighting his influence and the type of man he was with a quote from President John C. Baker who was President at the time of his death. The quote reads, "Dick's qualities were not flamboyant, but quiet. They were maturity, gentleness, honesty, friendliness, dedication to principles, fairness to all, and a reflective judicial attitude of mind…may there be many more men like Richard Bitters: they are sorely needed in a distraught world."
During his seven years working for the University, Bitters played a pivotal role in helping raise funds for numerous programs and facilities on campus, including Grover Center and Galbreath Chapel - which happens to be the place where several of his own family members would later get married – as well as met with some the nation's most notable leaders and influencers like John F. Kennedy, Robert Frost, and Eleanor Roosevelt.
According to his daughter Joyce Bitters Mullins, Bitters picked up Eleanor Roosevelt from the airport so she could meet with leaders at OHIO, including himself, and on the way to Athens experienced first-hand her diplomacy when they stopped at a restaurant so she could eat and converse with "normal, working-class people."
"In the few years he lived, he had a lot of important excursions," Joyce Bitters Mullins said. "Not only did he meet with some of the most influential people of that time and still to this day, but he got to experience them in a light few may have the opportunity to have. He even delivered sandwiches and beer to John F. Kennedy and his brother while they were staying in Athens to speak on campus."
In addition to his role as director, Bitters also graduated from OHIO with a journalism degree after only two and a half years. During his time as a student, he served as editor of The Post. His son Joel even joked about how he might have been the only birth announcement to ever hit The Post's front page as he was born on the first day Bitters' senior year.
"We have grown up in the University community and Joyce and I remember being dropped off at school by my father and climbing the stairs of Jeff Hill to go to Chub Hall, which was the library at the time, and going to Cutler Hall where he worked – campus kind of felt like our playground growing up," Joel Bitters said.
Prior to attending Ohio University, he was already an active journalist and had joined the Army and served as a clerk until he was released to return to his hometown to act as the editor of the newspaper.
"At that time, the war was happening so newspapers were extremely important and the military had decided he was more important in the civilian world working as an editor than in the Army, so he came back after nearly 18 months in the Army and then decided to get an education and degree in journalism following that," Joyce Bitters Mullins explained.
After Bitters' passing, the family would never be the same, however, they persevered through the grief and created a life their husband and father would be proud of. His wife decided to go back to school and received degrees in education and library science from Ohio University. She worked as a librarian for 20 years after. His three kids also followed in their father's footsteps as proud Bobcats.
"We have a long history here and just want to say thank you to the University for this great honor," Joel Bitters added. "I think it's fitting that the future leaders of Ohio University will be meeting in this conference room and I'm hoping that when they come into this room, they can take the time to read the plaque and help make Ohio University greater than it already is, building on the groundwork my father started laying."