Morgan Taylor named Regional Recruitment Manager for OHIO Chillicothe
Published: January 3, 2023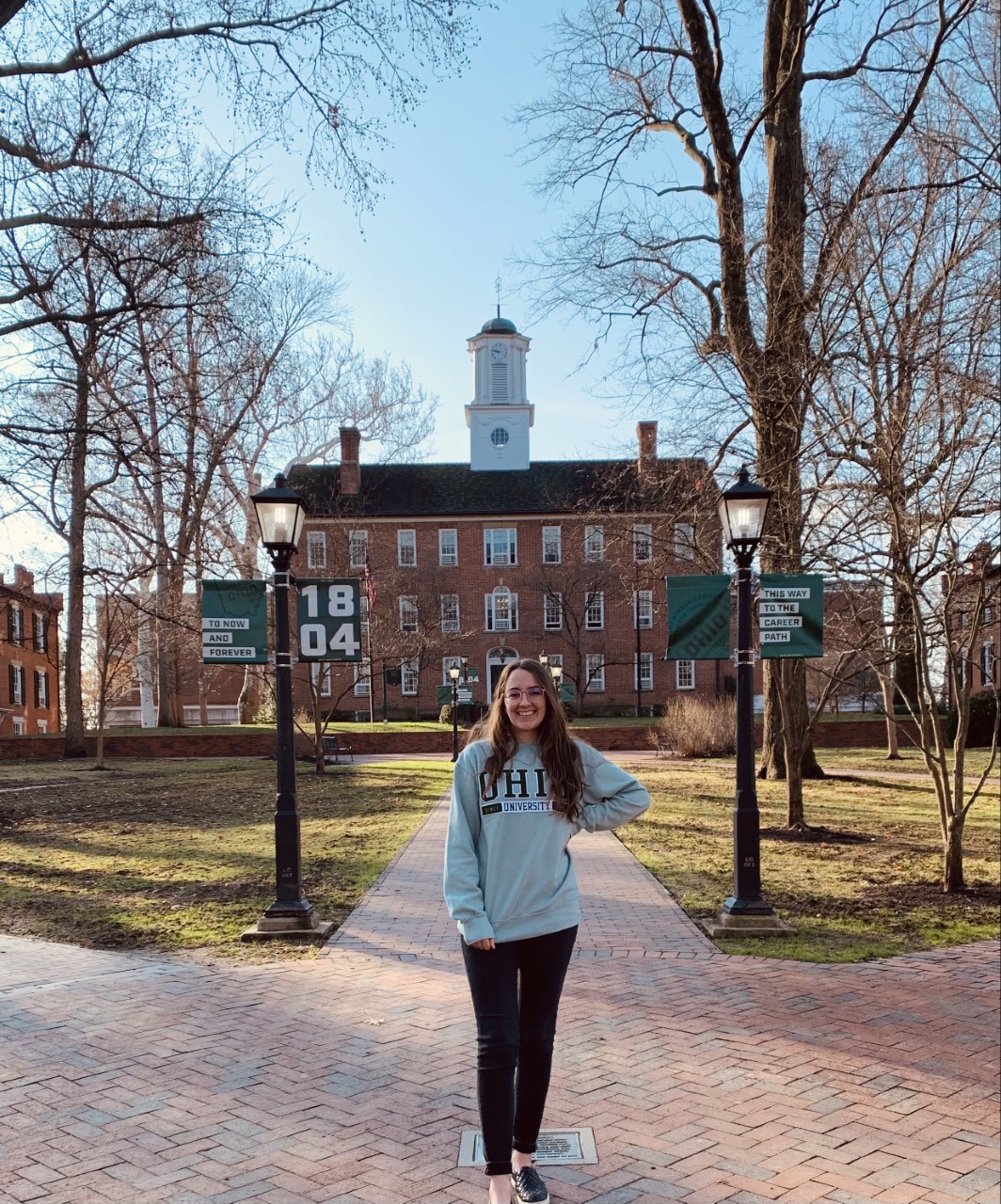 Beginning her college career at OHIO Lancaster, taking several summer classes at OHIO Chillicothe, and graduating from Ohio University's Patton College of Education in Athens has given Morgan Taylor a unique experience with three Ohio University campuses. Now she will put that first-hand experience to work as the regional recruitment manager for Ohio University Chillicothe.
Taylor chose to launch her college career at OHIO Lancaster because it was an affordable option and it allowed her to maintain her work schedule while attending college. She relocated to the Athens campus during her junior year and finished her degree on the Athens campus. After graduating in 2019, Taylor worked for two years at the middle school in her hometown of Ashville, Ohio before deciding to make the move to higher education. Before assuming the role of regional recruitment manager, she served as an admissions advisor on the Athens campus.
"I am really excited to be able to help students access the University and opportunities that are in their backyard," Taylor said. "I don't think students realize all of the opportunities Chillicothe has to offer." 
Taylor visits area high schools and college fairs to educate students about Ohio University, helping prospective students determine the path that's best for them, whether that be at OHIO Chillicothe or another regional campus, the residential Athens campus, or OHIO Online. 
"I'm here to help students figure out where they fit best, obviously hoping that's Ohio University, but also helping them understand the other great options that are available to them, too," Taylor said.
Her advice to students finishing high school and preparing for what's next? Be open to change and allow time and space for the big decisions that await you.
"I wish I had known that I didn't have to have my entire life planned out as an 18-year-old graduating senior," Taylor said. "There is an immense amount of pressure put on students to figure out their next step after graduation so I'm intentional about reassuring students about their options. I tell so many students that it's OK to not have a major picked or a career path set in stone. A lot of that impactful decision-making comes with time and experience, so take your time, spend some time in the field, do some soul-searching before making that decision, and allow yourself to be open to your path changing, because it will!"
Taylor said her own experience prepared her to support high school students who are struggling to find the path that fits their passions.
"My path after high school really wasn't set in stone," she said. "I chose to go to college late in my senior year and had no idea what major or career I wanted to pursue. That made me really nervous."
Taylor enjoyed her OHIO experience. From history classes to involvement in the National Society of Leadership and Success, teaching placements to studying abroad in Belize her junior year – she had an opportunity to learn about herself and the world around her along the way.
"I was lucky enough to join a group of outstanding education majors and professors on a trip to Belize," Taylor said. "We spent a week teaching at a local school and immersing ourselves in the culture. That opportunity helped put the world in a new perspective for me when I needed it the most. I reflect on that experience and those special relationships a lot. That opportunity really helped boost my self-confidence and empowered the decisions and experiences that I would encounter moving forward."
"If I had to do it all over again, I would pursue both a minor and certificates and I continue to encourage students to do so if they are able," said Taylor.
To schedule a meeting with Taylor or tour the Ohio University Chillicothe campus, visit www.ohio.edu/chillicothe/visit or call 740.774.7250.