Patton College's health and physical education students give standout presentation at state convention
Published: January 13, 2023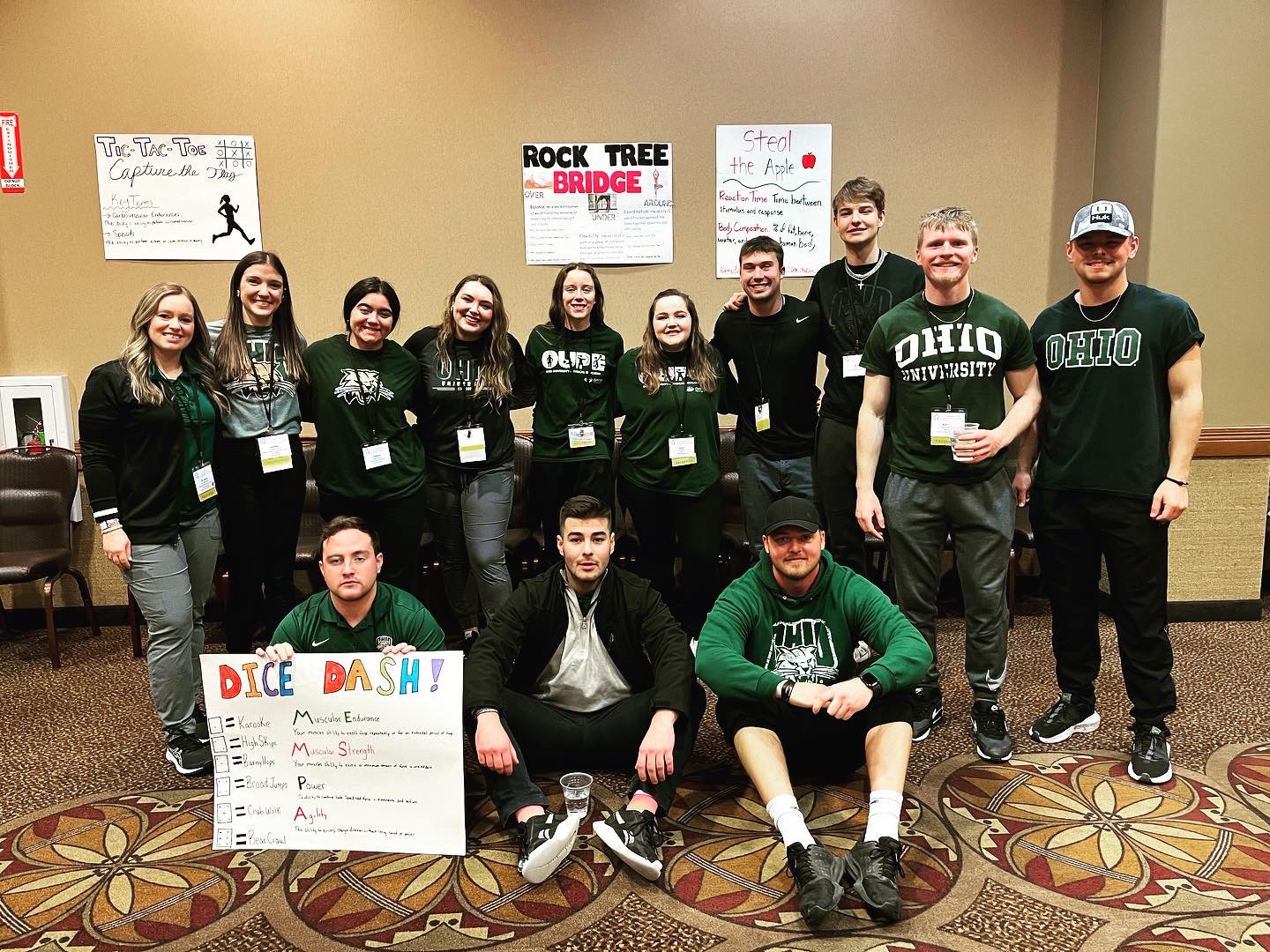 Twelve students from the Patton College of Education's Recreation, Sport Pedagogy, and Consumer Sciences department PETE3700 Secondary Methods course gave a very well received presentation at the 2022 Ohio Association for Health, Physical Education, Recreation and Dance (OAPHARD) state convention on Dec. 2, 2022, at the Kalahari Resort & Convention Center in Sandusky, Ohio.
"Our presentation, Fitness Fun, focused on creating innovative ways to teach health and skill-related fitness concepts in a way that is fun for students. Together, we created four different sample activities that can be utilized at any age level to help students draw connections between physical activity and health," said health and physical education major Isabella Hauler.
"Specifically, my group combined two popular games into one to work on cardiovascular endurance and speed, creating tic-tac-toe capture the flag. Participants had the opportunity to engage in the activity," continued Hauler.
Alexander Elementary School Physical Education Teacher Natalie Lucas attended the session and noted the students' level of professionalism.
"Typically when students get in front of a large group you can tell that they are nervous, however, the Ohio University presentation was done with confidence and was delivered in the same manner as other presenters that have been teaching for years.  You would never know that they were students if you hadn't been told," said Lucas.
According to Dr. Annie Olcott, the PETE3700 Secondary Methods instructor, students are required to work through multiple assignments prior to the event in order to prepare.
"During this course, health and physical education majors learn about health-related fitness and skills-related fitness components through a nationwide physical activity assessment called Fitnessgram testing. Students then apply learned knowledge to the development of fun fitness-based movement activities that teach students about each of these components. Students then have the opportunity to present these lesson ideas to peers, followed by feedback and any revisions to learning activities. Then they present these lesson ideas to students in fitness-based Physical Activity & Wellness (PAW) courses at Ohio University, followed by feedback. This process allows students to work through any instructional kinks since this is an early experience in practical application for them," said Olcott.
The OAPHARD state convention and session presentation provided students applicable experiences as well as encouraged them to engage with other professionals to support their future careers. 
"At OAHPARD, we were able to attend many different sessions regarding different aspects of physical education. It was fascinating to be around so many that are just as passionate about PE as I am," said health and physical education major Kam Siewny.
"However, I learned how important it is to make connections with colleagues in the physical education field. It is constantly growing, and we are learning more and more every day. There will always be new techniques, strategies, and games to learn. Having as many connections as possible is how we are going to stay updated," said Siewny. 
Reflecting on her participation at the convention, Hauler found the experience to be affirming.   
"My biggest takeaway from the experience is to have confidence in myself as an educator. It was the first time any of us had presented to a group of that magnitude. However, the initial nerves subsided once I saw the participants truly enjoying each activity, and I felt a sense of pride for my peers as they each led a part of the session. It was extremely rewarding to see others enjoy our activities and complimenting our work. For me, it solidified my belief that I am truly in the best career path," said Hauler. 
Because it is such a valued experience for health and physical education students, participation in the OAPHARD state convention is planned to continue being integrated into the course curriculum for PETE3700 Secondary Methods for the 2023 Fall semester. Anyone interested in learning more about this educational experience can contact Olcott at aolcott@ohio.edu.