Celebrating Creativity Exhibition Opens at OHIO Lancaster Art Gallery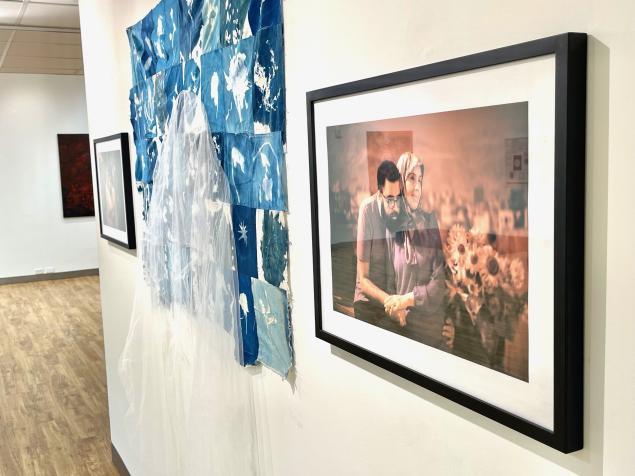 Ohio University Lancaster is featuring a new exhibition, "Celebrating Creativity," which will be featured at the Raymond S. Wilkes Art Gallery through Monday, May 8, 2023.
This special collaboration highlights OHIO students, alumni, faculty, and staff art from private collections. Many of the pieces displayed will be available for purchase when the exhibit concludes.
"Celebrating Creativity unites the creative energies of artists from multiple campuses and disciplines," said Trisha Clifford-Sprouse, Gallery Coordinator. "Art tells the story of the individual as well as the community and provides us with a universal language."
Over 40 select pieces from 11 artists will offer unique perspectives through different media. The exhibition showcases photography, collage, digital, paintings, sculpture and fabric.
"Having the opportunity to display some of my artwork is a privilege. It gives me a chance to share my vision and expand my knowledge by observing others," said Lauren Denny, Fairfield Union High School senior and an incoming fall 2023 Ohio University freshman. "My piece titled "An Observant Eye" is a self-portrait that I completed last semester in my Introduction to Drawing college credit plus class here at Ohio Lancaster.  It shows my eye as a spiral because I try to look at things from different perspectives for inspiration."
"My work continues to explore the place of southeast Ohio, an ongoing project I cannot seem to escape," Daniel King, Marketing Communications Manager at the OHIO College of Fine Arts with University Communications and Marketing, said. "The work in this show acts as a bridge reaching from Lancaster to Athens, along the overlooked spaces alongside Route 33."
Exhibiting artists include Verne Ayers, Emily Bartholic, Emma Bigalke, Lauren Denny, Tricia Denny, Cassidy Brauner Jarrahi, Daniel King, Yang Miller, Kripa Radhakrishnan, Gabriella Roth and Trisha Clifford-Sprouse.
An art gallery reception will be held on Friday, March 24 at 6 p.m. directly after the Celebrate Women conference in Brasee Hall. The Celebrating Creativity exhibition will be on view in the Ohio University Lancaster's Raymond S. Wilkes art gallery beginning this week. The Art Gallery is open Monday through Friday from 8 am to 5 pm. The exhibit is free and open to the public.
Visit the Raymond S. Wilkes webpage for upcoming events and exhibits. For more information, contact Trisha Clifford-Sprouse at clifforr@ohio.edu.