Ohio University Heritage College of Osteopathic Medicine hosts in-person Match Day celebration in Dublin
Published: March 15, 2023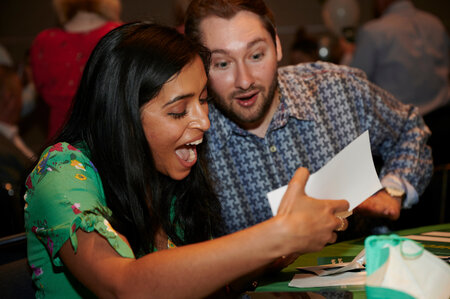 MEDIA ADVISORY
WHO: Ohio University Heritage College of Osteopathic Medicine, Ohio's largest producer of primary care physicians
WHAT: Class of 2023 Match Day Celebration
WHERE: The Exchange at Bridge Park, 6520 Riverside Drive, Dublin, Ohio
WHEN: Friday, March 17
11 a.m.                 Students arrive
11:30 a.m.           Program begins
11:45 a.m.           Students collect envelopes (but no peeking)
11:59 a.m.           Rufus helps with countdown
Noon                   Students open envelopes
WHY: With more than 450 students and family members in attendance, on Friday, medical students from the Class of 2023 will learn where they will complete their residency training over the next several years. Match Day is anxiously awaited each year by fourth-year medical students because until noon EDT on March 17, they have no idea where they will be assigned. It is an exciting and nerve-wracking experience.
This year, for the first time, the Heritage College's graduating students will gather in person together as one class to celebrate Match Day with the friends and families who have supported them on this journey.
Among the attendees are:
A couple who are hoping they will match at the same location.

A student raised by Egyptian Muslim immigrant parents who instilled in her the value of service. During medical school, she led a community health project focused on educating central Ohio refugees and immigrants about mental wellbeing. She hopes to match to psychiatry somewhere in Ohio.

The child of physicians who wanted to help people like his parents and found his calling working in the ICU. He hopes to stay in the Midwest.
These are just a few of the stories of the students from the college's three campuses who will be attending the Heritage College's Match Day celebration in the Columbus area this year.
CONTACT INFO: Lisa Forster, Heritage College of Osteopathic Medicine chief communication officer, at forsterl@ohio.edu