Athens High School students visit the Department of Engineering Technology and Management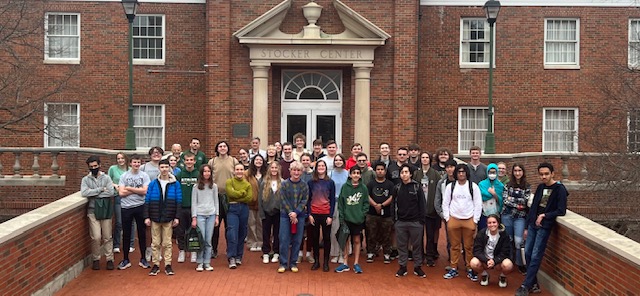 On Thursday, April 6, 40 students from Athens High School visited the Department of Engineering Technology and Management (ETM) to learn more about robots and automation, virtual reality and other ETM labs.  
"Our senior, who was probably leaning ETM after Discovery Day in the fall, was fully on board with ETM after his day yesterday and will be contacting his advisor to change his major from Engineering Undecided to ETM," a parent of a student attendee said. 
Student participants visited the ETM department for three hours and rotated through different demonstrations led by faculty and students. The day was organized by Wayne Hanzel, industrial technology teacher at Athens High School, and Paul Deering, associate professor of Engineering Technology and Management. Together they collaborated to plan a robust day of hands-on events for high school students to explore topics in robotics and virtual reality. 
"In the past, the ETM department was the best kept secret. This [event] is something we would like to have every year. Many local students just didn't know our program existed," Deering said. 
The day was topped off by the students visiting one of the campus dining halls for an all-you-can-eat lunch, complete with ice cream and cookies for dessert.