Doctoral student Sunder Singhani selected for prestigious National Board of Certified Counselors Minority Fellowship Program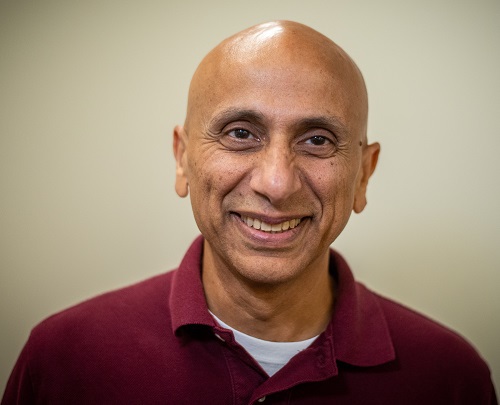 The Patton College of Education at Ohio University is proud to announce Sunder Singhani, a doctoral student in counselor education, has been selected for the National Board of Certified Counselors (NBCC) Minority Fellowship Program for Mental Health Counselors. 
"It is an absolute honor to be selected for the NBCC Minority Fellowship Program. I am proud to be part of the select few chosen to have this privilege.  I look forward to working with my peers to uplift minority communities," said Singhani.
According to the NBCC, the board administers up to 20 doctoral-level counseling fellowships of $20,000, plus travel expenses to participate in program-related trainings.
The purpose of the Minority Fellowship Program is to meet the behavioral health needs of all Americans, regardless of their culture or language, to reduce health disparities and enhance the well-being of communities. The program considers minorities to include individuals from racial, ethnic, cultural, religious, gender, sexual orientation, rural, or military backgrounds. Through strategic promotion and fellowship opportunities for doctoral counseling students, the program strengthens the infrastructure needed to encourage diverse individuals to participate in counseling as well as increase the number of professional counselors. 
"This fellowship will empower me to pursue my goals of providing counseling services to minorities, educating counselors-in-training to improve their multicultural counseling competence, and conducting significant research on the effect of mindfulness-based practices on multicultural counseling competence," said Singhani.
Although he was interested in psychology from an early age, Singhani studied software engineering and pursued that career path for about 30 years, but personal challenging circumstances provide him an opportunity to reevaluate his future going forward.
"During that time, personal counseling arose from some upheaval in my personal life, and that helped me know it was time for a change. I went through individual and couples counseling then, and it reminded me of my love for psychology," said Singhani. "After earning a master's in clinical psychology at Harvard and a master's in mental health counseling at Bridgewater State University, my inner passion for teaching, research, and counseling became fully energized.  My confidence in pursuing it was reinforced by my teachers' encouragement to pursue my Ph.D. in counselor education."
That encouragement was a major factor in Singhani's decision to pursue is Ph.D. at OHIO and discover everything the University offers.
"One of my favorite professors, Dr. Christy Lyons-Graham from Bridgewater State University, highly recommended the OHIO program since she was an alumna of OHIO," Singhani said. "I did my due diligence, investigating the program and talking at length with Dr. Yegan Pillay.  I learned so much about the offering, the diverse faculty, and the program's depth. Also, I am a nature lover and spend a lot of time outdoors, so the beautiful natural environment was another factor.  I didn't apply to any other university."
According to Pillay, who serves as his academic advisor, "It came as no surprise when Sunder was selected as a recipient of this nationally prestigious award.  In the relatively short period of time that I have become familiar with Sunder and his work, I have realized that he is destined to be a leader and a significant change agent as a scholar, educator and a clinical mental health professional serving the wide range of diverse individuals."
Singhani believes that the biggest issues facing minorities concerning mental health are poor access to mental health due to lack of resources and cultural barriers, the shortage of multiculturally competent mental health counselors, trauma due to oppression, discrimination, and inequity, and the stigma based on cultural beliefs about mental health. 
"I am focused on utilizing this fellowship experience to improve counseling services for minorities, increase the multicultural counseling competence of my students, conduct research related to multicultural counseling, and advocate for better trauma-informed care for minorities.  That higher level of engagement will inevitably assist with what comes next.  I'm excited to find out what that will be," said Singhani.
Asked what advice he would recommend for students interested in pursuing a career in mental health counseling, Singhani encourages introspection and a commitment to lifelong learning.
"Mental health counseling can be a rewarding yet challenging field. However, you have to start with yourself. It's essential to build the strength and resilience to support others who are suffering. Find the practices that support and nurture you for your self-care. And build a solid social support system to help you during difficult times," said Singhani.
"Get curious and never stop learning," he continued. "Learning can happen from life, teachers, courses, research, and your social circle. In counseling, we learn so much from our clients, and it's important to stay curious in your interactions with others."
The Patton College of Education is incredibly proud of Singhani's tremendous achievements and his dedication to improving mental health outcomes for diverse communities. No doubt Singhani will make the most of this incredible opportunity and continue to be a shining example of what future mental health counselors can achieve.