Emmy Award-winning Producer David Collins says his time at Ohio University and WOUB gave him the confidence to succeed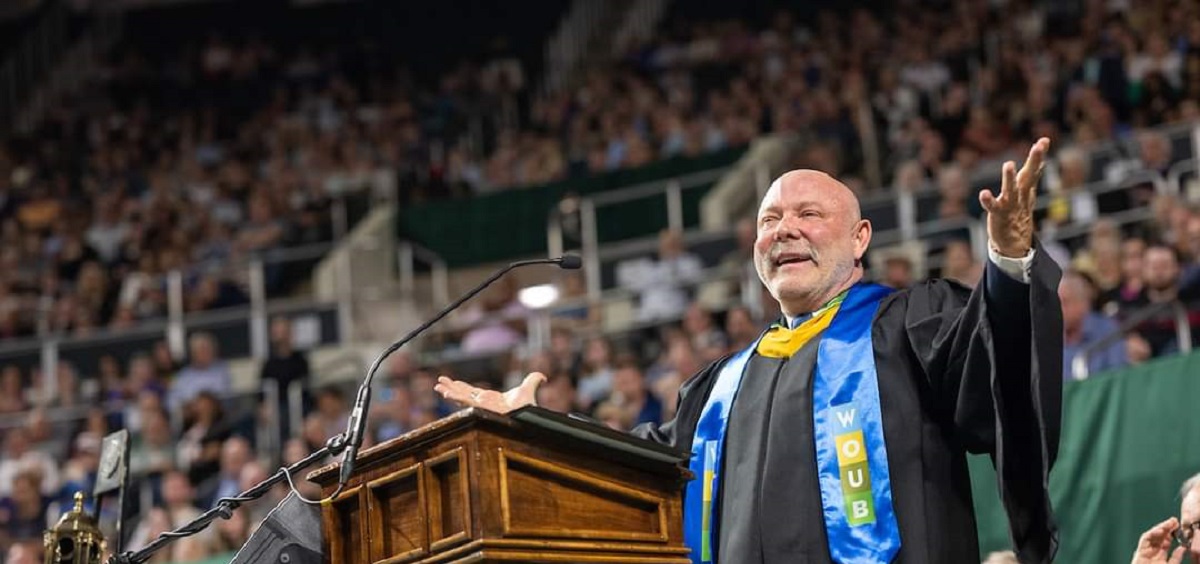 When David Collins '89 was asked if he would like a WOUB stole to wear when he spoke at Ohio University's undergraduate commencement on May 6, he couldn't grab it and put it on fast enough. Collins stopped by WOUB to visit his old stomping grounds and talk with current students on the Thursday before graduation. He draped the stole over his neck and wore it while touring the facility.
"I would love to wear this stole," said Collins. "I would be honored. I will definitely wear it on Saturday."
And that he did. While standing on stage in front of hundreds of students from the College of Business, the College of Fine Arts, the Russ College of Engineering and Technology, the Scripps College of Communication and University College, along with their family and friends, Collins wore the blue WOUB stole around his neck showcasing the value of the experiential learning he received working at the station as a student. Twenty graduating seniors who worked at WOUB were also wearing the WOUB stoles.
"I truly believe that confidence is what breeds success, and for me, that started here at WOUB," said Collins while visiting WOUB. "My sense of confidence and feeling like I could do it started at WOUB. WOUB allows you to find your passion inside."
Collins is an eight-time Emmy award-winning producer of hundreds of hours of groundbreaking content over the last 25 years. Collins and Michael Williams co-founded Scout Productions in 1994, producing a wide variety of film, documentary, and TV projects for inclusive, omniculture content. He earned a bachelor's degree in television production from the Scripps College of Communication, is the creator of the pop culture phenomenon "Queer Eye" and co-creator and executive producer of the critically acclaimed voguing competition show "Legendary." Collins also continues to give voice to marginalized members of the LGBTQ+ community through imaginative portrayals of inner strength and beauty. He has executive produced multiple series, including the visionary fashion arc competition series "The Hype" for HBO Max, "The Gentle Art of Swedish Death Cleaning with Amy Poehler" for Peacock, a follow documentary series on the fantastical community of "Merpeople" for Netflix, and an investigative documentary series on megachurch Hillsong with Vanity Fair for FX.
"This is where it all started," said Collins. "Ohio University and WOUB feel like home to me. It's family."