Ohio University Southern honors 117 graduates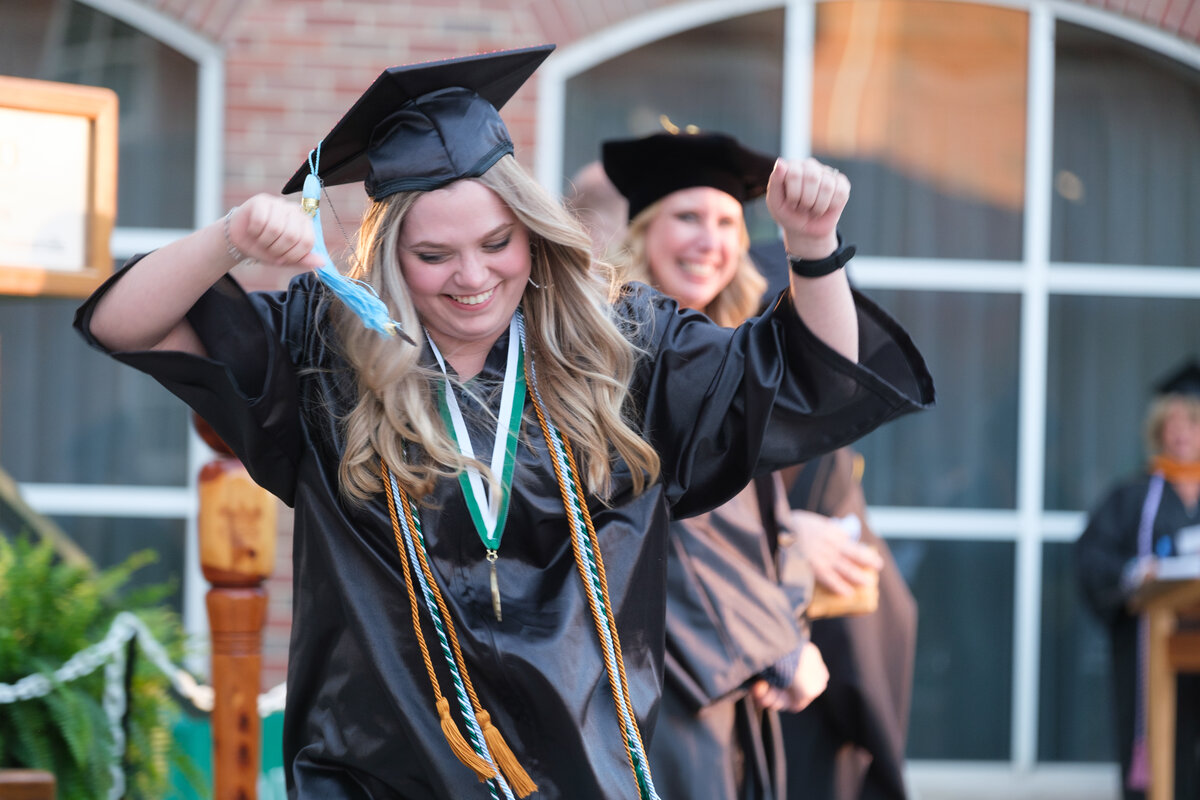 Ohio University Southern honored 117 graduates from the tri-state area at a Graduation Recognition Ceremony on Thursday, May 4.
The Spirit of Southern Award, which recognizes a graduating student demonstrating not only academic success, but also distinction in involvement and contributions to the campus and community, was given to Shannon Frazee, who earned both an Associate in Science and Bachelor of Science in Middle Childhood Education.
In addition, 18 students were named Outstanding Graduates and were honored with a luncheon in the afternoon. Outstanding Graduates are nominated by faculty members and must demonstrate academic accomplishments and participation in university activities and community service. This year's Outstanding Graduates include:
Luke Johnson — Associate in Arts, Social Science Emphases
Carly Young – Associate in Applied Business, Accounting Technology
Dale Callicoat – Associate in Applied Business, Business Management Technology
Camryn Uding – Associate in Applied Science, Environmental Engineering Technology
Beth Douglas – Associate in Applied Science, Medical Assisting Technology
Melissa Huff – Associate in Applied Science, Nursing
Shannon Frazee – Associate in Science
Adam Holsinger – Bachelor of Arts, English Creative Writing
Ashley Stamper – Bachelor of Criminal Justice
Kelsey Olderham – Bachelor of Science in Applied Management
Sarah Wheeler – Bachelor of Science in Education, Early Childhood
Kaitlyn Saunders – Bachelor of Science in Education, Middle Childhood Language Arts and Social Studies
Camryn Zornes – Bachelor of Health, Health Services Administration
Allison Steele – Bachelor of Science in Nursing
Mackenzie Ridenour – Bachelor of Science in Psychology
Matthew Lewis – Bachelor of Specialized Studies, Mathematics and English
Madeline Whaley – Bachelor of Social Work
April Gardner – Bachelor of Technical and Applied Studies
Ohio University Southern alumnus Josh Blanton received the Dr. Dan Evans Alumni Leadership Award, which is presented to Ohio University Southern graduates who are making a difference as leaders in the community.
To watch the video or view photos of the ceremony and graduate portraits, visit the Graduation Recognition Ceremony page.
All graduates are listed below alphabetically by state and city of residence:
 
Graduates from the state of Ohio:

CHESAPEAKE: Raegan Bevans, Brody Blackwell, Terri Chandler, Bre Edwards, Angela Grant, Cathy Morris
COAL GROVE: Alex Bare, Jordan Case, Camryn Uding
CROWN CITY: Carson Bailey, Emma Lester
FRANKLIN FURNACE: Hallie Williams
GALLIPOLIS: Keirsten Howell
IRONTON: Krista Abrams, Andrew Barker, Erica Blankenship, Justin Castle, Edward Delawder, Beth Douglas, Clarah Floyd, Shannon Frazee, Haley Jones, Derek McCallister, Kelsey Olderham, Logan Price, Jenna Rawlins, Austin Riddle, Mariah Rotter, Kaitlyn Saunders, Chasity Smith, Sarah Snowden, Hailey Sturgill, Dawn Utsinger, Madeline Whaley, Lexi Wise, Camryn Zornes
KITTS HILL: Connor Archer, Alison Franz, Lindsey Harper, Savannah Krum, Isaac Massie, James Norris Jr., Cassidy Whitley, Natalie Wright
LUCASVILLE: Nathaniel Crabtree, Adam Holsinger
PEDRO: Sarah Day
PORTSMOUTH: Keith Charles, Melissa Huff, Sarah Widdowson
PROCTORVILLE: Gary Lange, Carolina Llanos, Kassandra Metzger, Trey Nester, Alli Penix, Chris Quinn, Allison Steele, Ericca Wall, Jocelyn Weber, Elizabeth Wheeler
SCOTTOWN: Christy Burd, Dale Callicoat, Jenna Dial 
SOUTH POINT: Hannah Hall, Haden Henson, MacKennia Hughes, Matthew Lewis, Amber Michaels, Leslie Null, Mackenzie Ridenour, Cody Russell, Emily Schwamberger, Ashley Stamper
SOUTH WEBSTER: Andrea Charles
WHEELERSBURG: Erika Blair, Christina Jenkins, Brooke Kinner, Kimberly Mullins, Paula Risner, Leann Spradlin, Skylar Windsor, Carly Young
WILLOW WOOD: Sarah Wheeler
Graduates from the state of Kentucky:
ARGILLITE: Rachel Brown
ASHLAND: Connor Barber, Alex Claar, Amanda Clay, Elijah Cordle, James Frye, Ariel Hampton, Savannah Justice, Connor McKenzie, Jordan Meeks, Jada Miller, Savannah Miller, Oreatha Murray, Tiffany Stevens, Rayce Williams
FLATWOODS: Brenna Daniel, Brayden Kouns, Ashley Meadows
GREENUP: Parker Ball, Gabi Griffith, Zachery Haynes, Rodney Vance II
LOUISA: Hunter Crum, Like Johnson, Madison Preston
RACELAND: Whitney Lute
RAYWICK: Jessica Newberry
RUSSELL: Hayley Ross
SOUTH SHORE: Bayleigh Wagner
WURTLAND: Austin Bressler
Graduates from the state of West Virginia:
BRANCHLAND: Emily Beckett, Karrie Bills
HUNTINGTON: April Gardner, Kristin Robinson