Ohio University's hockey coach Lionel Mauron named 2023 Coach of the Year, Luc Reeve named both Rookie and Player of the Year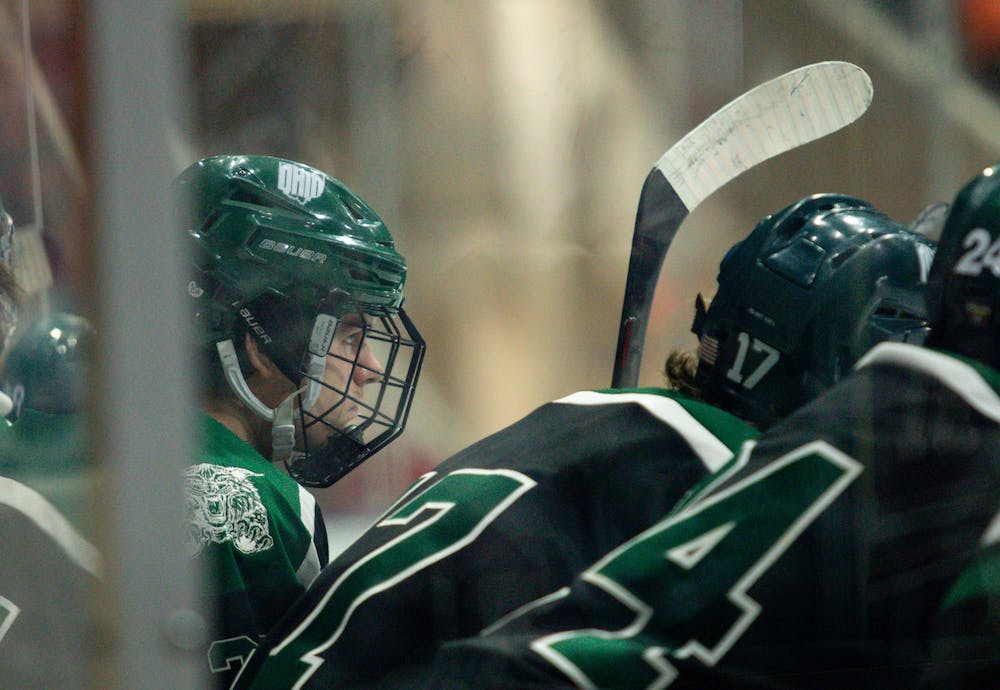 Ashley Beach; The Post
Lionel Mauron, head coach of Ohio University's hockey team, has been honored as the 2023 Coach of the Year by the American Collegiate Hockey Association (ACHA). This well-deserved recognition is bestowed upon the top coach in the Men's Division I league, as voted by ACHA Men's Division I head coaches. Mauron is the third coach from OHIO to win this award, joining Dan Morris and Craig McCarthy, who won in 2004 and 1998 respectively.
Originally from Lausanne, Switzerland, Mauron just concluded his third season with Ohio University, and his second season as head coach, where he has made a significant impact on the team's success. His journey in the sport started as a player, having earned a professional playing career with the Jacksonville Icemen, Knoxville Ice Bears, and Lausanne Hockey Club. Mauron's experience on the ice has undoubtedly shaped his coaching expertise, allowing him to provide valuable insights to his players.
Under Mauron's guidance, the Bobcats had an exceptional season, finishing with a 30-6-2 record. Their outstanding performance secured them a spot in the ACHA Men's Division I National Tournament for the 31st time in the team's history, maintaining their streak of 30 consecutive appearances. The Bobcats won their first two games at the tournament, reaching the semi-finals for the second consecutive season.
The Bobcats also claimed the Central States Collegiate Hockey League (CSCHL) Regular Season Championship, an achievement that marked their 12th title in school history. This record ties them with Iowa State University for the most championships in CSCHL history. For his efforts, Mauron also received the CSCHL Coach of the Year award.
In addition to Mauron's award, the Ohio University team had another reason to celebrate. Luc Reeve, a first-year player from Kingston, Ontario, was named the 2022-2023 ACHA Men's Division 1 Rookie of the Year and Player of the Year. Reeve becomes the first Bobcat player to win Rookie of the Year, and the fourth Bobcat player to win Player of the Year. He is also only the fourth player in the division to win both titles in a career. Reeve's outstanding performance throughout the season contributed to the team's success, earning him these prestigious honors.
He emerged as the team's leading scorer, accumulating 75 points with 34 goals and 41 assists. Reeve's impact extended beyond the regular season, making valuable contributions in the postseason, including two goals and an assist at the national tournament. Reeve also went on to represent Canada at the 2023 World Cup of Hockey.
Mauron and Reeve's achievements shine a spotlight on the exceptional success of Bobcat Hockey. Mauron's coaching expertise and leadership have propelled the team to new heights, while Reeve's exceptional talent and hard work have established him as a standout player in the league. Their recognition from the ACHA further upholds the remarkable contributions they have made to OHIO's hockey program this past season.