Recognizing academic excellence: The Patton College celebrates student, faculty and staff achievements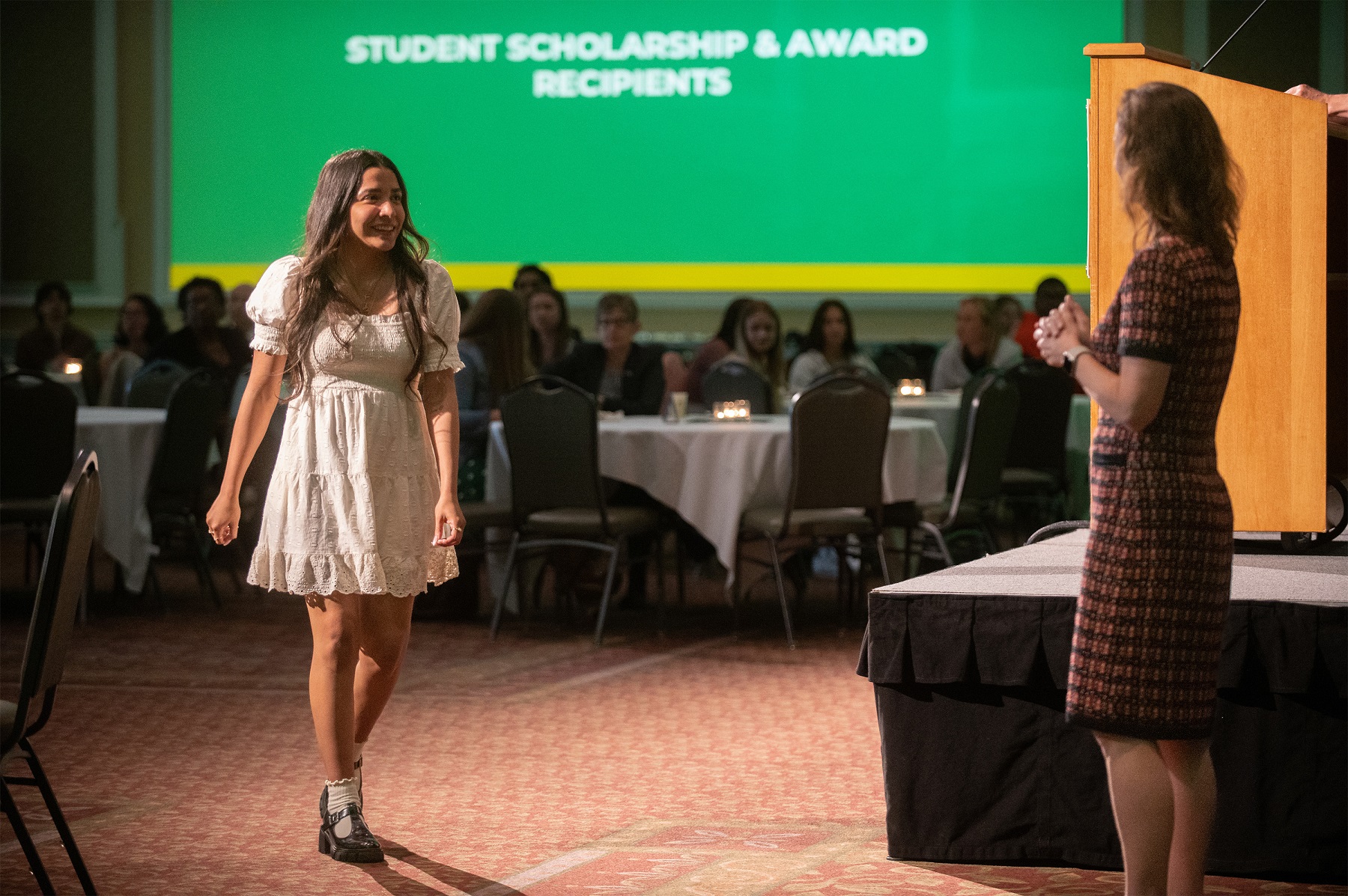 Students, faculty, and staff gathered in the Baker University Center Ballroom for The Patton College of Education's Awards and Recognition event on April 25, 2023. The evening was dedicated to the students who had demonstrated exceptional leadership, academic excellence, and involvement with the college community, as well as honoring the contributions of faculty and staff.
"We are proud of our students' outstanding academic achievements and their unwavering commitment to making a lasting impact in their respective fields and are deeply appreciative of our many donors who have given so generously in support of our students," said Interim Dean Sara Helfrich.
Helfrich began the event by thanking alumni, parents, and friends for their support and also recognizing academic leadership, faculty, and staff.
Emceeing the ceremony were Success Advisors from The Patton College, Anita Simpson and Kelly Newell, who announced the names of scholarship award recipients. A total of $664,000 from 97 endowed scholarships was awarded to over 300 recipients.
The evening continued with students receiving recognition for their leadership, academic achievement, and involvement with the college, including members of The Patton College Student Ambassadors, The Patton College Literacy Ambassadors, Brothers RISE participants, altruism awards, and various outstanding recognition awards spanning the college's departments, programs, and areas of study. Education students from regional campuses were also included in the list of recipients.
Upon learning about receiving the J. Melvin Witmer Creative Altruism Award, Sunder Singhani, a counselor education doctoral student, discovered the interesting history behind it.
"It's a huge honor because this is not an ordinary award. I have since learned that Dr. Melvin Witmer, after whom the award is named, is a fantastic educator, author, advocate, and researcher," said Singhani. "In the past, my esteemed faculty members, Dr. Yegan Pillay, and Dr. Christine Bhat, have been recipients of the same award, which makes it even more special."
Members of this year's awards committee who facilitated the nominations and selection process were Lisa Dael, Dr. Matt Felton-Koestler, Debra Fanning, Giles Lee, Thom Stevenson, and Dr. Yegan Pillay.
The evening also recognized the loss of a much-loved member of the Patton College community, Maggie Castelli.
Castelli was a senior in the Early Childhood Education program and a literacy ambassador in the Stevens Literacy Center, where she helped plan activities for the family literacy programming, package books and educational materials to send to Puerto Rico after the 2020 earthquake, escort the Little Patton Pals to the Patton Pride basketball game, create online read-alouds and educational activities during the pandemic, and participated in the annual Scholastic Bookfair.
For her indelible passion for children, a dedicated space has been created in her memory in the Stevens Literacy Center called "Maggie's Muse." The space will feature books from Maggie's personal collection so children and teacher candidates can read them.
Helfrich presented the degree of Bachelor of Science in Education, with honors, to Castelli's mother, with her stepfather, sister, and friends in attendance.
The evening concluded with Helfrich presenting faculty and staff awards in recognition of their many contributions to the purpose and mission of the college.
"Overall, it was a great event. We received wonderful positive feedback from donors, supporters, and students who attended," said Assistant Dean for Student Affairs and Academic Advising Maureen Coon.