University Community mourns Francine Childs, African American Studies Professor Emerita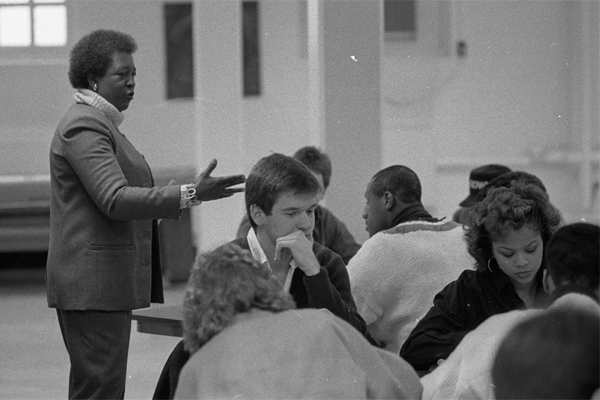 The Ohio University community mourns the passing of Dr. Francine C. Childs, Professor Emerita of African American Studies, who died on May 3.
In 1977 Childs became the first tenured Black professor at Ohio University. She joined the faculty in 1974 as an associate professor in what was then called the Black Studies Program. She was instrumental in establishing the African American Studies Department in the College of Arts and Sciences just five years later.
Over the course of nearly 40 years, Childs educated and inspired students at Ohio University, galvanizing them to stand up for their beliefs and bring positive change to their communities.
"Dr. Francine Childs committed her academic career to the 'whole student' in African American Studies. Not content to keep scholarship confined to the classroom, Dr. Childs cultivated community engagement long before it was recognized by the academy to be an integral part of the undergraduate experience," said Robin​ Muhammad, professor of African American Studies (AAS).
"Her contribution to the department as a member of the faculty and the first woman to hold the position of department chair shaped the future of several generations of young scholars. While she was dedicated to the intellectual growth of all students who took African American Studies courses, she also pioneered AAS scholarships, book purchasing assistance programs, and advising that enabled AAS students to remain and to succeed at Ohio University. We will miss her kind counsel and loving pursuit of academic excellence," Muhammad said.
Gary Holcomb, professor and chair of African American Studies, said graduating students plan to honor Childs at the AAS graduation reception on Friday, May 5.
"Dr. Childs was in the process of going into retirement when I came in, so unfortunately I didn't have the honor of working with her for very long. I learned about Dr. Childs from students who had taken her dynamic courses. All said that she had been the most inspiring teacher they had studied with at Ohio University and that they would carry that inspiration throughout their lives. I don't think any teacher could ask for a more distinguished legacy," Holcomb said.
The Ohio University Francine Childs Diversity Leadership Award is named in her honor, and she was awarded an Honorary Degree from Ohio University in 1997.
An inspiration to generations of students
Born in Wellington, Texas, a small town with segregated schools, Childs watched her grandmother organize the local NAACP unit. She was also inspired by Martin Luther King Jr. For decades, she became the inspiration for her students.
Childs had a straightforward goal: to empower students to create a sense of community and inspire change. She wanted students to be involved in bringing about changes in their own communities as well as to impact the world. 
"There has never been a more beautiful soul than Dr. Francine Childs. 'Grandocky' to few, 'Mother' to more, and 'Doc' to countless others. She not only touched lives, she transformed them!" said alumna Tasha Attaway BA '90, MSJ '94, digital graduate recruitment and retention manager in the Patton College of Education. "As she received her heavenly reward yesterday, all I can do is thank God that I got to have her in my life and pray that I can have just a tiny bit of the impact for good that she did. Rest well beloved lady for you earned it!"
"Queen Mother, you were, and continue to be, a blessing in my life. A life well lived. Simply, thank you 'Doc,'" said alumnus David Terry BA '90, MA '92.
Ohio Today magazine wrote about Childs' home in Athens, which was known by students as "a place to gather."
"I'd have groceries and things all on the porch," Childs said in 2018. "I'd just put bags and stuff out on my porch and [students] knew they could just come on the porch and get what you need." Childs also hosted a Christmas dinner each year for those students who were unable to travel home for the holidays.
A legacy at OHIO
The Rev. Dr. Francine C. Childs Social Justice Scholarship Endowment continues to pave the way for future generations of students to continue her legacy while paying tribute to her place in OHIO history, her distinguished career and her passion for social justice and activism.
Ten years after her retirement, David Descutner and DeLysa Burnier established the endowment to benefit College of Arts and Sciences students who demonstrate financial need. The scholarship gives preference to students majoring or minoring in African American Studies, the academic department that Childs served and chaired and in which she became the first Black professor to be granted tenure at Ohio University.
"Dr. Childs' impact on students inside and outside the classroom has been profound and should be recognized," Descutner and Burnier said in a joint statement. "We heard from our students from the time we arrived on campus in 1979 about this remarkable, inspiring professor who connected deeply with them through her teaching and mentorship. It is impossible to overstate just how much Doc meant, in so many caring ways, to so many generations of students. Personally, she was a wonderful friend and colleague with a boundless spirit who always lived her values."
"Perhaps our favorite shared memory of Dr. Childs is seeing her at public events, surrounded by students asking her questions and engaging with her and their peers on critically important social and political issues," the statement read.
Childs also received national recognition during her time at OHIO. She was named Peace Corps Black Educator of the Year in 1989 and received the Presidential Award for outstanding scholarship and service to the African global community and contributions to the promotion and development of Black Studies in 1992.
To make a gift to the The Rev. Dr. Francine C. Childs Social Justice Scholarship Endowment, visit give.ohio.edu.
Read more about Dr. Francine C. Childs' impact on Ohio University.
Read alumni tributes on Dr. Childs' Facebook page.
Memorial/Funeral Details
Dr. Childs' official wake and homegoing service details are below. If you are able, please wear purple to the services.
Wake: Friday, May 12 from 5 p.m. - 9 p.m. in the Baker University Center Ballroom (Athens Campus). Acknowledgments and Resolutions will be read during the Wake only.
Homegoing Service: Saturday, May 13 at 11 a.m. in the Baker University Center Ballroom (Athens Campus)
Burial: Will take place at Memorial Gardens immediately following the Homegoing Service
Repast: Will take place at Baker University Center following the burial service
In lieu of flowers, please donate to the: Rev. Dr. Francine C. Childs Social Justice Scholarship Endowment at Ohio University.
Funeral services are under direction of Jager Mortuary, Athens, OH.