WOUB and The Post collaboration expands experiences for both organizations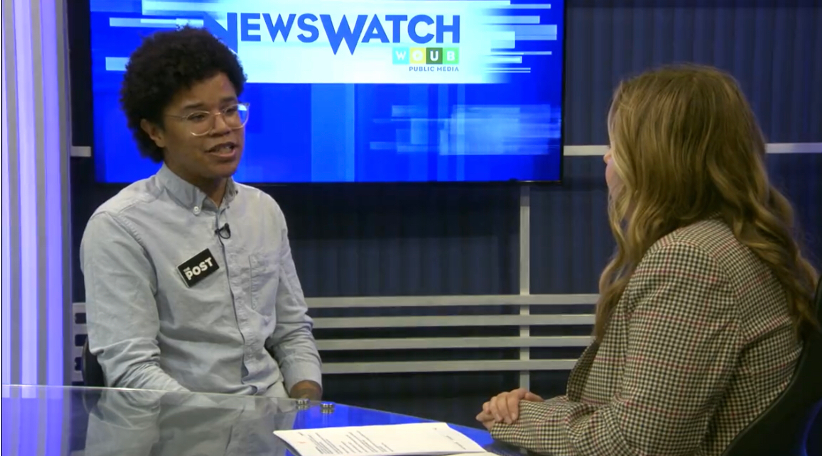 Student leaders of WOUB Public Media and The Post have forged a new collaboration to expand learning experiences and audience while retaining independence at each news medium.    
Starting in March, WOUB has interviewed Post reporters on camera during WOUB's nightly half-hour television news program, NewsWatch, about stories previously published in the award-winning student-run publication. Post 2022-2023 Editor-in-Chief Ryan Maxin and WOUB NewsWatch Producer Claire Schiopota helped initiate the collaboration.

Maxin and Schiopota are completing their junior years at the E.W. Scripps School of Journalism; both received 2023 scholarships from the White House Correspondents' Association.
In 2022, Maxin completed an internship at the Canton (OH) Repository; Schiopota interned at CNN in Washington, DC.
Maxin and Schiopota answered questions about the WOUB-Post collaboration.
How does this partnership work?
Schiopota: Post reporters and editors appear on the air at WOUB about stories they've researched and written. So far, we've done this five times on a weekly basis.
The topics have been foraging, healthcare, climate change, sustainability and sports. WOUB interviews guests from The Post; the first time Juliana Colant of WOUB interviewed Tre Spencer from The Post.
We practice to make sure everyone is comfortable. Taylor Burnette (senior, WOUB producer and host of WOUB's OUtlet podcast) preps these interviews by having The Post guest on the podcast before the NewsWatch program.
How does The Post benefit?
Maxin: Experience. In the real world, Post alums are likely to be interviewed on the air. The job market respects multi-media skills. More and more, news consumers want video and audio.
Plus, WOUB reaches a different audience in a large geographic area, so The Post is connecting with more people.
How does WOUB benefit?
Schiopota: Working together bridges the gap between two outlets of student media.
WOUB on-air anchors get the chance to develop interview skills and WOUB viewers can learn in-depth information from subject experts at The Post about stories of regional interest.
Do WOUB and The Post maintain independence?
Maxin: We had debate and some pushback because we're news competitors and we were worried about losing control of our content.
Once we tried it, we became more comfortable. The content that is discussed on WOUB has already been published by The Post. WOUB amplifies our content.
Schiopota: On the air, we make the roles very clear. The students from The Post are identified as Post reporters, more than once.  And, we tell viewers if they want to learn more about the subject they can go to The Post online.
(As the 2022-2023 school year ends, Schiopota and Maxin have conferred about sustaining collaboration in the next school year, including scheduling regular meetings and sharing responsibilities for preparation/planning.)