Highlighting first-down lines: MDIA alumnus brings tech savvy to sports broadcasting
Published: August 16, 2023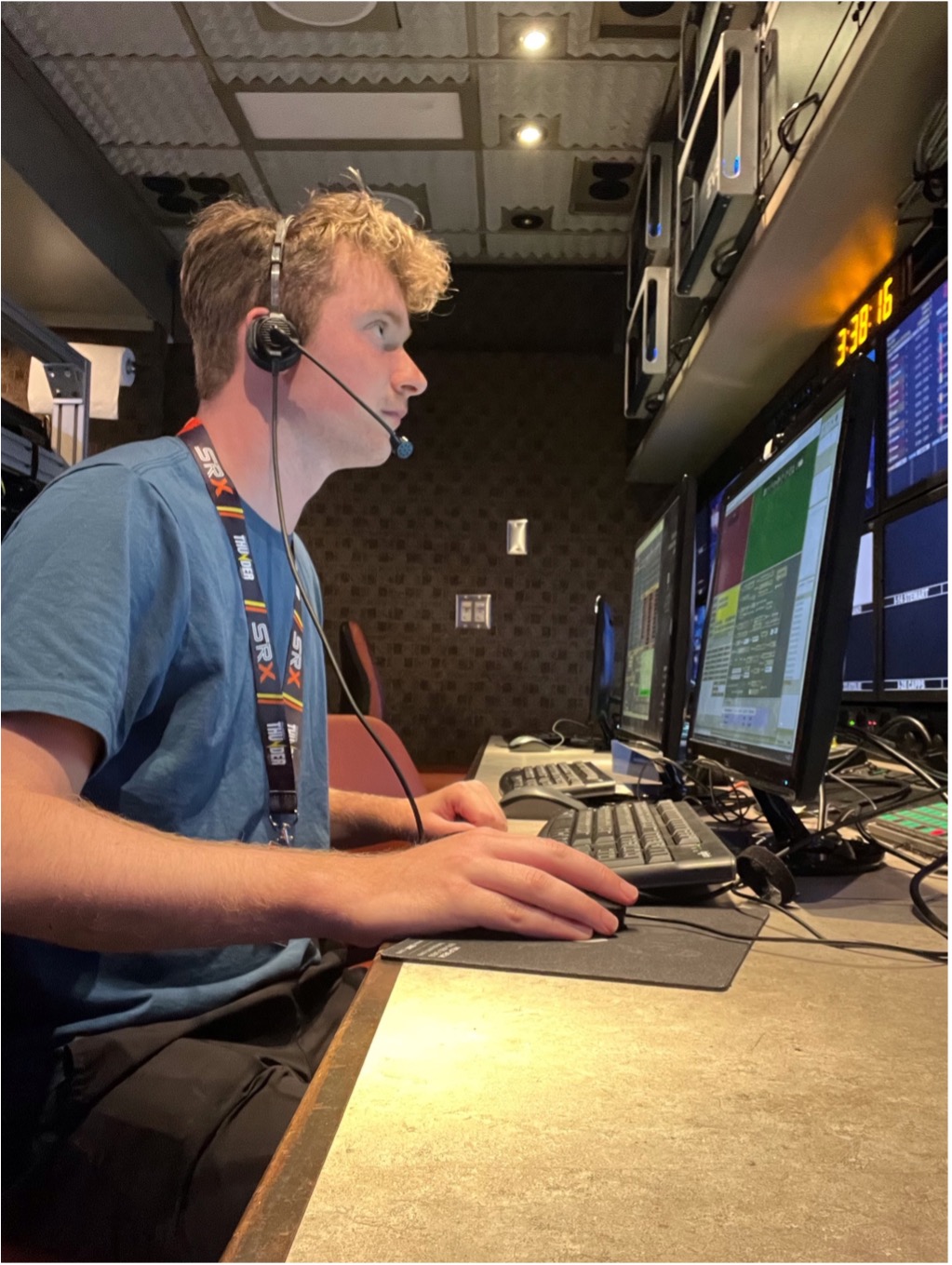 Photo courtesy of Kyle Henn
With hands-on broadcasting experience all four years at Ohio University, Kyle Henn graduated in 2022 and moved to Raleigh for a TV operations job behind the camera. Less than a year after graduation, he was recruited to join SMT (SportsMedia Technology) based in Durham, which has won 36 Emmy Awards for innovative presentation of sports.
Henn travels to top sporting events to help connect high-tech graphics to sports broadcasts (think of the yellow first down line shown on broadcast football games). 
Scripps alumnus Ken Klein caught up with well-traveled Henn to find out more about sports-broadcasting graphics and Henn's new job (a job that did not exist when Klein was in school in the 70s).
KK: You joined a company that shapes sports broadcasts from the Super Bowl to NASCAR. How does SMT impact the viewer experience?
KH: SMT brings live, real-time data, stats and graphics to sports broadcasts, allowing viewers at home to become more immersed in the sport they are watching. Our most popular technology is the yellow first-down line you see on the screen during football games. For most Motorsports, we provide driver telemetry that can be shown live such as car speed, driver heart rate, throttle, brakes, RPM and more. For SRX (Superstar Racing Experience), we provide the graphics system. On most shows, our data is interfaced with the network's graphic package.
KK: What is your role in executing this technology?
KH: My role is on-site support and operation. I travel all over the country and sometimes outside the US to sporting events to set up, install and operate our software/equipment in TV trucks and production studios.
KK: How did your college training relate to your current job?
Getting hands-on experience in college, starting as a freshman, was a tremendous help… especially working for ESPN3. I also had internships in Los Angeles and Washington, DC. 
KK: What are the coolest things you've done in sports broadcasting since you graduated?
KH: The best part of the job is travel. I get to go to places like Las Vegas and so many other cool cities all the time. I am looking forward to working NFL and college football games this fall.