Ohio University Libraries and the Kennedy Museum of Art present book artist Sauda Mitchell
Published: August 16, 2023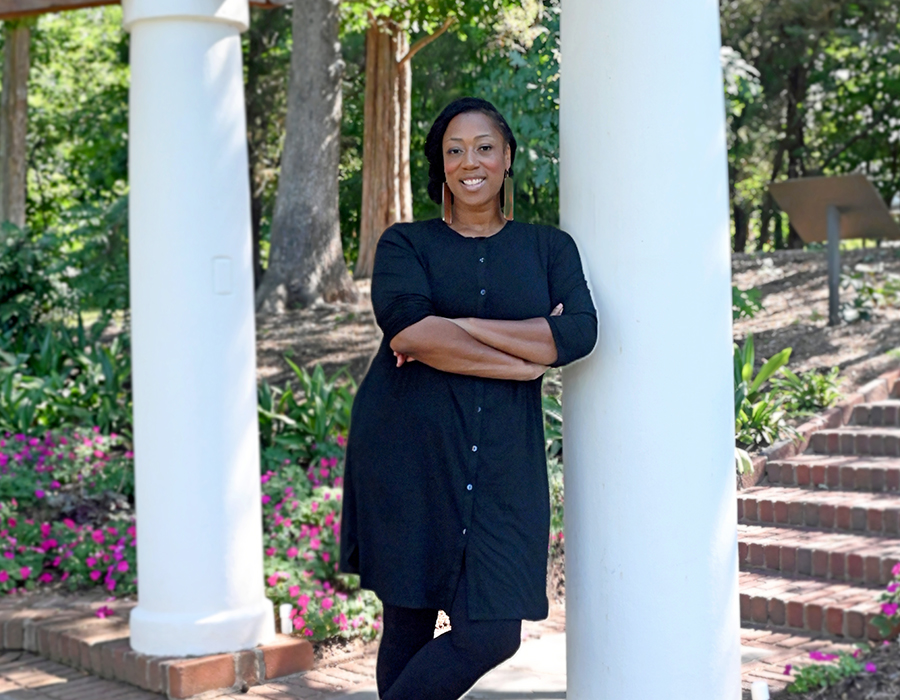 Through a unique collaboration between Ohio University Libraries, the Kennedy Museum of Art, and the Museum Studies Certificate Program, guest artist Sauda Mitchell will lead a guided walk and talk through the Kennedy Museum gallery to discuss her artist books, on Wednesday, Aug. 30, from 2-3 p.m. The event is free and open to the public. 
An American printmaker, archivist and educator from Winston-Salem, NC, Mitchell is currently a doctoral student at Drexel University in the Educational Leadership and Management Program. Her research centers around marginalized student access to archives based engagement in support of cultural competence and primary source critical analysis, as a catalyst for elevated cognitive development.
Mitchell holds an Associate of Arts in Elementary Education from the University of Phoenix, a Bachelor of Arts in Communication Art with a minor in Art History from the Savannah College of Art and Design, a Master's in Library and Information Science with a concentration in Archival Studies from Drexel University, and is certified by the Academy of Certified Archivists. 
Ohio University Libraries acquired two artists' books by Mitchell, "Finding Aid and Voyage," as part of the 2022 Juneteenth celebration. Each year the library features an exhibit showcasing current and past acquisitions made in honor of Juneteenth. Those interested in seeing the rare books and special collections materials are encouraged to contact the Mahn Center for Archives and Special Collections. 
What is an artist's book?  

According to the Smithsonian, an artist's book is a medium of artistic expression that uses the form or function of "book" as inspiration. It is the illustration, choice of materials, creation process, layout and design that makes it an art object. It is a work of art in book form. 
"Finding Aid" is the artist's creative response to sharing stories and connections pertaining to local Civil Rights activist Westley Wallace Law (1923–2002).  Mitchell's other book, "Voyage," takes viewers on a visual journey of the Middle Passage, the forced voyage of enslaved Africans across the Atlantic Ocean and to the Americas. 
Students in the 2022-2023 Museum Studies Certificate program selected one of Mitchell's books, "Finding Aid," as a primary object centering their current exhibit, Merging Concepts IX: Then and Again, on display through Sept. 11 at the Kennedy Museum of Art.  
Both books will be on display during the event. 
This event provides a unique opportunity for the Ohio University community, students, faculty, staff, as well as the broader Athens community, to hear from the artist herself and learn about her creative practice as embodied in two unique artist books.  For further information about this event please contact Sally Delgado at the Kennedy Museum of Art by email at delgado@ohio.edu.