Regional Higher Education hosts education festival for regional campus teacher candidates
Published: October 9, 2023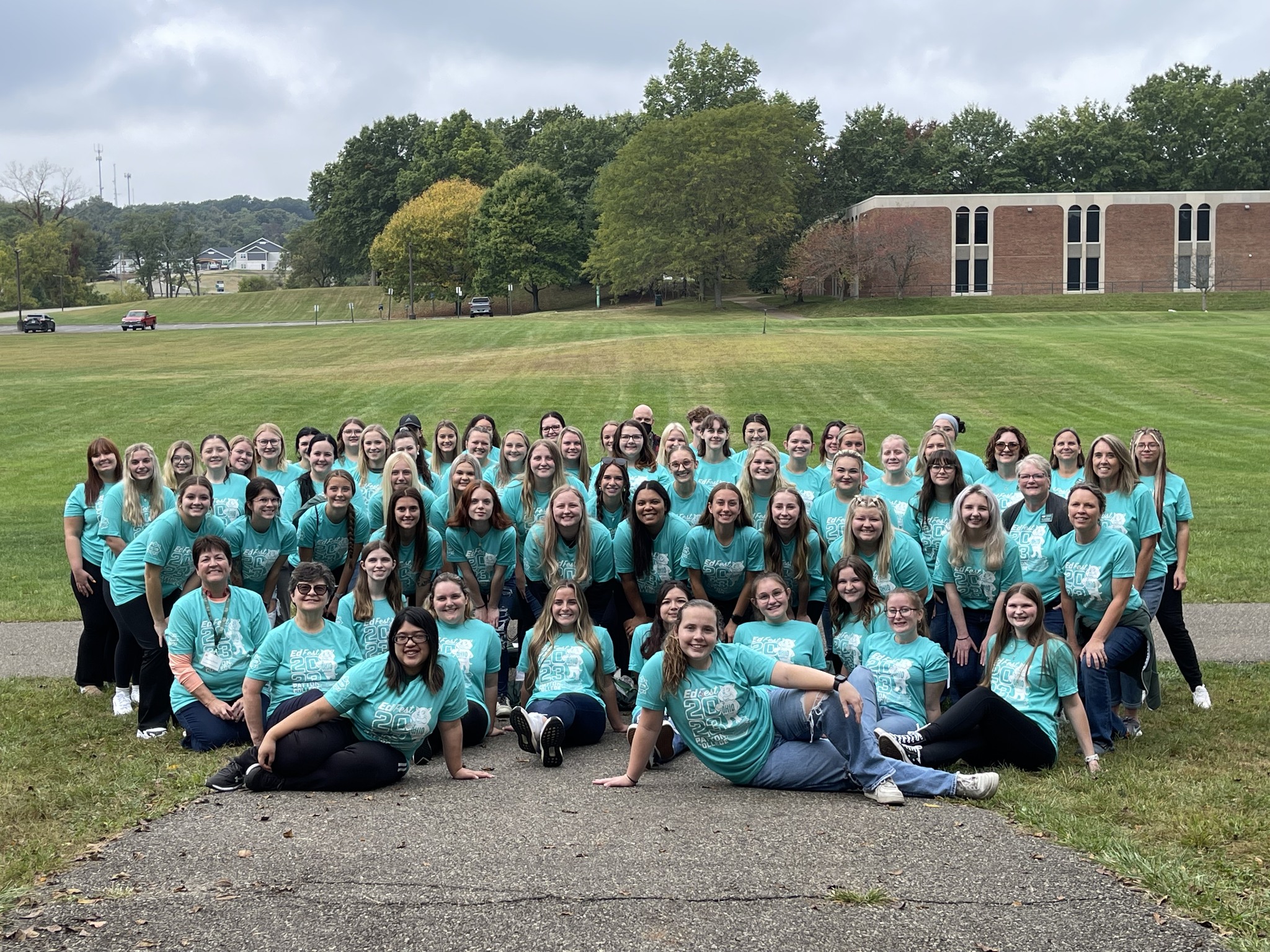 Ohio University regional campus Early Childhood and Elementary Education sophomores attended the Patton College Education Festival on Friday, Sept. 29, at OHIO Lancaster.
Education students from all five regional campus locations, Chillicothe, Eastern, Southern, Zanesville and Lancaster, participated in team-building activities designed to build relationships and elicit more engagement in and out of the classroom.
Regional campus education majors complete their coursework in a combination of in-person and online synchronous and asynchronous courses. As students progress through the program curriculum, they have more virtual courses shared among the five campuses and faculty.
Through collaborative self-study, education faculty identified challenges regional students were encountering with their online coursework. In shared courses, faculty observed students' behavior and noticed they were reluctant to engage. Education faculty worked together to develop "Ed Fest" to address the lack of student engagement and interaction in the virtual classroom. 
"Our students typically engage with songs, games, and fun materials as they learn to teach young children in developmentally appropriate ways. We want to bring that playfulness to remote courses but to do so need candidate buy-in," Amy Wolfe, assistant professor of instruction, said. "Ed Fest was our effort to build community and connections among students across regional campuses that will be a foundation for their interactions and engagement in future remote classes."
The day was full of interactive fun and play. Students were greeted by the Ohio University Patton College Interim Dean Lisa Harrison, who talked with them informally as they arrived and then addressed them with an inspirational talk on their chosen profession. They were placed in inter-campus teams and were tasked with team building activities that included making and performing a team handshake, participating in a s'more recipe competition, cup stacking, charades, cornhole, and sack races.
"Attending Ed Fest gave me a real love for Ohio University, I am proud to be a Bobcat," OHIO Chillicothe education student Sage Smith said. "Before this event I hadn't really attended a school event, so I am glad this event was held for the regional campus education majors. I was excited to finally meet other regional campus students who are pursuing a bachelor's degree in early childhood elementary education. The whole day was a blast, it was magically to spend time with other students who share the same dream and passion to teach."
Informal student event participation feedback has been positive according to education faculty. Qualitative data has been collected and is being reviewed, however it will take time to determine whether combined faculty efforts have increased student engagement in the virtual classroom. 
"Ed Fest provides a wonderful experience for sophomore education majors on the Regional Higher Education campuses," Vice Provost for Regional Higher Education and Partnerships Lewatis McNeal said. "This engagement opportunity provides a unique experience for our students to work across campuses, engaging in face-to-face situations that will benefit their teaching experience and strengthen their knowledge and skills in preparation for the classroom." 
Building on the success of the first Ed Fest, faculty applied for and received an experiential learning grant through Ohio University to host "Zoo Fest." This grant is an example of how OHIO education reaches far beyond the traditional classroom walls.
Education program juniors who attended the Ed Fest last year will visit the Columbus Zoo this October to continue to foster the relationships they formed at Ed Fest. Junior teacher candidates will explore the zoo from an educator's perspective, identifying how they can meet curriculum standards in science and social studies through a visit to the zoo.
In the spring semester, regional campus students will have the opportunity to host a visiting zoo program. This will allow them to implement some of their ideas and connect them to a unique set of experiences that will move them forever forward.
"Zoo Fest will provide junior teacher candidates with onsite experience in creating tangible lessons they can carry back to their communities and share with our local school partners," Associate Professor of Instruction Kimberly Ciroli said.  "They will use this zoo experience to explore the opportunities to meet the science and social studies standards while incorporating reading and math. Teacher candidates will integrate these lessons into practice during their science and social studies methods classes in spring semester." 
"It is very important to the education faculty that we provide our students with real-world experiences to best prepare them for their careers," explained Associate Professor of Instruction Teri Peasley. "And thanks to the Ohio University Experiential learning grant funding we received, we are able to provide our students with a wealth of opportunities."