Inside Jeff Boals' victorious return to the Convo
Published: January 6, 2020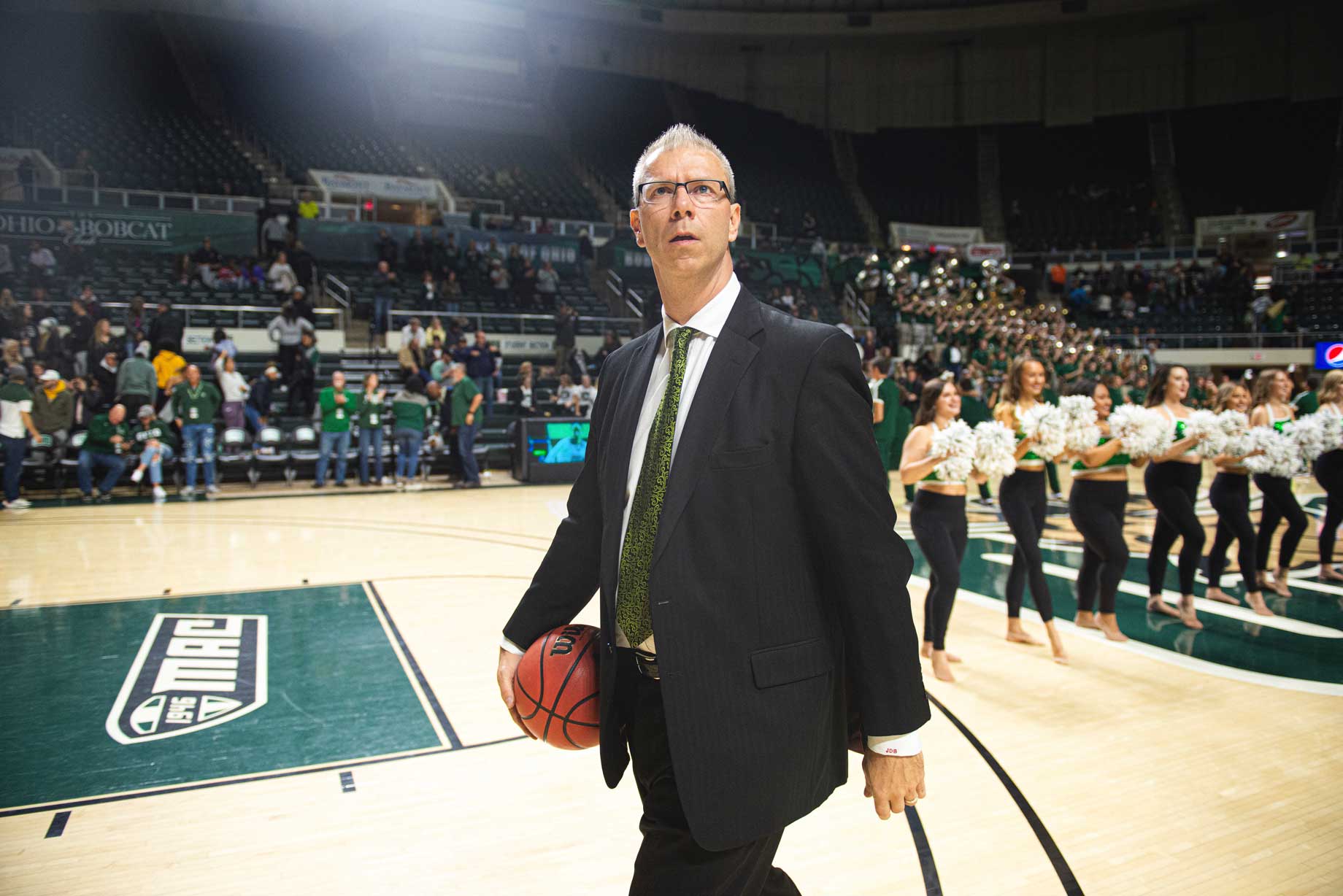 Ohio University's 19th head men's basketball coach, Jeffrey Donald Boals, does not shy away from describing his current role as his "dream job."
As a former player during one of the best eras of Bobcat basketball, he knows what success looks like in Athens and at Ohio University — places he is grateful to again call home.
On Saturday, Nov. 9, 2019, Ohio defeated Heidelberg University 88-50 in its first regular season home game of the season.
The following is a behind-the-scenes look at Jeff Boals' victorious return to the Convo…
Now in the job for nine months, Boals' office in the Convocation Center is still a work-in-progress, with equal space dedicated to remembering past program successes and building for the future.
Plagued by knee injuries for most of his playing career at Ohio, Boals went from walk-on to team captain his junior and senior seasons for legendary coach Larry Hunter, who got Boals interested in coaching after he graduated.
More than half the 2019-20 men's basketball roster is made up of freshmen, including R-Fr. forward Mason McMurray (left) from Stow, Ohio.
Ohio has the youngest roster of any team in the Mid-American Conference and the second-least number of upperclassmen (3) of any team in the entire country behind Utah.
"We're in a growth mindset, knowing there will be ups and downs with such a young group. It's a great group of guys to be around; they work hard and have great character off the court." – Jeff Boals
Modeled after Boals' own gritty and tough play as a Bobcat, "New Team, Old School" is the adopted motto for his first season at the helm. The Bobcats begin their rebuild with a completely revamped coaching staff, as well as half the team, that are new to Athens.
One of the biggest pieces to the puzzle for Boals and Ohio's future success on the court is 6-foot-4 sophomore guard Jason Preston. The Orlando, FL native is gaining NBA attention for his unique blend of size and skill. Entering MAC play, Preston leads the Bobcats in minutes played, points, assists and steals. His assists per game total (7.9) ranks fourth in all of NCAA Division I men's basketball.
After his own playing career was cut short by injuries, Boals frequently reminds his players to cherish the time they get to spend in the Ohio jersey and to never take a day or game for granted.
With a rebuild of the program now underway, the Bobcats are taking a one-step-at-a-time approach to the season. "Our goal is just to get better every day." – Jeff Boals
Boals' decision to move back to Ohio and coach at his alma mater was made in concert with his family—wife Katie, daughter Sydney and son Chase—who relished the chance to be back in their home state and closer to extended family