Three Ohio University students earn prestigious Goldwater Scholarships
Published: March 31, 2020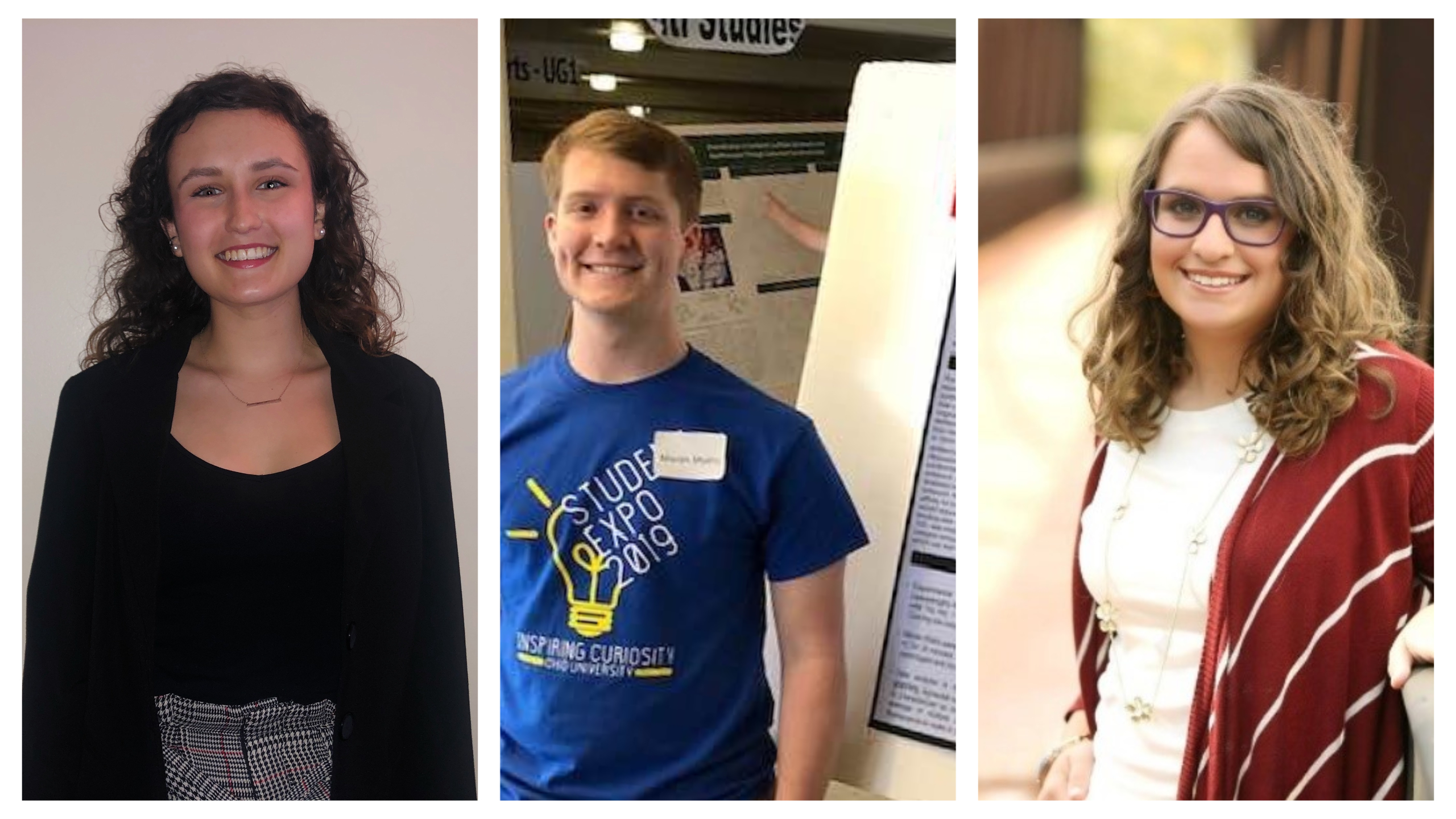 Three Ohio University Honors Tutorial College students have been selected as 2020 Barry M. Goldwater Scholars, the first time in 12 years the University has had this many. The Goldwater Scholarship is considered the most prestigious national award for undergraduate STEM research.
Mason Myers (Chemistry), of Athens, Ohio, Hailee Sorensen (Biological Sciences), of Galena, Ohio, and Madeline Sudnick (Biological Sciences), of Twinsburg, Ohio, were among 396 students selected nationally to receive the Goldwater Scholarship, which covers the cost of tuition, fees, books, room, and board up to a maximum of $7,500. In their research work, Myers focuses on drug discovery, Sorensen focuses on antibiotic development, and Sudnick focuses on avian ecology.
"These three students exemplify the incredible talent at Ohio University," University President M. Duane Nellis said. "The work of these students and their mentors showcases the positive impact that the research being done at Ohio University is having on the world."
Myers is an Honors Tutorial College Chemistry major and French minor. His research is focused on the small molecule-binding to the T-box riboswitch, an important regulatory RNA in infectious bacteria that could be targeted to treat antibiotic-resistant infections.
"I couldn't believe it when I checked the Goldwater website, but I am so excited to have been named a 2020 Goldwater Scholar," Myers said. "It is wonderful to be acknowledged for the work I have done so far, and I am excited and encouraged to continue my chemistry career and someday provide research opportunities for my own students as a professor."
Myers' research mentors include Jennifer Hines and her graduate researchers, Ali Aldhumani and Ismail Hossain, as well as Mark McMills and Lauren McMills. He also thanked Monica Burdick, Chris Lewis, and Travis White for their support in his application.
Sorensen is an Honors Tutorial College Biological Sciences major. Her research focuses on the bacteria Staphylococcus aureus and how it is capable of causing a variety of different diseases in humans. The overarching goal of the research performed in her lab is to identify novel targets to inhibit the ability of S. aureus to cause disease.
"I am very honored to have obtained such a distinguished award and also very grateful for the experiences and mentorship that I have received throughout my time at Ohio University that has made this possible," Sorensen said. "I am thrilled to be able to perform the project that I proposed in my Goldwater application for my HTC senior thesis. I am very passionate about my field of study and cannot wait to see what opportunities this will bring to me so that I can continue to pursue my goal of obtaining a Ph.D. and performing research studying disease-causing bacteria."
Sorensen's research mentors include Ronan Carroll, Soichi Tanda, and Bill Broach. She also thanked Roxanne Malé-Brune, Lewis, Burdick, and Janet Duerr for all of the time that they spent helping her to prepare her application materials.
Sudnick is an Honors Tutorial College Biological Sciences major. Her research investigates environmental and physiological influences on offspring development in passerine birds.
"I was surprised and honored to be selected as a Goldwater Scholar," Sudnick said. "Receiving this award has reaffirmed my desire to pursue a Ph.D. and conduct research in wildlife biology to improve outcomes for species in human-modified landscapes."
Sudnick's research mentor is Kelly Williams. She also thanked Bekka Brodie, Tanda, Lewis, Zhihua Hua, David Drabold, and Burdick for their support of her application.
"I want to congratulate Mason, Madeline and Hailee, as well as all of their mentors, for this incredible achievement," Honors Tutorial College Dean Donal Skinner said. "It takes extraordinary talent and hard work to earn a Goldwater Scholarship, as well as excellent guidance from our faculty and staff mentors."
Students interested in learning more about the Goldwater Scholarship are encouraged to visit goldwater.scholarsapply.org and to contact either Burdick, associate professor of chemical and biomolecular engineering and Ohio University's Goldwater Committee chair, or Lewis, director of the Office of Nationally Competitive Awards.
OHIO had two Goldwater Scholarship recipients in 2019, one recipient and an honorable mention in 2018, and two honorable mentions in 2017. This is the first time since 2008 that OHIO has had three recipients in one year.