OHIO's J-School holds virtual annual banquet
Published: April 24, 2020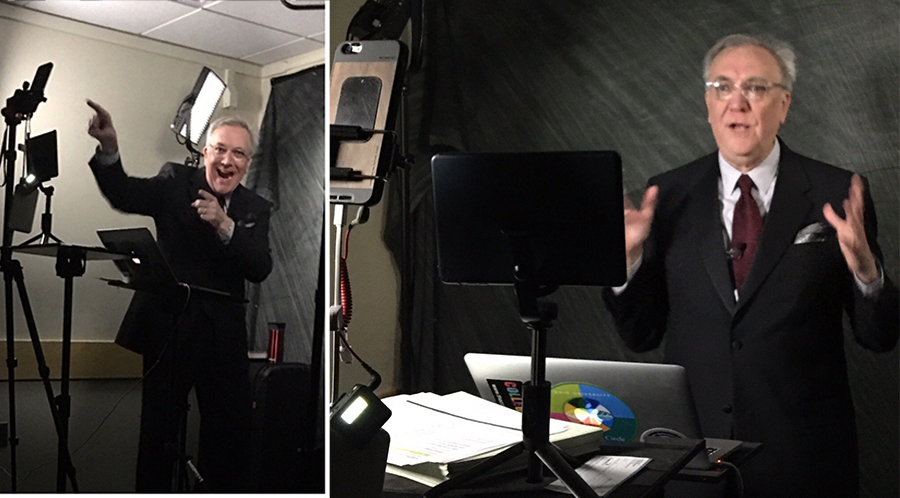 Each spring, the E.W. Scripps School of Journalism honors its students with a scholarship banquet. In years past, the banquet was held at Nelson Commons on South Green. Attendance ranged between 250-300 invited guests: students with their family members and friends; University faculty and staff; scholarship donors; and representatives of the Scripps-Howard Foundation.
Attendees looked forward to seeing professor Mary Rogus, chairperson of the school's scholarship committee, presenting the awards, introducing each student with individual details and "much-anticipated" commentary. After receiving their awards, the students posed for photographs, standing shoulder-to-shoulder with fellow winners, J-School director Bob Stewart, and sometimes their scholarship's donor.
But that was all in years past, before COVID-19 disrupted campus life in all its unprecedented ways.
This year, the number of scholarship recipients alone is well over the temporary legal limit on public gatherings. Not to mention the inconvenient fact that no one is living or working on campus for the duration of the semester. Would this cherished tradition survive?
It would, if Stewart (who is set to retire in May) had anything to say about it. When the plan to go remote was announced in late March, Stewart hatched a plan.
The "banquet" was held as scheduled on Tuesday, April 21. In place of the traditional large gathering with its catered dinner, attendees followed the Twitter hashtag #ScrippsBanquet2020 and watched Stewart (who wore a tuxedo) serve as livestreaming emcee, playing clips Rogus recorded in advance.
"Our goal was to create, for just a moment anyway, an opportunity to forget about the coronavirus and just focus on our exceptional students, our generous donors, and also, bring together the Scripps School 'family,'" Stewart said.
Students got in on the action, posting grateful and gracious acceptance tweets, photos in festive attire, and selfies with their families.
"It was so wonderful to be able to recognize our #AmazingScrippsKids, especially during this difficult time," Rogus said. "I really felt like we were all together celebrating everything that's so great about our school and students."
In addition to the monetary scholarships (totaling just over $268,000 this year), the school honors seniors in individual categories including service and leadership, and selects outstanding seniors in each major track (Honors Tutorial College, news and information and strategic communication).
Julie Ciotola, an Honors Tutorial College student, won the Overall Outstanding Senior award.
"It was really hard for me to accept that senior year would end this way," she said. "But having events like the banquet still press on means the world to me. I truly felt connected with my fellow students and our wonderful faculty via Twitter. Even if this isn't how I pictured the banquet, I will remember that night forever, and I'm forever grateful for the amazing experiences Scripps has given me. It has certainly changed my life in the best way."
Jessica Rutkowski won the Student Media Leader for Strategic Communication. Still in Athens, she watched the livestream with friends.
"The journalism banquet was something I have been looking forward to since my freshman year," Rutkowski said. "When classes went online for the rest of the semester, my mind immediately started mourning the fact that journalism seniors wouldn't be honored in the same way. But, of course, the faculty in the Scripps J-School had a plan. It was actually super fun to see all of the awardees being tweeted out one after the other throughout the night on social media because then the awardees' friends and family could see their recognition."
Taylor Johnston, digital managing editor for The Post, was awarded the Outstanding Senior award for Entrepreneurship. Still living in Athens, she watched the stream with a friend and on FaceTime with her family.
"Turning on my laptop and navigating to Professor Stewart's livestream of awards was surreal," Johnston said. "Even though I haven't been able to attend classes, see friends in person or finish out my senior year like I had expected these last few weeks, seeing the awards ceremony and receiving recognition really hit home and reminded me that with everything going on, I still made it."
This year's awards, in the order they were presented:
Emma Dollenmayer, Scripps College of Communication General Scholarship

Emma Stefanick, Scripps College of Communication General Scholarship

Alejandro Figueroa, Scripps Multicultural Scholarship

Jordan Ellis, Lyon Family Scholarship

Lauren Wittschen, William H. Morris and Ernest C. Fenderson Scholarship

Curtis Feder, Larry and Joann Katz Family Scholarship

Vivian Moussa, Jeff Chaddock Leadership Scholarship

Olivia Strauss, John W. Wiater Scholarship

Joseph Nurre, Barbara and Larry Margolis Advertising Scholarship

Emily Crebs, Helen Hoover Scholarship

Nolan Cramer, Helen Hoover Scholarship

Olivia Ujlaki, Robert L and Teri W. Gerbig - undergraduate

Claudia Cisneros, Robert L. and Teri W. Gerbig Graduate Scholarship

Regan Gray, Edward J. Martin Memorial Scholarship

Sarah Donaldson, Athens News-Bob Baker Scholarship

Morgan Spehar, Scripps Howard Foundation--Sue Porter Scholarship

Olivia Christiansen, Scripps Howard Foundation--Boyd D. Lewis Scholarship

Haley Bender, Don Perris Scholarship Internship

Grace Brezina, Don Perris Scholarship Internship

Brooke Balzano, Don Perris Scholarship Internship

Nolan Cramer, Don Perris Scholarship Grant

Ethan Sands, Scripps Multimedia Internship Grant

Dejae'Naye Wilkins, Hugh Culbertson Internship Scholarship

James Sweet, Russell N. Baird High School Editor's Award

Rowan Hetzer, Ron H. Lori Scholarship

2017 Nathan Hart, Bob and 'Koky' Dishon Scholarship

2018 Megan Gordin, Bob and 'Koky' Dishon Scholarship

2019  Lauren Serge, Bob and 'Koky' Dishon Scholarship

2019 Abby Neff, Bob and 'Koky' Dishon Scholarship

2020 Hannah Campbell, Bob and 'Koky' Dishon Scholarship

2020 Aya Cathey, Bob and 'Koky' Dishon Scholarship

Paige Miller, E.W. Scripps School of Journalism Scholarship

Alexa Grillis, E.W. Scripps School of Journalism Scholarship

Jayne Yerrick, Future of Journalism Centennial Scholarship (Ken Klien)

Baylee DeMuth, Ralph Izard/Post Scholarship

Molly Schramm, Tom and Susan Crites Price Scholarship

Jena Catalano, Ty BSJ '84 Votaw Scholarship

Lauren Patterson, The Anne Snyder Journalism and Storytelling Scholarship

Charlie Knox, Judith A Macknight Future of Journalism Scholarship

Bre Offenberger, Marc and Lila Rosenweig Scholarship

Hunter Graffice, Emerson "Vic" Sherow Memorial Scholarship

Nia Dumas, Emerson "Vic" Sherow Memorial Scholarship

Eric Boll, Cortland Anderson Award

Audrey Secrest, Cortland Anderson Award

Lindsey Osterfeld, Joseph Needle Scholarship

Emma Skidmore, Loren Joseph Hortin Scholarship

Julia Howell, Fred Palmer Scholarship in Journalism

Katie Hawkinson, Jesse and Ruth Zousmer Memorial Scholarship

Anna Azallion, Tom and Jan Hodson Leadership and Excellence Scholarship

Maggie Prosser, White House Correspondents Association Scholarship

Ashton Nichols, White House Correspondents Association Scholarship

Cole Behrens, White House Correspondents Association Scholarship

Marguerite Augier, Joseph Lichtenberg Memorial Scholarship

Noah Wright, Apgar Ethics Award

Anna Birk, Andrew Alexander Scholarship

Kyra Young, Andrew Alexander Scholarship

Bryan Kurp, Dan Lowe Memorial Scholarship

Eli Feazell, Dan Lowe Memorial Scholarship

Aaron Brandenburg, Herb Moss Business of Baseball Scholarship

Arianna Guerra, Lawrence R. Tavcar Memorial Scholarship

Sarah Todack, Anne-Cooper Chen Scholarship

Makenna Goad, Frances & Margaret Channell Scholarship

Charlotte Caldwell, Tom Turnbull Memorial Scholarship

Chloe Meyers, Eliza Alcorn Clark Memorial Scholarship

Fallon Howard, Larry "Scoop" Press BS Journalism, 1949 Scholarship

Hannah Burkhart, Frank Deaner Scholarship

Hardika Singh, Ron H. Iori Scholarship

Eleanor Bishop, Patricia Westfall Magazine Scholarship

Samantha Wiesneth, Margaret McKechnie Scholarship

Lily Roby, Margaret McKechnie Scholarship

Grant Ritchey, George Starr Lasher Living Legacy Scholarship

Olivia Ujlaki, Lasher-Evarts Quality of Writing

Alexi Murray, Mary Elizabeth Lasher Barnette Women's Leadership Award

Rachel Beardsley, Kay Murphy Price Scholarship

Jylian Herring, Kay Murphy Price Scholarship

Destiniee Jaram, Richard O. Linke Scholarship
Outstanding Senior Awards
Logan Moore, Outstanding Service

Taylor Johnston, Outstanding Entrepreneurship

Maggie Campbell, Leadership in Professional Organization

Anthony Poisal, Leadership in Professional Organization

Jessica Rutkowski, Student Media Leader - Strategic Communication

Marie Chailosky, Student Media Leader - News and Information

Thomas Garverick, Student Media Leader - News and Information

Elise Hammond, Student Media Leader - News and Information

Winter Wilson, Outstanding Senior, Honors Tutorial College

Ally Lanasa, Outstanding Senior, News & Information Track

Cassidy Selep, Outstanding Senior, Strategic Communication Track

Julie Ciotola, Overall Outstanding Senior

Yaz Ebada, Outstanding Masters Student

Huyen Nguyen, Outstanding PhD Student