Kennedy Museum of Art reopens with exhibit honoring two Graphic Design emeriti faculty
Published: January 28, 2021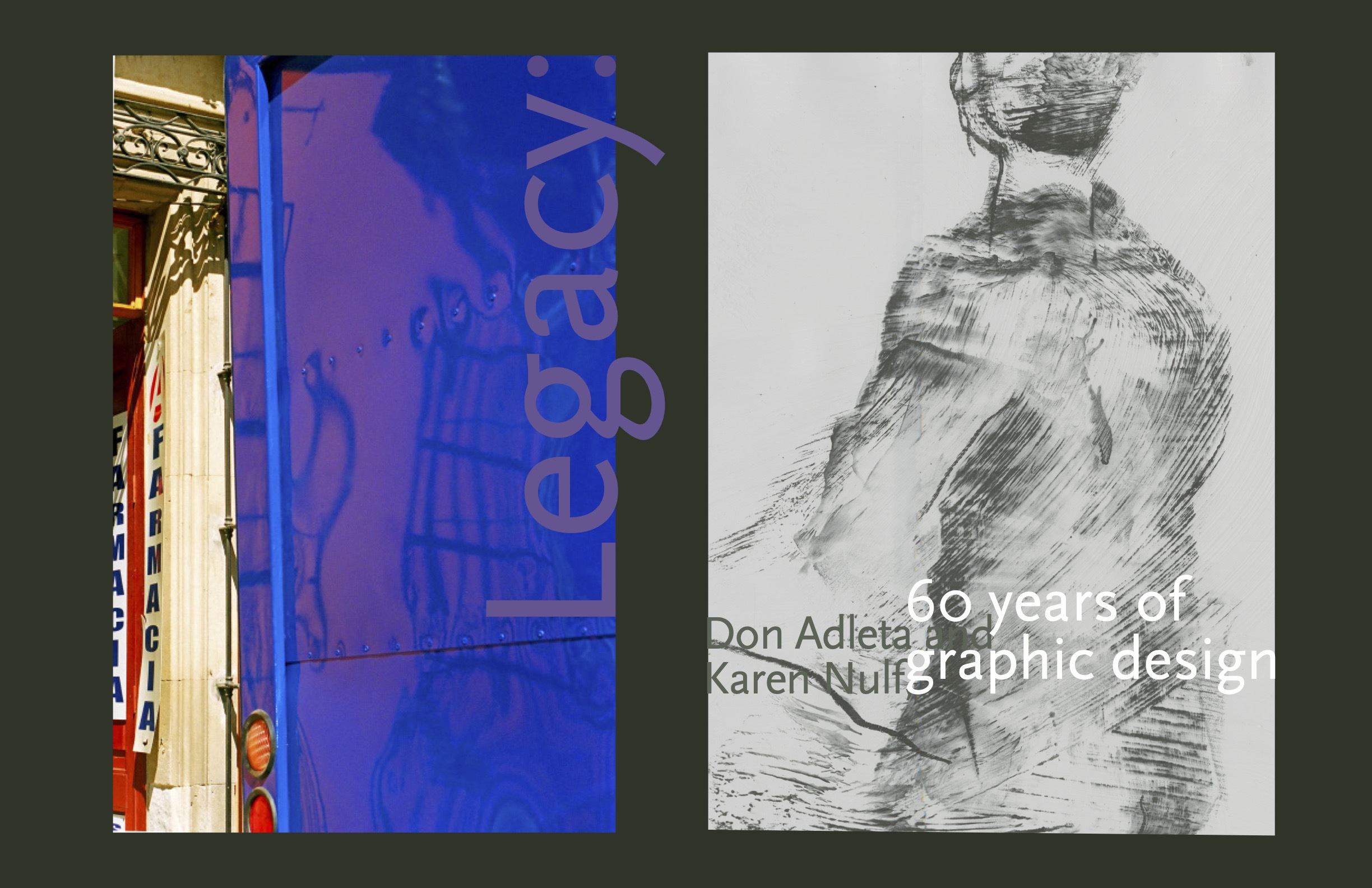 The Kennedy Museum of Art opens Legacy: Don Adleta and Karen Nulf, 60 years of graphic design Feb. 1, 2021, marking the re-opening of the museum due to the pandemic.
Reservations are by appointment and gallery viewing aligns with Ohio University's COVID protocols. Visitors are encouraged to prebook at KMA's website at www.ohio.edu/museum or Facebook page before visiting the museum. Please contact Lori Spencer at 740-593-0952 or stumpl@ohio.edu, with questions.
Legacy chronicles the contributions of two professors emeritus of graphic design, Don Adleta and Karen Nulf, and their 60 years of combined teaching and creative ventures at Ohio University. The exhibition unfolds a journey from creative research in drawing and photography to professional ventures highlighting sensitivity to typography and complex communication systems. The use of letterpress as a source of design fulfillment is embedded in this visual history that provides a path to the future of graphic design.
Adleta is one of the four professors of design at Ohio University. He arrived in 1994 and served as the chair of the graphic design area for 17 years, until 2012. Prior to arriving at OHIO Adleta served as professor of design and letterform at the Rhode Island School of Design from 1982 to 1987; taught at Western Michigan University from 1989 to 1992; and was a senior art director for The Upjohn Company from 1987 through 1993, where he received several Special Recognition Awards for his design and working process. Adleta received his Bachelor of Fine Arts degree in Graphic Design from OHIO in 1975 and completed his post-graduate studies in Graphic Design at the Basel School of Design in Switzerland. 
As a faculty member, Adleta continued to build the graphic design curriculum and initiated and implemented the master's degree of fine arts in graphic design. His book, Focus Drawing, is a case study of one of his drawing classes and includes the taxonomy of his teaching processes. His Adleta Perpetual Calendar has been recognized nationally and has received multiple awards worldwide. The calendar rests in the permanent collections in Novi Sad Museum of Art and Design, Serbia, and in Zurich's Museum für Gestaltung. Adleta continues to work with his mentors from the Basel School of Design in Switzerland and maintains a presence online at http://adleta.us/. 
Adleta traveled to Bali with students from the School of Art + Design for several years until 2000 to visually translate the color experienced close to the equator. In 1996, he joined two of his colleagues and 25 students in a study abroad program in Prague and has led students to visit renowned professional designers in metropolises around the world.  He has taught and lectured at the National Institute of Design in Ahmadabad, India, and the Wellington Polytechnic in New Zealand.
Nulf, EMERT '99, began teaching graphic design at Ohio University in 1967 and became chair in 1994. She retired in 1999. Nulf received her bachelor's degree in graphic design in 1955 from the University of Cincinnati. She received a master's degree in fine arts painting in 1963 from Michigan State University and a master's degree in Film and Video in 1976 from the University of Iowa. Nulf's vast body of work includes graphic design, photography and film. 
Nulf is legend among students for welcoming and supporting her students, writes Takayuki Kimura, BFA '80 (Graphic Design), one of Nulf's many former students. 
"Karen's first words to me were, 'Can I help you?'" says Kimura, who works for the Mazda Corporation in marketing. "As a foreigner, she welcomed me with open arms. Karen taught me not only technical skills, but also communication, which is the most important aspect of design. I am deeply grateful to Karen for continuing to be like a family to me even after graduation," he adds. 
It's about a love of type, print, letters and especially students
After visiting Legacy, viewers will take away an understanding of how, as graphic designers, Adleta and Nulf were able to simplify complex problems, Adleta says.  
"Karen and I share a profound appreciation for details," he says. "When we create the intended message for our clients, it's like developing a visual algorithm for others. We have to think of the sender as well as the receiver of the message and make a pleasing message effective in the given context." Adleta also says he and Nulf share a similar thinking process when creating their personal artwork.
"It is evident that Karen and I are so comfortable in design thinking that even in our personal drawings and photographs we enjoy the art of doing," he says. "Our aesthetic and our knowledge of how to translate content into form resides within us."
Nulf says visitors will note a sense of excitement in both her graphic design work and in her photography and film works, all made by technology that is generally no longer used by today's graphic designers.  
"That excitement about the letterforms and what they did and how much they could say by being a visual thing is sort of the same of what I was looking for in my pictures," she says. "That excitement, the excitement of different places, the color, the shape, the form, what it said..." is what the viewer will take away from the exhibition, she says.  
Kennedy Museum of Art Director Edward Pauley says the museum is pleased to host the exhibition to acknowledge and celebrate Adleta's and Nulf's work. 
"The exhibition encapsulates their lifelong achievements and reveals the unwavering aspirations of both artists to push the limits of design and expression," he says. "Their dynamic teaching inspired an immeasurable number of students to pursue successful careers in the field. Visitors to the exhibition will enjoy a thought-provoking experience that underscores the possibilities and power of graphic design."
Legacy: Don Adleta and Karen Nulf, 60 years of graphic design is on view until March 28, 2021. Reserve your visit by completing this form.
This exhibition is presented in conjunction with REACH: 50+ years of works by OHIO Graphic Design alumni, an exhibition opening Feb. 16 at Trisolini Gallery in OHIO's Baker University Center. REACH highlights typography, complex communication systems, and the diversity of graphic design in contemporary culture by 20+ alumni of the Graphic Design program at Ohio University's College of Fine Arts.
For information about the Kennedy Museum of Art, contact the museum's registrar, Lisa Quinn, at quinnl@ohio.edu.