'Hi. Remember me?' Student finishes honors thesis 15 years after leaving Athens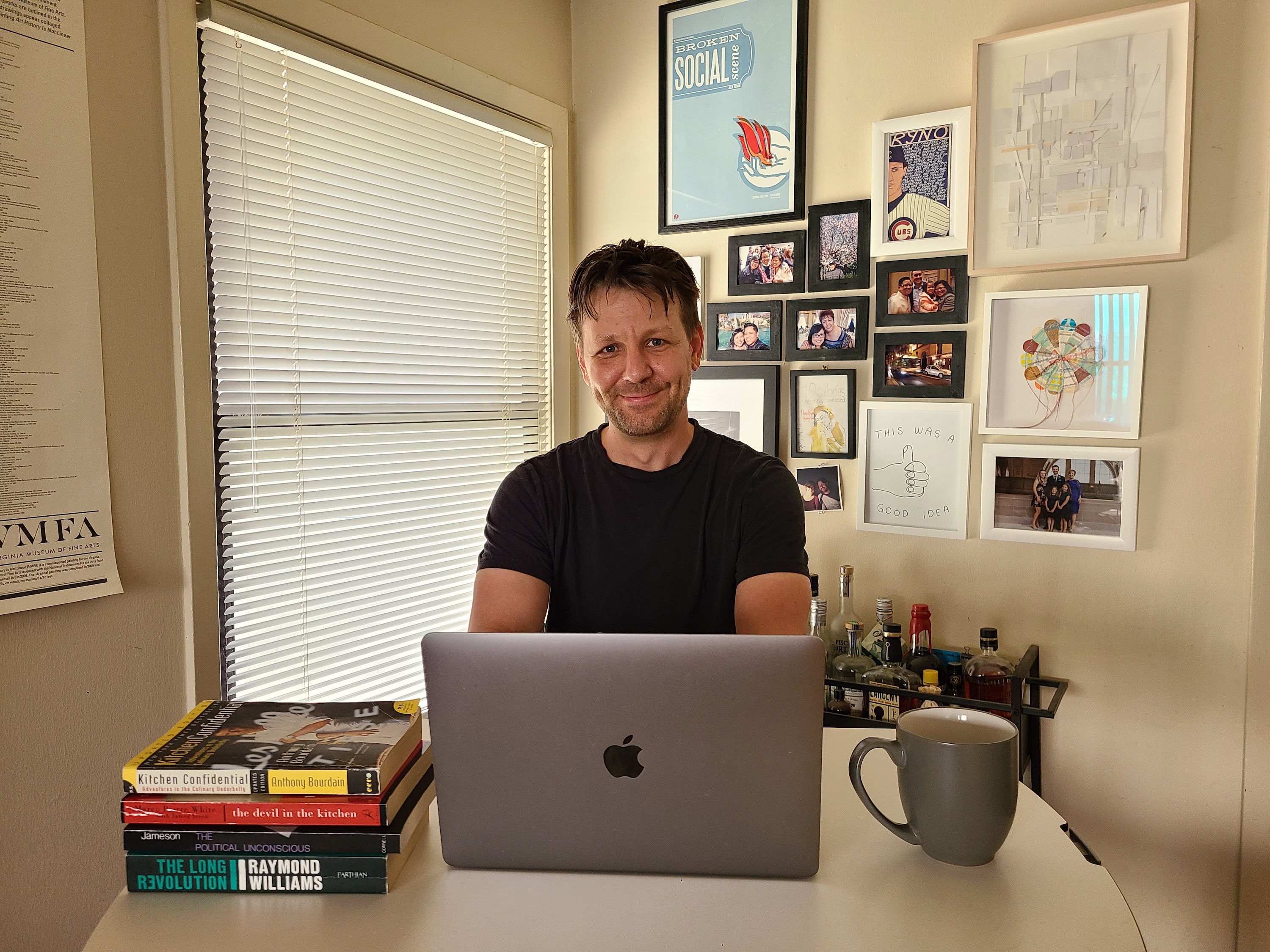 Denis Flaschner came to Ohio University as a first-year English major in 2000. Seeking an intensive experience, he transferred to the Honors Tutorial College (HTC) as a sophomore, where he completed all his coursework with one exception: to graduate, he would need to complete a thesis project.
After leaving Athens, Flaschner moved around the country, building a career as a chef in commercial kitchens. He settled in San Francisco in 2014, but he hadn't forgotten about that honor's thesis.
"It was always somewhat hanging in the back of my mind," Flaschner said. "Like, someday you're going to stop working in the kitchen and maybe you'll finish." 
Someday came in February 2020. After quitting his restaurant job, Flaschner decided to contact HTC to inquire about the possibility of completing his degree.  
"I reached out saying, 'Hi, remember me?'" he said. "The wheels started turning as far as getting in touch with the right people."
Of course, COVID-19 would throw a slight wrench in the plan — it took a few weeks to solidify his re-enrollment, but Flaschner made the most of the delay.
"During all that time I was brainstorming," he said. "What would your thesis be about? You're going to have to pitch something, you know. And it better be good because no one there knows you anymore. I went through a couple ideas but I really wanted to incorporate my personal experience."
Flaschner said his years in the restaurant industry had become a larger part of his identity than he had realized, and he wanted to use that experience to inform his thesis. 
The resulting 105-page work, "The (Heart of) Darkness in Anthony Bourdain's Kitchen Confidential," incorporates Flaschner's personal narrative along with literary criticism and analysis. The writing process took just over a year, during which Flaschner re-acquainted himself with the terms and concepts he would use to create "by far the biggest thing" he had ever written.
"It was kind of scary. I needed to refresh the memory bank as far as how to use the vocabulary properly," he said. "I made my own glossary of terms so I could make sure that when I did go to write, I would have the correct instincts and I wasn't constantly searching a thesaurus."
The English department connected Flaschner with Professor Thomas Scanlan, who served as his thesis advisor and asked for a few writing samples before the two began working together.
Scanlan said the samples revealed several things about Flaschner and the thesis he was planning.
"First, I knew I was reading the work of a brilliant analytical mind," Scanlan said. "I also knew that this guy could write! Finally, I knew that he had a story to tell and that he would tell it with a distinctive voice. The only thing that gave me pause or concern was the question of whether he would be able to finish an entire honors thesis in one semester."
Scanlan said his reservation came from the scope of Flaschner's proposal.
"I told him that what he was envisioning was a book, not an honors thesis," Scanlan said.
When the two began work on the ambitious project in the spring of 2021, Scanlan set out ground rules that included a minimum weekly page count and a check-in at week seven. If the project was still too big at that point, Flaschner would have to "cut everything but the most essential parts."
When week seven arrived, Scanlan found that his student had figured out how to narrow the scope of the project. 
"The result was a really wonderful piece of writing that hung together amazingly well," Scanlan said. "One of the things I liked best about the final product was that it told part of Denis's story of his journey from student to chef and back to being a student again. And it did this while delivering a brilliant analysis of the work of Anthony Bourdain and his relationship to Joseph Conrad. Now that it's all finished, I actually miss our weekly conversations."
Flaschner also appreciated the virtual meetings.
"I think the best part was just getting that time with Dr. Scanlan," Flaschner said. "If you added it all up, we were probably on Zoom or on Teams for, like, 13 or 14 hours. To have him as my audience the whole time was unique and special and that was definitely the best part."
In addition to Scanlan, Flaschner said two people especially deserve the credit for supporting him through this process: his wife Malinda and his mom, Laura Dubek, who finished her doctorate while Flaschner was growing up. She knew this was an achievement worth celebrating.
"My mom did a Zoom meeting where she brought in different people from my life," Flaschner said. "My little nieces were the hosts and they would make me guess who the guests were, like my high school English teacher and Dr. Scanlan both came on."
Flaschner said he could not have completed the thesis without his wife Malinda. 
"Not everybody has the chance to do this, to just stop and enter their own intellectual bubble," he said. "I understand that that is quite a gift to get, for a year of your life to be able to do that, and I couldn't do it without the material comfort that being with my wife provided me, and then of course of all the [emotional] support."
Flaschner said the process of reconnecting with a program after so many years was a pleasant surprise.
"I honestly was not expecting to be welcomed back," he said. "[But HTC said], 'Here's somebody's professional time to read your stuff,' and, 'Yes we want you to finish.' That's pretty special, I recognize that. It's really valuable. What HTC does is definitely important."
Flaschner's persistence and unique perspective stood out to HTC Dean Donal Skinner.
"Denis is only the second student in my 30 years in academia who has stopped out for so long to come back and finish," Skinner said. "I admire his drive and desire to return and then produce an exceptional thesis that was also able to draw on his rich experiences in the culinary world. We are extremely proud to welcome him into our community of HTC graduates."
Flaschner also said that his life experience was also a critical part of the endeavor.
"There's no way I would have had this take on Bourdain or even Heart of Darkness if I hadn't been on the front lines of the working class for this long. It definitely shaped my perspective and it's one that there's no way I would have had 20 years ago."
He has some advice for other former OHIO students who might be considering a return to academics.
"Anyone who's walked away, and is working: you have a special point of view, and you can leverage that or lean into it, because it's going to be interesting," he said.
Flaschner's thesis was accepted by the HTC committee. He has been approved for graduation in spring 2021.