OHIO alumni artists featured in "One in/and Seven" exhibition at Nelsonville's Majestic Galleries
Published: August 23, 2021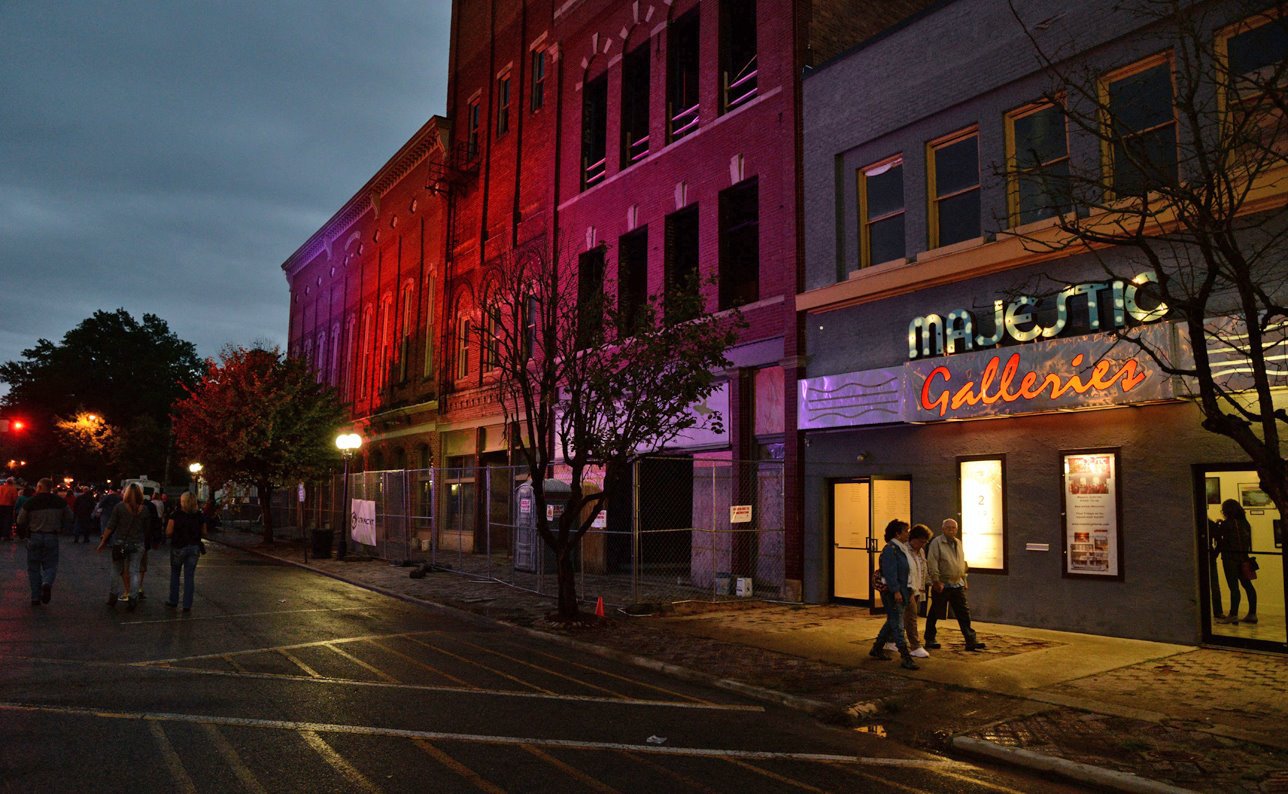 Majestic Galleries
The Ohio University School of Art + Design and Majestic Galleries in Nelsonville are happy to announce the upcoming exhibition, "One in/and Seven," Aug. 27 – Sept. 17, that features new work by seven alumni artists. An opening reception will be held during Nelsonville's Final Friday, Aug. 27, from 6 to 9 p.m. at Majestic Galleries, 20 Public Square, Nelsonville.
This group show brings together seven adjunct faculty members from Ohio University who are also alumni of the School of Art + Design. The artists include Terry Kolb Davis, April Felipe, Cassidy Brauner Jarrahi, Mateo Galvano, Courtney Kessel, Elisa G. Smith, and Basil Masri Zada, who are exhibiting a broad range of media in photography, sculpture, installation, ceramics and drawing.
Throughout the history of the School of Art + Design, various alumni have returned to campus to serve OHIO in critical ways — as educators, as administrators, as scholars, as visiting artists, and more.
"The seven alumni in this exhibit serve as part-time employees of our school, yet they have held (and continue to hold) our school together during the many challenges which we've faced as a community," Julie Dummermuth, director of the School of Art +Design, said. "They have all given their utmost to our students and to our program (as artists, as scholars, as educators, as administrators, as recruiters, as coordinators and as technicians) and they have kept our program flourishing amidst uncertain times."
Gallery hours for Majestic Galleries is from noon to 5 p.m. Friday, Saturday, and Sundays.
"I am deeply thankful for this incredible team of people and it is an extreme privilege for our school to showcase their creative research. Please join me in honoring them and in thanking them for their extraordinary work," Dummermuth added.
Artist Bios:
Terry Kolb Davis was born and raised in America's Heartland, a cultural region of the United States that is often associated with mainstream, conservative political, and religious ideology. In 2020, Davis received an M.F.A. in Printmaking from Ohio University and a Visual Arts Management certificate. He received his B.F.A. from Southeast Missouri State University in 2017. The work Davis makes as a fine artist challenges the structure of modern social concepts concerning gender roles, whiteness, and capitalism. His current body of work is a deconstruction of the traditional American concepts defining performed masculine sex roles. Davis is currently employed at the College of Visual Art and Design at the University of North Texas as an adjunct instructor for the Printmaking Department.
April Felipe was born in Queens, New York. As an American of Dominican and Puerto Rican descent, her work explores the complexities of navigating personal and cultural histories in service to the construct of one's identity. Through layering of materials and patterns, historical, found, and invented, Felipe's work explores this narrative and the constructed nature of the past to reveal our desire for belonging. She received her B.F.A. from The New York State College of Ceramics at Alfred University and her M.F.A. from Ohio University. Felipe is a co-founder/ organizer of The Color Network.org. She has set down roots in Albany, Ohio with a home studio.
Cassidy Brauner Jarrahi's research and work focus on the vernacular and the less considered, historically significant, images, objects, and stories – pushing up against singular definitions of reality by unpacking the personal alongside the public and the shared. She explores these themes through photography, video, performance, and mixed media/text. She received her B.A. from Otterbein University in Art-Photography and Visual Communications with a minor in Women, Gender, and Sexuality Studies in 2014 and her M.F.A. from Ohio University in Photography + Integrated Media in 2018. She is currently interim chair and visiting professor of Photography + Integrated Media at Ohio University.
Mateo Galvano uses painting, drawing, sculpture, digital arts, moving image, sound, and installation to foment conceptual themes that inform the images and objects he makes. In his work, the landscape reveals a condition of damage and regeneration, which parallels the traumatized body in search of healing. Galvano's work is included in private collections internationally. His collaborative multimedia installation project, titled Lacuna, with C. David Russell, is on view at the Kennedy Museum of Art, Aug. 20, 2021 - March 6, 2022. Galvano is a lecturer in foundations and recruitment and retention liaison at the School of Art + Design. He received his B.F.A. in Studio Art in 2009, M.F.A. in Painting + Drawing in 2014, and his Certificate of Museum Studies in 2015, all from Ohio University.
Courtney Kessel is an artist, academic, mother, and arts administrator who exhibits internationally and has worked for OHIO since 2010. Over the past decade, her artwork has balanced the personal with the political by placing the intricate subjectivities of motherhood in the gallery. Kessel works in sculpture, installation, performance, video and photography. She is currently the assistant director of Experiential Design and chair of the Visiting Artist and Scholars committee. She is a Ph.D. candidate in Interdisciplinary Arts (anticipated 2025) and received her M.F.A. in Sculpture + Expanded Practices in 2012 from Ohio University, with a certificate in Women and Gender Sexuality Studies. She received her B.F.A. in 1998 from the Tyler School of Art.
Elisa G. Smith is an artist, curator, space facilitator, and educator, in non-hierarchical order. Her work began by utilizing photography, video, installation, and performance to examine internal structures of memory, process, and storytelling. In working collaboratively alongside artists in alternative spaces, her work evolved into a practice of community building and examining the complexities, histories, and personal narratives of female labor. Smith received a B.F.A. in Photography from Ohio University in 2009 and an M.F.A. in Interdisciplinary Arts from University of Pennsylvania in 2013. Her projects have been exhibited in The Netherlands, Los Angeles, Miami, New York, Ohio, and Philadelphia. She is currently co-founder and executive director of Columbus Printed Arts Center, is a visiting artist in Photography + Integrated Media at OHIO, and mother to her young son.
Basil Masri Zada is a Syrian artist, political activist, Fulbright alumni, academic, educator, curator, and scholar, and he is currently living in the United States. Zada was born in Damascus, the capital of Syria, a country in the Middle East that has been in a long-term conflict/crisis since 2011. Zada is currently a Ph.D. candidate and an instructor at Ohio University. Zada's current research and artistic practice interests are focused on studying art, life, and political activism as reflected in the Syrian arts during the Syrian Crisis, which began in 2011 and continues. He is a Ph.D. candidate of Interdisciplinary Arts, Performance Studies and Visual Arts at Ohio University, (anticipated 2022); received graduate certificates in Museum Studies, Women's, Gender and Sexuality Studies, and African Studies in 2016; received his M.F.A. from Ohio University in Sculpture and Expanded Practices in 2014; and his B.F.A. in Sculpture from Damascus University in 2007.