Ohio University's social media leads at No. 4 in the nation
Published: September 15, 2021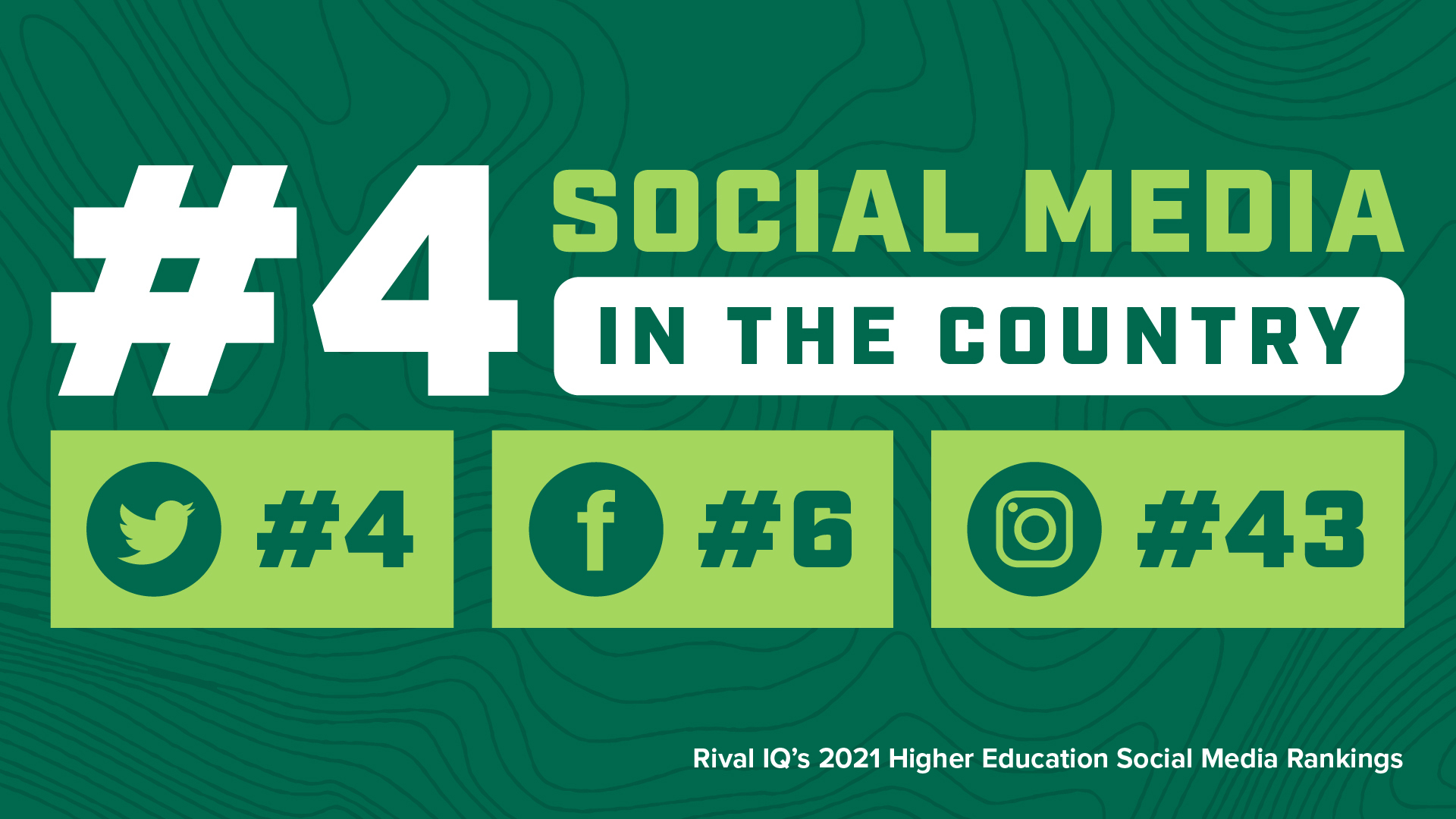 Ohio University's social media has been ranked No. 4 in the nation among every NCAA Division I higher education institution. This moves OHIO up from the previous best No. 6 ranking earned last year. 
Rival IQ's 2021 Higher Education Social Media Engagement Report ranked OHIO No. 4 overall, No. 4 on Twitter, No. 6 on Facebook and No. 43 on Instagram. 
"Vibrant photos that popped thanks to vibrant Bobcat green," according to Rival IQ, helped place the OHIO social media pages in the Top 10 across the nation for the second year in a row. 
The report surveyed 353 Division I colleges and universities between June 1, 2020, and May 31, 2021. According to Rival IQ, the top-ranked social media higher education pages have high engagement rates with average or better audience sizes and posting volumes. 
"We've really focused on creating content that our audience is interested in and that we know that they want to engage with by using the characteristics of our most successful posts to write the posts that may not be as fun, but are still really important," Stephanie Fiorelli, social media specialist, said. 
Fiorelli, Eli Burris, BSJ '16, social media specialist, and Donna Gallo, digital strategy director, are leading the efforts on engaging OHIO's community through social media. 
The Rival IQ ranking is another significant recognition for the social media team this year. Earlier this year, #HigherEdSocial named Fiorelli the "Emerging Higher Education Social Marketer of the Year" and recognized Fiorelli, Burris and Gallo for "Best Athletics Social Media Campaign of the Year" for efforts during the March Madness NCAA Men's Basketball tournament.
Top performing social posts from the past year covered an array of topics, from celebrating March Madness, unveiling the new Forever OHIO brand, OHIO appearing on Jeopardy!, to posting Black Lives Matter and LGBTQ portrait series, and basking in the winter beauty of Athens, OHIO's social media team told OHIO's story in a way that connected with current, former, and future students and all in the Bobcat family.
"I'm so proud of not only the quality but the variety of the content we covered in the last year," Burris said. "We featured everything from athletics achievements — such as the Men's Basketball MAC Championship — to Athens culture, Black history, LGBTQ+ rights and much more. To have such high social media engagement numbers, during a pandemic when campus life was not as active as normal, was a challenge we met head-on."
Burris has a deep understanding of what it means to "bleed green" – he was the 20th member of his family to attend OHIO, and his cats are named Athena and Rufus. He joined University Communications and Marketing in May 2019 as the second-ever social media specialist and has been an integral part of OHIO's social media success.
Between July 2020 to July 2021, OHIO's Instagram page grew 26% from 50,700 followers to 63,678, OHIO's Facebook page grew 8% from 100,270 followers to 107,808 followers, and OHIO's Twitter page grew 2% from 72,930 to 74,313 followers.
While followers increased, millions of impressions were also made. From July 2020 to July 2021, OHIO's Twitter, Facebook and Instagram accounts combined for a total of 97.2 million impressions and 3.8 million engagements. 
Fiorelli, who joined Burris as a social media specialist in July 2020, points out that she and Burris make a strong social team, bringing together needed assets to achieve.
"Eli and I have different strengths that really complement each other," Fiorelli said. "He is a wonderful photographer, and you can't beat his understanding of the Bobcat Spirit. My background is based in student affairs and helping students have the best possible time at OHIO, while growing academically, emotionally, and mentally, and focusing a lot on one-on-one interactions." 
While not part of the ranking, Fiorelli has led efforts to share OHIO's message on the growing social media platform TikTok and serve content to current and prospective students. OHIO's TikTok account currently has over 3,220 followers as of this article publication.
"I'm hoping to keep expanding our TikTok channel," Fiorelli said. "I learned a lot about what our audience is interested in and working on creating more of that content." 
The social team is also thankful for the news, photo, video and design teams' support that aided them in creating content for the past year. 
If a member of the OHIO community has a social media idea or resource, they are welcomed to reach out to the social media team.