2022 Global Arts Symposium Call for Papers
Published: October 4, 2021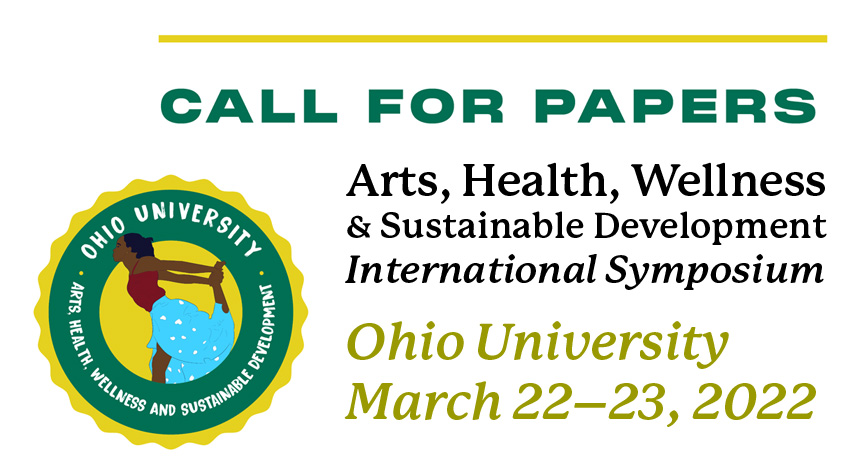 CALL FOR PAPERS 
ARTS, HEALTH, WELLNESS & SUSTAINABLE DEVELOPMENT SYMPOSIUM

Ohio University, Athens, Ohio
March 22–23, 2022
Download the Call for Papers [pdf]
In 2015, the United Nations launched its 2030 Agenda for Sustainable Development as a blueprint for tackling some of our most significant global challenges, including poverty, inequality, environmental justice, access to education, and population health and wellness. In response to the UN's vision for the future, and the COVID -19 Pandemic, the College of Fine Arts at Ohio University will host a two-day symposium on the theme Arts, Health, Wellness & Sustainable Development during its 2nd Global Arts Festival.
The Symposium will create opportunities for an intellectual exchange of ideas, concepts, and recommendations to aid artists, educators, health care professionals, policymakers, and others working at the intersections of art, public health, and community development. We invite proposals for individual papers, roundtables, workshops, panels, posters, performances, films, and other research and creative activity forms.
Potential categories might include:
Arts in Healthcare (performing, literary, visual arts, and design)
Role of Arts in Community Development
Arts in Traditional, Complementary, and Alternative Healing Practices
Performing Arts Medicine
Arts and Wellness Communication Strategies
Human-centered Design
Artistic Interventions for Children
Artistic Interventions during and after COVIC-19 and other Global Pandemics
Details
For consideration, please send the following to the Symposium Committee: Prof. Paschal Yao Younge, (youngep@ohio.edu) & Zelma Badu-Younge, (badu-you@ohio.edu)  and Dr.Divine Gbagbo, dg694117@ohio.edu.
Name and contact information (email and telephone)
One-page project abstract and title (250 words).
Brief Biographical Narrative (100 words)
Submissions will be selected based on clarity and on the relevance and originality of the ideas presented. We will post the symposium registration, accommodation and other relevant information shortly.
Submission Deadline November 30, 2021
Notification of Acceptance: December 31, 2021