Athena Cinema launches new membership look and benefits; membership drive
Published: November 30, 2021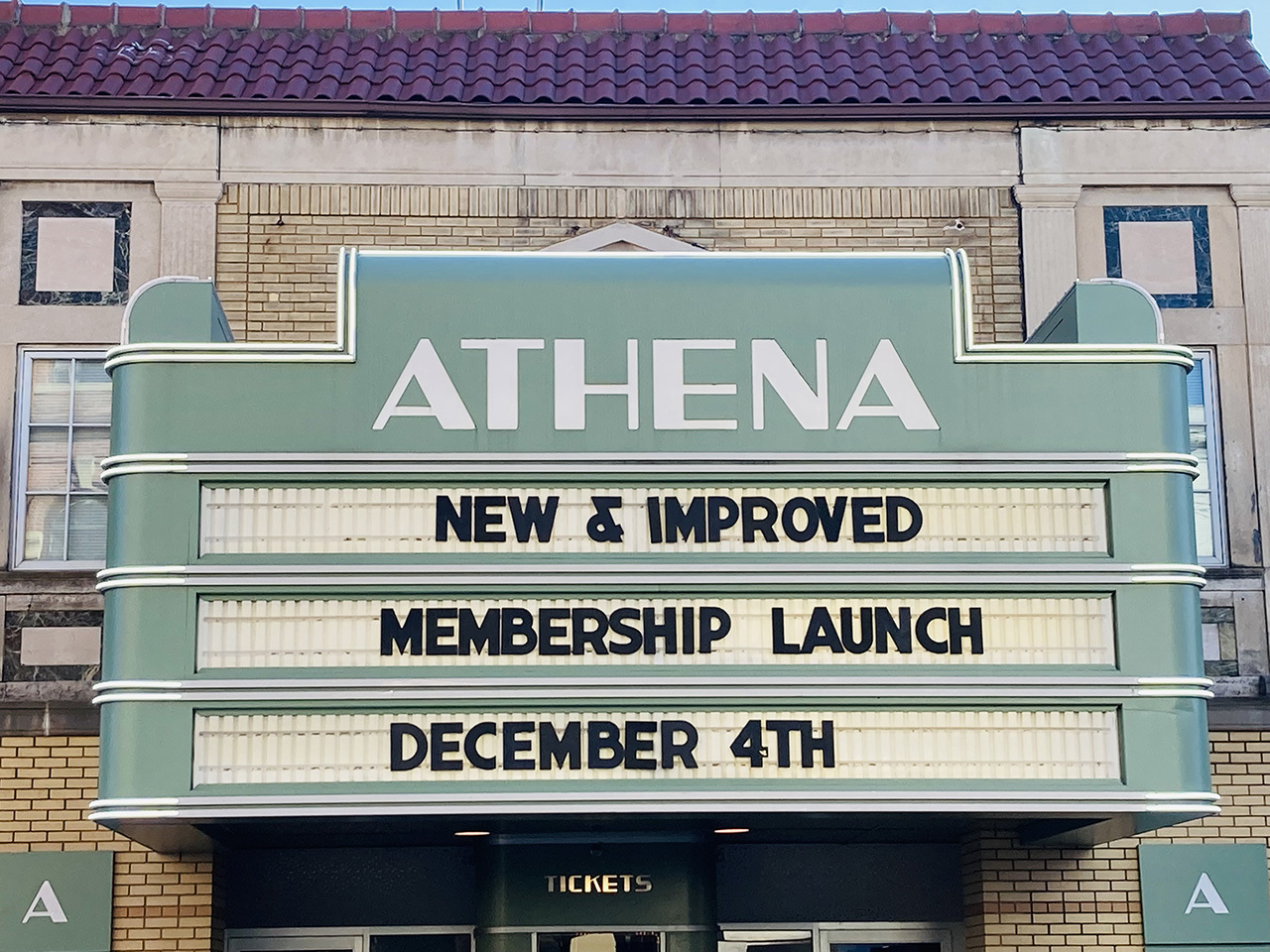 The Athena Cinema, a beloved theater that serves both the Athens community and Ohio University students, is expanding its membership program to better meet its patrons' needs by offering new membership categories and enhanced benefits.
On Saturday, Dec. 4, the Athena Cinema will launch newly named membership categories — Varsity, Schine's, Majestic, and Pickford — as well as the enhanced benefits that go with them. The new membership will also give patrons the option to join the membership ranks as either a single member or as a couple.
The new Athena Cinema membership categories celebrate the history of movie houses in Athens, as well as the iconic and beloved American actor, Mary Pickford, who starred in "Cinderella," the first film screened at the Athena Cinema in June of 1915.
On Dec. 4, the Athena Cinema will also launch the first official, one-month-long membership drive, just in time for the holidays. Any membership purchased between Dec. 4, 2021, and Jan. 4, 2022, either for the buyer or as a gift, qualifies for an extra bonus month of membership benefits. This special offer is only available to members who renew their membership or to those who purchase a new membership between those dates.
Current members will still be able to enjoy all the benefits associated with their current membership category until their membership is set to expire. Once it expires, patrons can choose among the new membership categories to renew their Athena Cinema membership.
"Membership is vital to our operations, and we wanted to find a way to celebrate the rich, unique history of film exhibition in Athens, while also improving the program's functionality and offerings," Alexandra Kamody, director of the Athena Cinema, said.
In addition to the promotional discount, the theater will feature a special member appreciation screening of the classic noir film, "In a Lonely Place," starring Humphrey Bogart and Gloria Grahame and directed by Nicolas Ray. The screening will take place at 7:30 p.m. on Thursday, Dec. 9. All current members and anyone purchasing a membership on that date will receive free admission to the screening.
The Athena Cinema has been in operation in uptown Athens for 106 years and is Southeast Ohio's premier arthouse theater, cultivating unique experiences like the free live Met Opera broadcasts, educational events featuring engaging speakers and discussions, as well as contemporary cinema not available at other regional movie theaters. Its commitment to cultural diversity and to serving the Athens community are core to its mission.
Kamody said The Athena Cinema introduced its membership program in 2012 and since then, areas for growth and improvement have emerged.
"We hope our new membership program excites our long-time members and also entices new patrons to purchase a membership and enjoy all the benefits aligned with the category they choose," Kamody said. "We had a lot of fun paying homage to the history of movie theaters on Court Street with this program and we hope to share the narrative of that history through these new membership levels."
For more information about the Athena Cinema and its current listings, visit the Athena Cinema website.