Plant Club students dig the outdoors while helping the Athens community
Published: November 29, 2021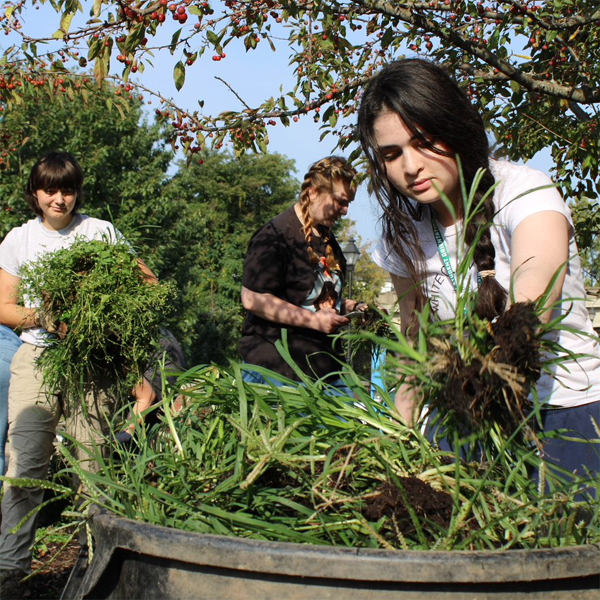 Members of Ohio University's Plant Club come from multiple colleges and majors, but they have one thing in common; they are interested in engaging with our natural resources in hiking, conservation, gardening, crafting, and learning about plants.
In two recent outdoor activities, members cleaned up the Baker University Center Edible Garden and volunteered with the Athens Conservancy and Buckeye Trail Association on the John Knouse Trail. Students from the College of Arts and Sciences' Environmental and Plant Biology Department, the Russ College of Engineering and Technology, and Honors Tutorial College participated in these events.
The Baker University Center Edible Garden Project was initiated by Benjamin Shonk '18 and continued under the leadership of Paola Muñoz Gamboa when she was a graduate student in the M.A. in Environmental Studies program and resident at the OHIO Ecohouse. Though she has graduated, Muñoz volunteered her time on Oct. 10 to help the Plant Club learn about the garden and contribute to keeping it healthy.
Growing in the Baker garden are loofahs, tomatillos, red onions, fennels, long-leave cilantro, squash and peppers. The Plant Club has helped maintain the Baker garden in previous years and will continue to help manage it. Susan Calhoun, landscape coordinator at OHIO, provided resources for this effort.
Ridge Cook, who will be living in the Ecohouse next year and is majoring in Field Ecology, joined in the trail-building day with the Athens Conservancy, as well as the Baker University Center Edible Garden maintenance volunteer day.
"Studying sustainable and ecological solutions in school has made me desperately want to participate in front-line work that will make a difference I can see and be proud of," Cook said. "This past year has made me realize the power of communities coming together and accomplishing something for a common belief — that we can contribute to the future we all want to see. For me that is a future where food and access to nature are more accessible and commonplace. Public trails and public food gardens are a step in that direction."
Delaney Gibbs, who earned a master's degree in Environmental & Plant Biology and is on staff with the Athens Conservancy, invited the Plant Club to help the conservancy and the Buckeye Trail Association work on a new hiking trail dedicated to the late John Knouse.
Plant Club members hiked out to the trail on a beautiful September day to lift pulaskis and break ground on part of the new trail. Some of the Plant Club members had worked on other Conservancy projects with Knouse, a dedicated conservationist, a few years earlier, so this was especially meaningful work.
The students met other local community members, learned about the conservancy, explored a lovely area, and helped create this new trail that will connect Strouds Run and Baker Preserve. (See more information about the John Knouse Trail.)
The Plant Club also met to learn about indoor plants, sharing best practices for growing, trading tips on what to start indoors, and providing samples for members at their October meeting. They communicate between meetings using GroupMe to share photos of favorite plants and ask for advice on watering and other concerns.
"I've found happiness in taking care of house plants and being able to expand my horizons with Plant Club has been amazing," Plant Club officer Emily Sudnick said. "Working with a team and getting my hands dirty has been so rewarding, and I love being a part of projects like these."
Plant Club also carved pumpkins on Oct. 27 and visited the Outdoor Museum at The Ridges in early November to view the Pollinator Garden, the bat house, and to learn about local plant and animal species.
Those interested in the Plant Club can follow them on Instagram at ohiouplantclub, find them on Bobcat Connect, or contact their faculty advisor Kim Thompson at thompsk3@ohio.edu for more information.