Professional actors give sage advice to OHIO students on making it in musical theater
Published: November 17, 2021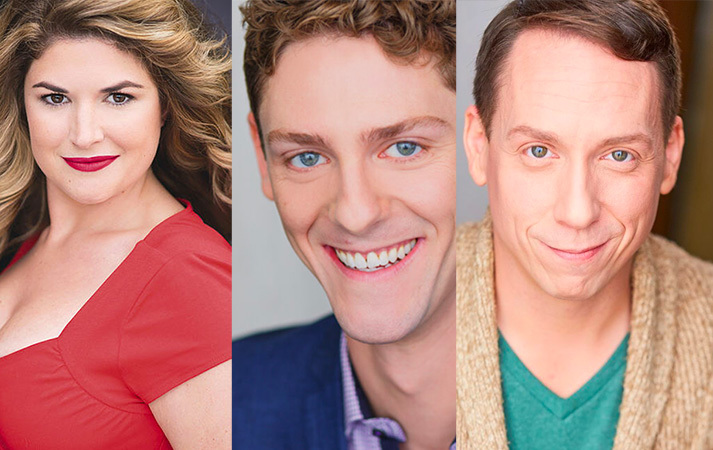 Being kind is Jacqueline Petroccia's biggest piece of advice when it comes to auditioning for a role in a musical theater production.
"The person sitting next to you right now could be the next casting director," Petroccia said.  
Petroccia, along with Wade Elkins and Steven Strafford, spoke to acting and musical theater students in an October masterclass, offering advice on auditioning, navigating New York, and the day-to-day life of being an actor. All three artists worked as professional actors in big-city theater markets and now reside in Athens. Petroccia and Elkins are both graduates of the University of North Carolina at Greensboro, and Strafford is a graduate of Drew University in Madison, New Jersey.
"When I was coming out of undergrad, I had no idea how to… be an actor," Strafford said. "I knew how to act, and I knew how to perform. But I didn't know how to arrive in an audition. I didn't know how to get headshots. I didn't know anything in building the business. So, anytime I can help someone young now, it feels like I'm helping me, back then." 
Strafford said being an actor can also be extremely emotional, and he hopes his advice will prepare people for that side of the job. He described experiences where he received rejections and booked jobs — all in the same day.
"I think every generation should want to make it easier for the next generation coming up," he said.  
Strafford and Elkins are currently pursuing MFA in Playwriting and Acting degrees at Ohio University, respectively. Elkins previously worked as a full-time teacher in Chicago and, on occasion, would audition for a role during his lunch break. 
"I really value being an educator," Elkins said. "I really enjoy getting to inspire and challenge and encourage younger people in their creative endeavors. Being an OHIO grad student, I was really excited to be able to speak to the undergrads and share my almost 20 years of professional experience." 
Elkins said undergraduate students often don't have extensive professional theater experience, so learning from more experienced actors can be valuable in understanding the business side of working in musical theater.  
"Especially with Steven and Jackie and me, we bring experience from New York and Chicago, as well as some knowledge about regional markets," he said. "And there's just so much that you learn by doing… by going out to auditions (and) working at different theaters." 
Part of Petroccia's advice was informed by her experiences as a woman working in musical theater.
"There is so much more competition with women-identifying actors, especially in musical theater," she said. "I feel like we agonize over, 'Am I going to wear pants or a dress? Am I going to wear boots or heels?'" 
Assistant Professor of Musical Theater and Music Director Brent Frederick hosted these three professionals and the masterclass through the College of Fine Arts' Visiting Artists and Scholars Program. 
Tommy Page, a third-year musical theater major, said it was an "eye-opening" experience to see their lessons in class come to life. Page said, for him, the advice that stuck out the most was how they described life as an actor in New York City.
"It was structured to show us how they would act in a real audition," Page said. "It was nice to see how they would actually be in a professional room because that's something we've been practicing a lot.
Frederick echoed Page's thoughts about the benefits of learning by example.
"I think any of us who have gone into this profession just need as much modeling – from people who have been there and done it – as possible," Frederick said. "I think that you can learn it the best from seeing professionals do it. Knowing that they are here in our community was a great benefit for us." 
Photos courtesy of Jacqueline Petroccia, Wade Elkins and Steven Strafford.