OHIO Business professor Sergio Robles uses expertise to support Cleveland's international community
Published: December 10, 2021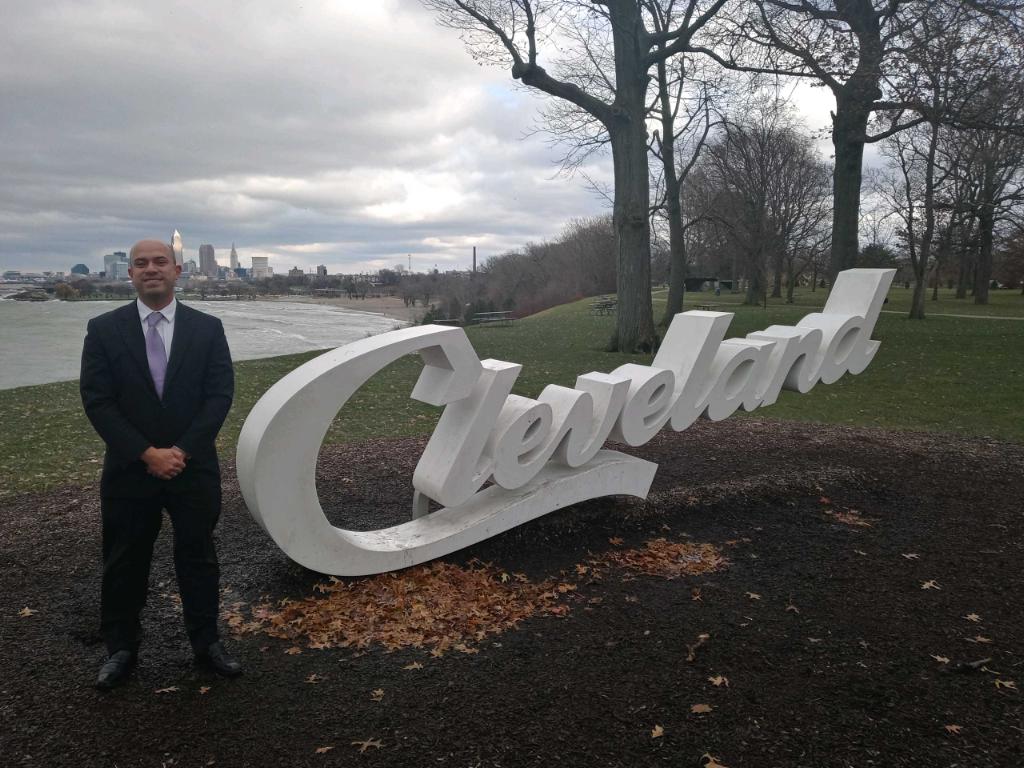 Although born in the home of rock and roll, Cleveland, Ohio, Sergio Robles spent much of his life growing up between the U.S. and Mexico, holding dual citizenship in both countries and finding great interest in the relationship and differences between the two. His parents, immigrants from Mexico, took him to spend many of his summers there, immersing him in the culture. From his experiences growing up in both countries, he developed an interest in this binational relationship and decided to focus his studies on comparative consumer research between consumers in the U.S. and Mexico.
Throughout his career, though, Robles, a professor of marketing in the College of Business, has put great emphasis on learning about countries all over the world and using his expertise to advise and help immigrants.
Robles received a Ph.D. in business administration from the University of Texas-Rio Grande Valley, where he was able to research and study right on the border and in a place known for being bicultural. He also holds an MBA from the Tecnologico de Monterrey in Mexico and an MA in International Relations from Kyung Hee University in Korea. He completed his undergraduate work at the University of Akron. 
"There is a growing immigrant population here in Ohio and I've always believed that I can use my experiences both in my studies and my life to help this community grow," Robles said. "I was fortunate to get a full scholarship to the University of Akron for my undergrad, so I made the promise to go back and help the community out, specifically northeast Ohio."
Robles started giving back to northeast Ohio through volunteering with several organizations in the Cleveland area, including Global Cleveland, the Cleveland Federal Reserve Bank, Esperanza Inc., and the Cleveland Council of World Affairs.
"Sergio Robles has been a delightful addition to our CCWA community," Carina Van Vliet, chief executive officer of the Cleveland Council on World Affairs, said. "As a business professor, he understands the value of global engagement and learning about dynamics in other parts of the world; he has been greatly engaged in our speaker programs and in dialogue about key geopolitical issues. CCWA is thrilled that he has chosen to cultivate such strong connections in Cleveland and be part of the next globally-minded generation of thought leaders in Cleveland."
 
At Global Cleveland, Robles helps immigrants and refugees settle in the area, working directly with people, advising them on how to get work, get accustomed to the area, and how to transition and advance in the U.S. Currently, he is working with Afghan refugees who came to northeast Ohio, helping them get settled into the area and find work.
"I'm working with one gentleman who was doing consulting work for the U.S. government in Afghanistan and now is working at a factory, so I'm helping him put his resume together and look for another job in the U.S. since looking for work is so different here than in his country," Robles said.
He also currently advises the Cleveland Federal Reserve Bank on economic inclusions, specifically advising the federal reserve on policies that benefit immigrant and poorer communities, and shares insights and recommendations on bringing minorities and lower-income residents into greater participation into the regional economy.
"When working with the federal reserve, I really try to incorporate what I've learned about minority and low-income students and from my observations, what we can do to help include them in better networks," Robles explained. "My position as a faculty member helps me connect with students and become a bridge for them, helping them overcome challenges, climb the economic ladder, and find jobs."
Robles also advises the federal reserve on reviewing the progress of the Hispanic community in northeast Ohio, looking at what kind of jobs they're getting and what can be done to assure they progress and are promoted in jobs.
For Robles, one of the most important things to him outside of his volunteer work is being able to mentor his students and provide them with opportunities and advice to help them succeed.
"Il Woon Kim, a Korean professor I had at the University of Akron, has been my mentor for over 20 years, helping me get into international relations and politics. Through him, I gained interest and knowledge in the Korean, Chinese, and Japanese governments and was able to live in Korea as an immigrant for three years," Robles said.
While in Korea, Robles did consulting work and worked with the Asian Development Bank (ADB), doing ground research in several countries. At the ADB, he helped develop government strategies in IT development, human resource development, and global trade with government officials from Vietnam, Mongolia, Sri Lanka, The People's Republic of China, Korea, and Malaysia.
At OHIO, Robles teaches marketing and consumer behavior courses. He aims to bring his international experiences to his students, whether that is through the differences he's learned about each country, the bizarre experiences he's encountered, or through his failures.
"Outside of the lessons I try and bring into the classroom, I really like to emphasize how important networking is and how students should take advantage of the faculty they have at their fingertips," Robles said. "Faculty can inspire students and help get them scholarships and real-world experiences – at least in my experiences, these things have impacted my career."
Robles received Global Cleveland's Volunteer of the Year Award for the work he has done to support Cleveland's international community.
"Sergio is an inspirational leader, lighting the way for our international community," Nancy Janis, vice president of Global Cleveland, said. "He donates his time and talent to help others. His selfless commitment to continue his work as a mentor with our Global Rising Leadership program is truly incredible. Sergio's contribution has made such a difference to the lives of our participants, of which we are so grateful and greatly appreciate."
The award was given to Robles via Zoom during Global Cleveland's annual meeting on Dec. 9. He was also recently named one of the 100 Latinos in Cleveland you must know for the 2021 cohort.
"Receiving volunteer of the year award from Global Cleveland is something I'm really proud of because they've always supported me and I'm glad I can give it back and support racial minorities and newcomers," Robles said.
Robles is an academic, researcher, and consultant and has been on the faculties at the University of Texas-Rio Grande Valley and The Farmer School of Business at Miami University of Ohio.
His scholarship has been presented at top marketing conferences such as the American Marketing Association, The Society of Marketing Advances, and The Western Hemispheric Trade Conference on multiple occasions.
Robles has been a guest lecturer at the University of Suwon (Korea), la Universidad Autónoma de San Luis Potosi (Mexico), la Universidad Autónoma de Coahuila (Mexico), la Universidad Autónoma de Tamaulipas (Mexico), and the Texas A&M International University in Laredo, Texas, where he has shared his research and insights on U.S.-Mexico relations, comparative consumer behavior, and East Asian economic development and diplomacy.
He encourages any student interested in talking with him to reach out at robless@ohio.edu.