OHIO Online student balances work, school, and family
Published: December 17, 2021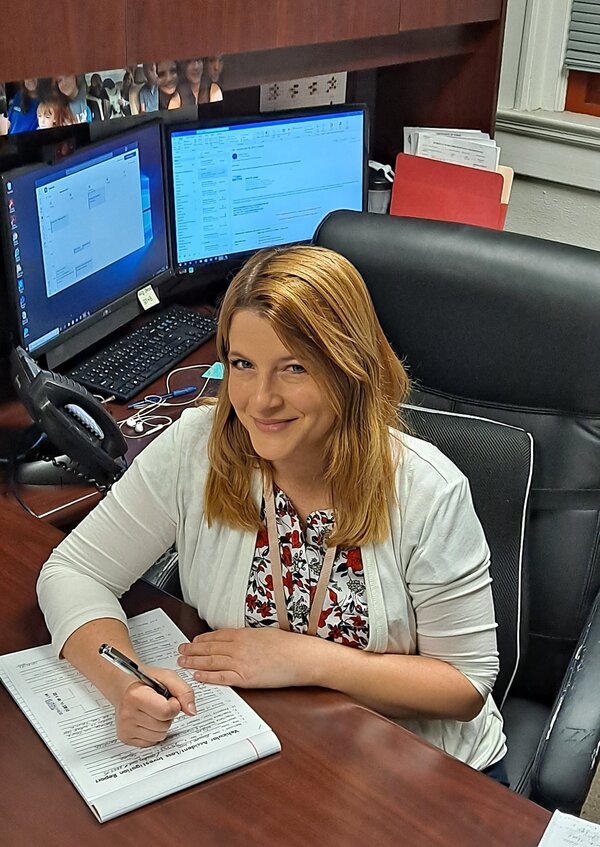 OHIO Online criminal justice student Christina Cox took a non-traditional route to college, starting her associate degree at Sinclair Community College in 2015 after having been a stay-at-home mom for 15 years.
After finding herself in a position where she needed to seek public assistance for food and housing to provide for her three children, Cox decided she needed to find a degree she could complete quickly to gain skills and credentials to enter the workforce.
Cox earned her Associate of Applied Science degree through the Paralegal Program at Sinclair in 2017, leaving with her degree and a job serving as a paralegal for the Miami Valley Community Action Partnership.
While working on her associate degree in legal studies, Cox began considering law school.
"I realized I loved law," she said. Knowing she wanted to continue her education and earn her bachelor's degree, she took advantage of Sinclair's articulation agreement with Ohio University which enabled her to transfer credit taken from her associate degree to OHIO as she began work on her bachelor's degree in criminal justice through OHIO Online.
As a paralegal for the law department in the Civil Division at the city of Dayton she works on legal cases, conducts discovery, and processes claims for lawsuits against the city, in addition to managing the budget for the law department. On top of this work, Cox also has a full course load of 19 credit hours planned for her final semester at OHIO this spring.
Before going to work for the city of Dayton, Cox worked as a paralegal for the Greater Dayton Volunteer Lawyers Project, the Community Action Partnership, and a private law firm. She also serves as a Court Appointed Special Advocate (CASA) in Montgomery County Juvenile Court where she advocates for children that have been adjudicated neglected, abused, and/or dependent.   
Since Cox plans to take a heavy course load for her final semester this spring, she appreciates the flexibility around assignment submission deadlines provided by professors like Dr. James McKean. Cox said she's learned concepts she's been able to apply in her job through McKean's criminology class.
"I'm learning a lot from him about policy and procedures, police reform, and trends in law enforcement," she said, noting that though she's been in her current position less than six months, she has already been able to apply concepts she's learning in the criminal justice program to the work she is doing in the legal department at the city of Dayton. "I can give valid input when we're discussing how our policies impact community relations," Cox added.
Pursuing a degree while fulfilling the commitments of full-time employment and parenting has presented challenges for Cox, but none that she hasn't been able to overcome. Though she said finding the time to accomplish everything is sometimes difficult, she has always been able to adapt, adjust, and succeed in her courses. When she found an intercultural communication class required more work than she had anticipated, Cox took the time to carefully examine course materials, regroup, and change the way she prepared for tests. One of her strategies was to utilize time while driving or waiting at an appointment to listen to lectures through the Blackboard application on her cell phone.  
Cox said her criminal justice courses have helped her better understand community perspectives and dynamics that influence the interactions and relationships between the police and members of the community they serve.
"There's a lot that goes into the distance between a community and its police officers," Cox said. "You have to be able to understand both sides. I'm always thinking of things from the police perspective since I work for the city, but you have to understand the community perspectives in order to improve the relationship."  
Cox is considering pursuing a law degree once she's completed her bachelor's degree in criminal justice.  
"Having a bachelor's degree gives me an edge no matter what I decide to do next," she said. 
Cox advises students who are considering a degree or career in criminal justice to find out more about the field through personal experience. She has appreciated the opportunity to learn and grow while serving her community as a volunteer with the Montgomery County Juvenile Court as a Court Appointed Special Advocate.   
"Get your feet wet somewhere," she said. "Volunteer somewhere and see what it's like. A lot of counties in Ohio have a CASA program. I think that is a great opportunity for people to volunteer in a legal field. You do not even have to have legal experience to begin that process."