Owens named American Psychological Association Fellow, recognized for work on ADHD interventions in schools
Published: December 3, 2021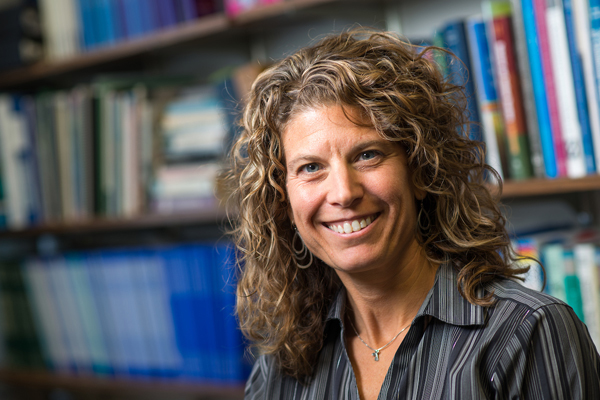 Julie Owens, Ph.D., was recently elected as a Fellow of the American Psychological Association's Society for Child and Adolescent Psychology for her outstanding contributions to research in clinical child psychology, specifically in the area of school mental health.
Owens is professor of psychology and co-director of the Center for Intervention Research in Schools in the College of Arts and Sciences at Ohio University.
"Fellow status is an honor bestowed upon APA members who have shown evidence of unusual and outstanding contributions or performance in the field of psychology. Fellow status requires that a person's work has had a national impact on the field of psychology beyond a local, state or regional level," according to the APA website. 
Owens has been a member of the Society for Child and Adolescent Psychology (APA Division 53) for more than 20 years.
"Dr. Owens' work represents the best that psychology has to offer," said Jeffrey Vancouver, Ph.D., professor and chair of psychology at OHIO. "She examines how to implement procedures that have been shown to be effective (i.e., evidence-based practices) using theories of human behavior that she and others have developed over the years. Because implementation is never straightforward, the research is needed to ensure widespread application of beneficial practices. Meanwhile, Ohio communities reap the benefits of the practices as Dr. Owens translates and refines them for the real-world application."
Owens is an oft-cited expert on evidence-based treatments for ADHD, a career interest that she traces back to her undergraduate research experiences in a summer treatment program and doctoral study under the mentorship of Dr. Betsy Hoza at Purdue University.
"While I was in graduate school, the Journal of Clinical Child and Adolescent Psychology released its first evidence-based update on psychosocial treatments for ADHD (1998) and the MTA Cooperative Group (1999) released the initial findings from the Multi-modal Treatment Study of Children with ADHD, both of which documented the evidence-based treatments for ADHD at the time," Owens said. "The Summer Treatment Program and these articles, collectively, created an important launching point for my career."
She has devoted her career to promoting evidence-based treatments for children with ADHD and evaluating their effectiveness when delivered in various school contexts. She has leveraged these findings to modify interventions and implementation supports to enhance children's access to interventions and teachers' high-quality implementation of them.
Early on, Owens saw that a treatment tool called the daily report card (DRC) intervention had been developed and tested in alternative classrooms or laboratory settings. She wanted to find out how the DRC functioned in a typical school setting.
"This was important because much of the previous research on these interventions had been conducted in alternative classrooms (e.g., special education classrooms), laboratory settings, analogue classrooms, or with research staff," she said. "My work importantly shows that evidence-based treatments can improve children's functioning without removing the child from the mainstream classroom environment, and without having to obtain services in a clinic, both of which have implications for equitable access to services and children's success in school." 
The DRC is still a widely used classroom intervention, but there are still many unanswered questions about its implementation. In 2012, Owens' research team first published empirical benchmarks for students' month-to-month response to DRC intervention. These benchmarks help teachers assess a student's response and the need for intervention modifications.
Next Owens looked at what kinds of support teachers need to successfully implement interventions such as the daily report card. With grant funding from the Institute of Education, her team developed a multi-component consultation package and provided the first evidence that teachers who have lower baseline knowledge, skills, and intervention-supportive beliefs show more improvement in implementation practices in response to individually tailored, multi-component consultation than in response to standard best practices consultation.
"Further, our cost-effectiveness analysis indicated that although this individualized approach is more costly, it is also more cost-effective than a standard one-size-fits-all consultation approach. These findings are stimulating a new generation of research on individually tailored teacher consultation approaches that address teacher knowledge, skills, and beliefs and motivation," Owens said.
Owens' team continues to look at how much intervention is needed in schools and what kind of support classroom teachers need.
For example, they have quantified a minimum threshold (51 percent) of the portion of student misbehavior that a teacher needs to respond to in order to keep classroom rule violations low. "We have found that consistent responsiveness over time produces the lowest rates of classroom rule violations," she said. "And just as students need differentiated supports for learning, I argue that teachers need differentiated supports for professional development. Some teachers need intensive support; some need brief consultation, and others simply need access to content and training." 
She is currently developing and evaluating lower cost technology-based supports, including a website so that more intensive face-to-face consultation can be allocated to teachers with greater need. One such program is the Daily Report Card as an online program (DRC.O). This work, the Maximize Project, was funded by the Institute of Education Sciences. 
Her current work, the Classroom Behavior Support Project, also is funded by IES through a $3,297,119 grant that runs through 2024.
"We conducted pilot studies in the United States and in Canada that demonstrate the reach and effectiveness of this platform," Owens said. "We have documented the costs and cost-effectiveness of this intervention relative to face-to-face consultation. And we have been contacted by school personnel in Ohio, Missouri, and New York who are interested in using the DRC.O in practice.
"It appears that the DRC.O may adequately reduce the professional development and ongoing support burden for schools, allowing classroom interventions such as the DRC to become more widely used. As a result, more students who can benefit from these approaches will receive them, thus potentially impacting the long-term school trajectories of many students."