Matthew Barger parlays OHIO degrees and military service into federal law enforcement career
Published: January 9, 2022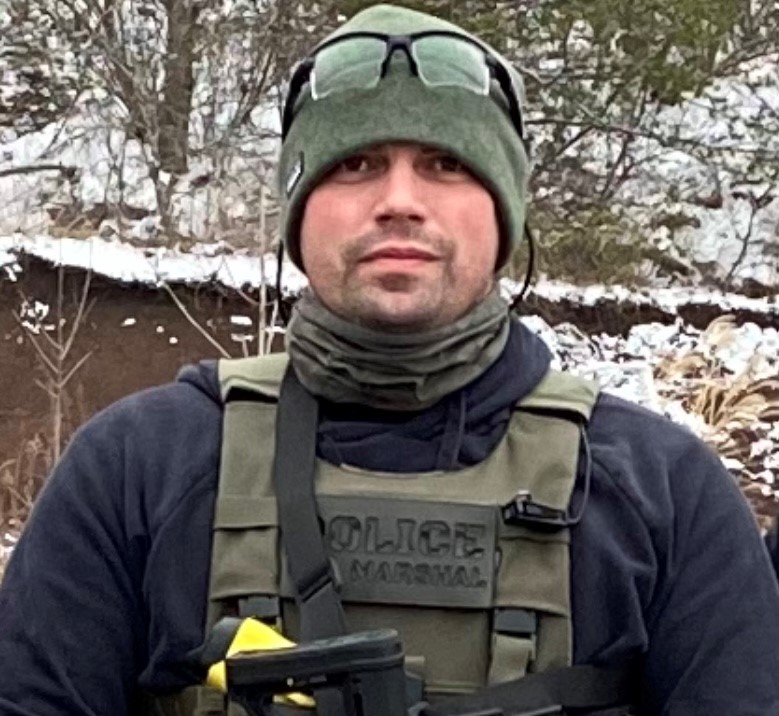 Matthew Barger's career with the U.S. Marshals Service (USMS) has taken him across the country and abroad, but the Jackson, Ohio, native is glad to be a little closer to home with his current assignment in Charleston, W.Va. 
The officer in charge of the Southern District of West Virginia Violent Fugitive Task Force, Barger earned his Associate of Applied Science Degree in Law Enforcement Technology and his Bachelor of Criminal Justice degree from Ohio University in 2011. 
Barger manages a group of local officers based in Charleston, and his work involves collaboration with other law enforcement agencies and colleagues in other states as well as international partners. He and his team are tasked with finding and arresting federal, state, and local fugitives charged with violent crimes like murder, rape, or child molestation.
Barger began his career in law enforcement as a probation officer working with the Jackson County courts and was able to combine his OHIO degrees and his military experience to qualify for a job with the Marshals Service. 
After attending the Marshals Service National Training Academy in Georgia, as well as Criminal Investigator Training and Basic Deputy Academy, Barger was assigned to a post in Washington, D.C. His first assignment involved working in court operations. He has been working out of the Charleston office since 2017.
"Because of the education, and degree, I received from Ohio University I was hired by the United States Marshal Service in early 2013," Barger said. "Through my career with the USMS, I have had the chance to work on various missions throughout the U.S. and the world."  
Barger served in the Army National Guard from 2003-2015 and was deployed to Iraq as part of Operation Iraqi Freedom in 2004-2005. When he returned from Iraq, he took classes at Ohio University on the Athens, Chillicothe, and Lancaster campuses. He completed Army Officer Candidate School and earned his bachelor's degree at OHIO as part of the requirements for becoming a commissioned Army officer. He commissioned as second lieutenant and left the Army as a captain. 
His associate degree in law enforcement technology provided him with practical knowledge about criminal law, rules of evidence and conducting criminal investigations, according to Barger. As part of his criminal justice degree, he took courses in psychology, sociology and other disciplines that helped prepare him to manage and lead a team of other law enforcement officers.
Barger said he is better able to perform his job because of concepts and lessons he learned at OHIO
Barger's father served as a police officer in southeast Ohio for 25 years, and though the senior Barger attempted to steer his son away from law enforcement, Barger saw the impact his father had in their community and wanted to follow in his footsteps. He did, however, take his father's advice about setting his sights on a career with a federal agency. 
"He said you can make a bigger impact there," Barger said. "As a U.S. Marshal we can affect our state and surrounding states by going after these fugitives who are pretty bad fellows." 
Barger said one of his favorite OHIO professors was Dr. James McKean, who teaches classes in law enforcement technology and criminal justice. He said he learned about the judicial process and what it takes to build a criminal case through portraying a defense attorney in mock trials for one of McKean's classes. Barger also recounted that when he was unable to afford the textbook for McKean's terrorism class, the professor found an older version of the book and gave it to him. 
"That shows a lot about his character and how much the program cares about its students," Barger said. 
As a student at OHIO, Barger had to study a foreign language. He struggled with his Spanish classes, but his instructor taught him never to give up, and now his familiarity with the language serves him well in his work. 
"As it turns out Spanish is pretty important," he said. 
He has applied the language skills he learned at OHIO while investigating international cases that have taken him to Central America or required the review of documents in Spanish.   
Barger remembers well the impact all his professors had on him and his education. Barger said he is better able to perform his job because of concepts and lessons he learned at OHIO. Those lessons included learning about different cultures in a sociology class.
"We don't all look at things the same way," Barger said. "If you know how to talk to people, you're able to do your job better." 
Barger advises students who are interested in pursuing a career in law enforcement or criminal justice to take time to learn different fields and learn about different cultures and perspectives. 
"I think that makes you a better police officer," he said.