University mourns Joe Berman, former dean of Honors Tutorial College, Scripps professor and WOUB director
Published: January 20, 2022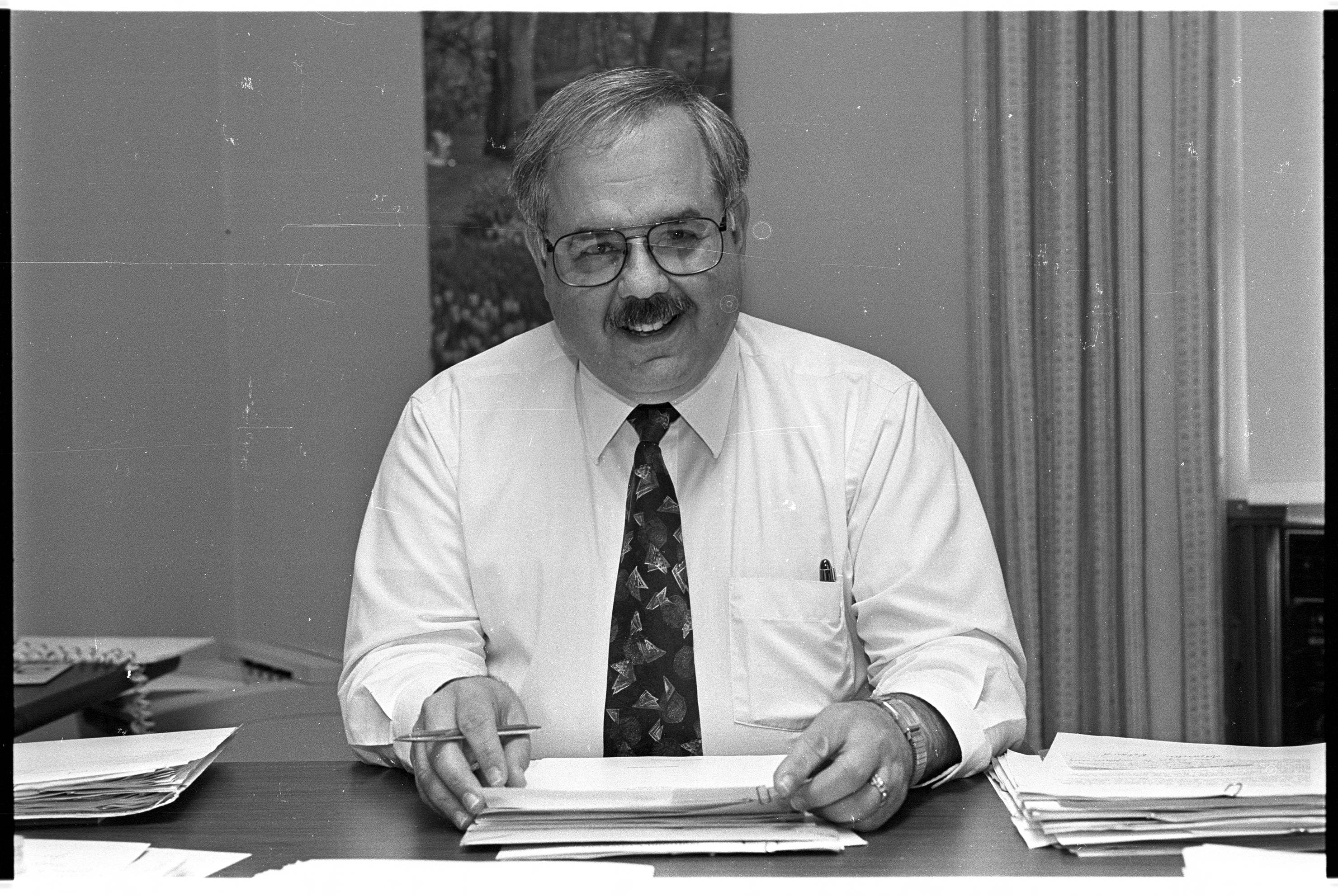 Ohio University Archives
Joe Berman, who left an indelible mark on the Honors Tutorial College, Scripps College of Communication and WOUB during a 38-year career at Ohio University, died Dec. 12 at the age of 79.
Berman served as HTC dean from 1995-2002, when he retired. Until assuming that role, he served as a faculty member in the Scripps College of Communication, director of engineering, operations and production at WOUB Public Media, and in leadership positions across the University. In 1982, he founded the J. Warren McClure School of Communications Systems Management.
When Berman founded the McClure School, its undergraduate program focusing on communication technology was unlike any other in the country. Currently the J. Warren McClure School of Emerging Communication Technologies, it carries on Berman's legacy with a focus on preparing students for success in an ever-evolving industry.
Colleagues and students remember his dedication, energy and kindness.
"Joe was an incredible resource for me throughout my tenure as dean," said Jeremy Webster, former dean of the Honors Tutorial College and associate professor of English. "He was always ready to connect me with alumni and was generous with advice and support. It's surprisingly rare to have dean-to-dean conversations with those who have also done the job; I was blessed that he always picked up the phone when I called and said yes when I asked to meet. He will be missed."
Included in Berman's legacy is the Berman Professorship in the Scripps College of Communication. Endowed in 2007, the gift was initiated by John Luff, Larry Patrick, Perry Sook and Warren and Lois McClure to honor Berman's commitment and service to Ohio University.
"Dr. Berman was one of the key individuals who caused the Scripps College to grow into what it is today," said Scripps College Dean Scott Titsworth. "He approached his teaching, mentorship, and leadership with one simple premise: everything you do should be for the students. Dr. Berman's life will be celebrated over and over as we remember the way he filled students with joy, passion and confidence."
Berman adhered to that premise as dean of the Honors Tutorial College. Former HTC assistant dean Jan Hodson recalled joining Berman to visit deans across campus, collecting information about research opportunities for students, a project that led to the establishment of the Provost's Undergraduate Research Fund.
"Joe was a joy to work with because he had a strong 'can do' philosophy that really energized our college," Hodson said. "He loved to laugh, which made the office an enjoyable place to work. He was fiercely dedicated to the students in HTC and made time to encourage them individually. I will never forget him. He was truly a unique man of many talents."
Also included in Berman's many contributions to OHIO's students is the Berman Family Award in Dance, endowed by Joe and his wife Lynda in 2005 for students in the College of Fine Arts. Junior dance major Lee Peters is the recipient of the scholarship this year.
"Joe and Lynda have had a very profound impact on my career as a dancer," Peters said. "Their scholarship has made it so that I do not have to stress as much about money, and their friendship made it so that I never felt alone, even when I was at my lowest. …They saw the best in me, and I always appreciated that they made the effort to see me and my performances."
Berman first came to OHIO as a graduate student in 1964, working as a floor manager at WOUB for the magic show Merlin the Magician. He returned in 1972 to teach in what was then the School of Telecommunications in the early 1980's.
Dr. Berman's obituary can be found here. A memorial service was held Dec. 29 and can be streamed here.