Students to perform side-by-side with professional musicians during Columbus Symphony Orchestra residency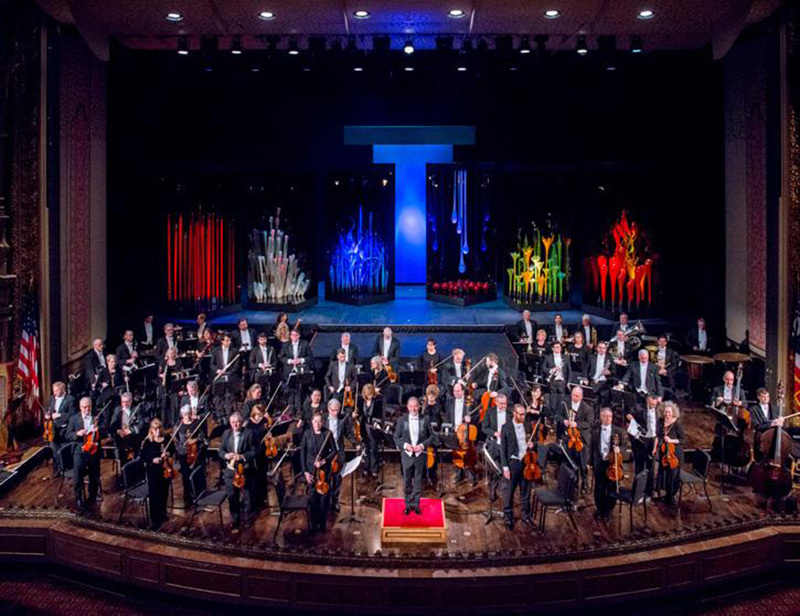 Columbus Symphony Orchestra
Ohio University School of Music students will have the opportunity to perform a side-by-side concert with the Columbus Symphony Orchestra on March 15 at 7:30 p.m. at the Templeton Blackburn Alumni Memorial Auditorium.
According to School of Music Director Christopher Fisher, the experience for young artists and musicians to play alongside professionals is "priceless," and cites the opportunity to provide experiential learning for School of Music students as his inspiration for a Columbus Symphony Orchestra (CSO) residency. So, when the opportunity to collaborate with CSO arose, Fisher was on board.
"This is a huge opportunity for our students to gain exposure to what rehearsal techniques are like in a professional ensemble, and to interact with those professional players," Fisher said.  
As part of the in-residence program, students will participate in masterclasses with visiting symphony musicians, allowing students the chance to network and observe professionals at the highest levels.
"As is the case with most professional career trajectories, building a network of individuals who you can call on is tremendously beneficial and instrumental in progressing one's career," Fisher said.  
Jose Rocha, director of orchestral activities at OHIO, said the pathway for students in the performing arts and humanities can be very broad.
"Learning from professionals can work to validate students' experiences and show them they are on the right track, or introduce them to a new area of study," Rocha said.
Rocha added that he was inspired by the Houston Symphony Orchestra (HSO) after living in Houston for about 15 years and its collaboration with youth orchestras, high school orchestras and more.
"It was a very eye-opening experience for many students (who) think that being a professional musician (means that) you are just going to a two-hour rehearsal and then going home," Rocha said.  
The residency is a collaboration with OHIO's Performing Arts and Concert Series, an annual collection of eight to 10 shows performed during the year that includes everything from Broadway to comedy shows.  
"We work very closely with our partners in the College of Fine Arts to try to provide opportunities to impact their curriculum… in a positive manner," Director of the Performing Arts and Concert Series Andrew Holzaepfel said.  
The Columbus Symphony Orchestra's March visit marks the first time it has partnered with the University.
"The Columbus Symphony has performed in the county and has done outreach in the region… so they're not strangers to this part of the state," Holzaepfel added.  
Fisher said they had to be flexible in their planning due to disruptions caused by COVID-19, such as choosing a piece that is composed of only string instruments for the side-by-side portion to minimize the spread of germs via wind instruments. 
Rocha said it was difficult to pick a piece that was technically challenging for students but was also able to facilitate teaching moments from the symphony musicians.  
"COVID has presented many challenges and complications," Fisher said. "But… I would love to see this become an ongoing relationship." 
For Rocha, it was very encouraging that members of the CSO were committed to the performance despite the uncertainty created by the pandemic and said a big advantage for OHIO is that no other universities in the area have worked with the symphony. 
"Our goal is that this is going to be an ongoing relationship," Rocha said. "The Columbus Symphony has a great program… So this is not new for them, we will just be added to that rotation of programs that they work with."
The side-by-side concert is open to members of the OHIO community and the general public. Tickets for the concert can be purchased here or at the door.