Kennedy Museum launches eighth annual exhibition by Museum Studies students
Published: April 18, 2022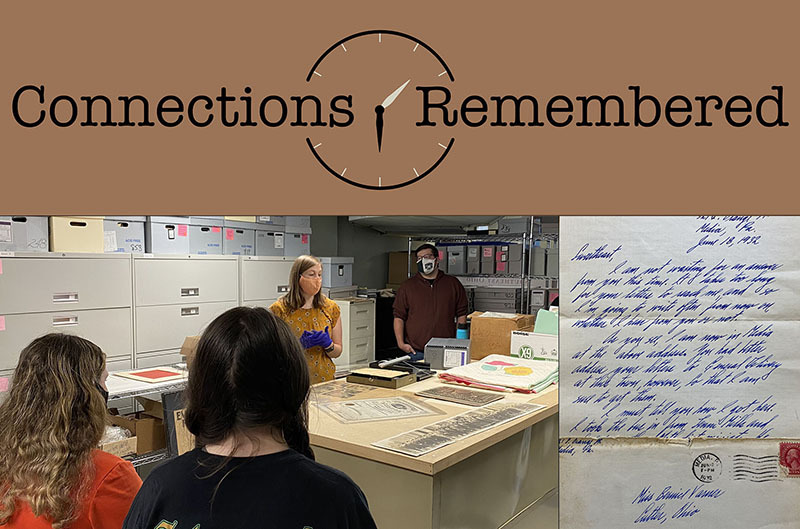 Students enrolled in the 2021-22 Museum Studies Certificate Program will present "Connections, Remembered," at the Kennedy Museum of Art, opening April 22, and on view through Sept. 4, 2022. This is the eighth annual exhibition of the museum's Merging Concepts Series, which is part of the Ohio University Museum Studies Certificate Program.
Each year the exhibition is informed by a "big idea" that is created by the students and led by Museum Director Edward Pauley.
"The big idea concept helps students to realize that objects can be interpreted and grouped in a variety of ways," Pauley said. "It is a tool that enables curators to develop new exhibition themes that offer fresh perspectives."
Inspired by primary objects and documents on loan from the Ohio University Libraries, the exhibition explores this year's big idea: "The very vehicles through which we strengthen intimate bonds leave marks that shape the future." The concept is supported by additional objects and documents from the collections of the program's partners.
Students in this one-year certificate program represent various disciplines across the Athens campus. The students are responsible for researching, selecting, and interpreting all objects in the exhibition. They must also plan, design, and develop educational content, as well as install the exhibition. The program's fall semester coursework is lecture-based while the spring session is a practicum. Undergraduate (with a junior or senior standing) and graduate students who are enrolled in a degree program at OHIO are eligible to apply for the certificate.
The Museum Studies Certificate Program is part of the School of Art + Design and is made possible thanks to the generous expertise and contributions of partners in the Biomedical Sciences Department, Southeast Ohio History Center, Ohio University Libraries, Cannabis Museum, and Kennedy Museum of Art. For more information about the program click here or contact Edward Pauley at pauley@ohio.edu.