Arts Administration graduate Brianne Szymanski brings community dance focus to prestigious dance company Jacob's Pillow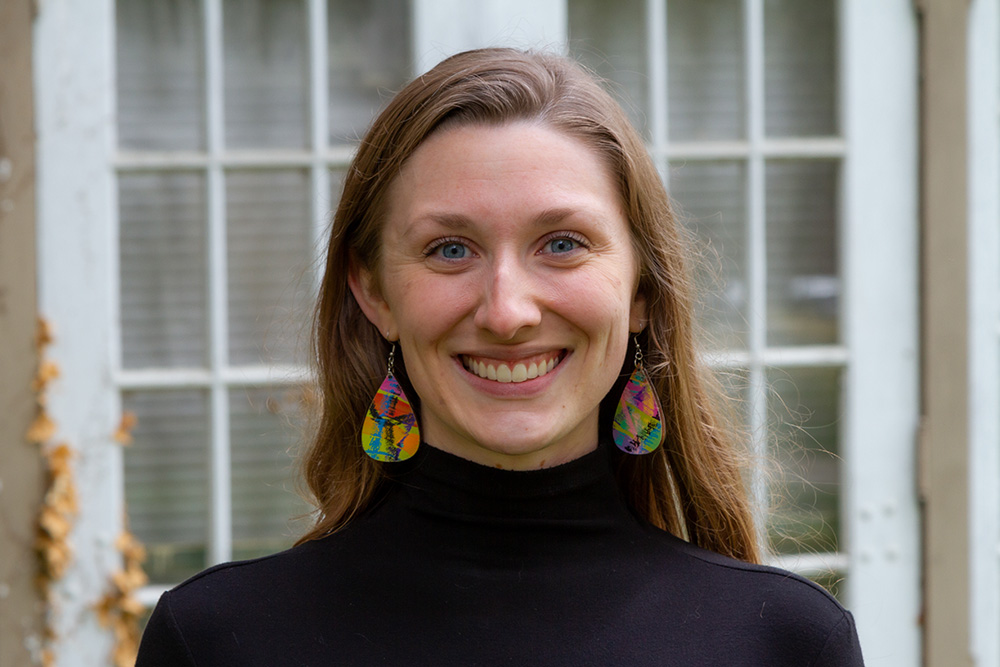 Daniel King
Community dance is not often a specialization seen in many colleges and universities around the nation, however for soon-to-be Master of Arts Administration (MAA) graduate Brianne Szymanski, this specialization and her experiences at OHIO helped lead her to a dream role.
Szymanski, a Toledo native who is expected to graduate with her MAA degree with a specialization in community dance this August, was recently hired as the Community Engagement Programs Manager for the noted dance organization Jacob's Pillow. The organization, located in the Berkshires of Western Massachusetts on a 220-acre National Historic Landmark, provides dance training year-round and is home to America's longest-running international dance festival. Thousands of people visit from around the world each year for the festival that showcases over 50 dance companies and 500 free performances, talks and events.
"I am so honored to have been offered this role," Szymanski said. "Jacob's Pillow has always been a dream of mine, as a dancer and an administrator. I didn't expect to belong to an organization of this caliber so soon in my career. Ultimately, I want to be in a role that challenges my creativity and nimbleness, aligns with my values, and allows me to use my strengths while serving others. I cannot wait to join such a talented staff and visionary organization." 
In her new role, Szymanski will manage community programs during their well-known summer festival as well as focusing on year-round initiatives and programming for dancers and non-dancers alike. Her work will include high levels of access and engagement opportunities to learn from and dance with the artists performing at the annual festival and throughout the year. She expects to be working on programs that include arts-integrated curricula in local schools, movement workshops exploring social justice topics, and classes for all experience levels in various dance styles.
"The MAA curriculum, faculty mentorship and network of talented students has uniquely prepared me to enter the nonprofit sector," Szymanski added. "I feel honored to belong to one of the early cohorts of a degree that I know will continue to grow and flourish, and I look forward to seeing the successes of other graduates."
The MAA program, which was created in 2020, offers students interested in pursuing administrative roles in the arts an opportunity to learn the specifics of leading a non-profit arts organization, while allowing them to choose an area of study to specialize in. The specializations include community dance, museum studies, music leadership, theater and production management, and visual arts management.
The unique curricular design of the MAA program, according to its director Christi Camper-Moore, emphasizes the Artist-Administrator, aiming to support a broad range of career goals and arts disciplines, and preparing graduates to respond to the significant shifts happening in the field of arts administration.
"Brianne is our first Master of Arts Administration student to graduate with area specialization in Community Dance. She came to the MAA program as a working professional with a strong dance background and unique set of skills and experiences," Camper-Moore said. "Jacob's Pillow has been an internationally acclaimed home for dance, and shaping dance professionals, throughout its 90 years. This rich and long-standing history, paired with its commitment to connect and build community through the world of dance, make it a preeminent place to work as an arts administrator. I am so excited for her and look forward to witnessing the contributions and impacts she works to steward and support." 
According to Szymanski, the interview and hiring process at Jacob's Pillow reinforced three emergent ideas from her coursework: the importance of responsiveness to the community in which a nonprofit exists; the value of deeply knowing oneself; and the saliency of cultivating the visionary, technical, and interpersonal skills necessary for leadership. 
She credits the opportunities she had throughout the MAA program for helping her to secure this position, noting that she was able to perform ample community-engaged work, even amid the pandemic, that helped showcase her talents and ability to creatively engage audiences.
While participating in the program, Szymanski led a semester-long series of collaborative, virtual dance classes with the goal of reinstating a sense of creativity and belonging found in typical in-person experiences while maintaining a community and celebrating personal movement choices. She also engaged in many tangible, practical projects that explored the inner workings of nonprofit operations by studying local and national organizations, their programs, finances and structure, and creating her own marketing, fundraising and programming plans.
As part of the MAA program, each student is required to complete a capstone throughout the summer, which Szymanski will complete through her work with Jacob's Pillow.
"Throughout the MAA and my transition to Jacob's Pillow, I have felt very fortunate to have had the support and encouragement of the College of Fine Arts faculty," Szymanski said. "I valued being able to interact with and learn from the faculty in a professional and collaborative way. Their mentorship was integral to my experience."
Learn more about the MAA and the unique kinds of capstone projects recent students has experienced here.