Alumnus Ganapathy Shanmugam admonishes scientists against deep-sea groupthink, provides roadmap for researchers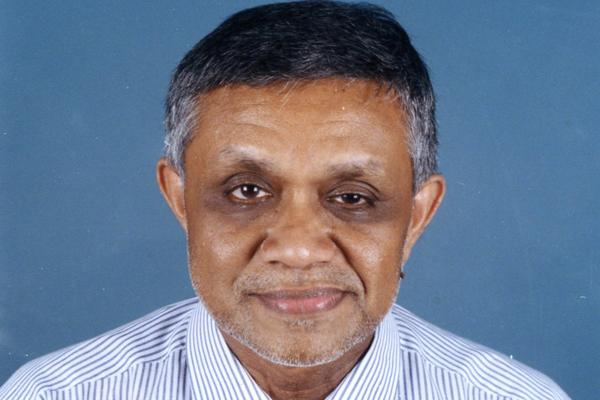 The science of deep-sea sediment is not settled, and adhering to popular models could have negative economic consequences, said Ohio University alumnus Ganapathy Shanmugam.
Shanmugam arrived in Athens in 1970 to study geology. He recently capped a 50-year career spanning industry and academia by challenging 10,000 scientists around the world to avoid "groupthink" about deep-water research, calling many popular research models "obsolete."
His May 14 keynote lecture about deep-water research had an unprecedented worldwide audience through the 5th International Conference on Palaeogeography, capping his efforts during the pandemic to share his research discoveries with audiences beyond his prolific resume of scientific publications. 
His talk covered 150 years (1872-2022) of research on deep-water processes, including "a difficult domain of progress, dichotomy, diversion, omission, and groupthink."
Shanmugam is a pragmatic and an iconoclastic deep-water process sedimentologist. His primary contributions are aimed at documenting the volumetric importance of sandy mass-transport deposits and bottom-current reworked sands in deep-water petroleum reservoirs worldwide and at dispelling the popular myth that most deep-water sands are turbidites.
"Deep-water research is one of the most complex and challenging geological domains. It is of economic importance because it deals with many petroleum reservoirs worldwide," said Shanmugam, who earned an M.S. in Geology in 1972 from the College of Arts & Sciences, followed by a Ph.D. at the University of Tennessee.
Seismic mapping misses key influences
Shanmugam's latest research challenges popular models using three-dimensional seismic mapping, called deep-water genetic facies.
"Failure to recognize deflected sediment plumes in the rock record could result in construction of erroneous depositional models with economic implications for reservoir prediction in petroleum exploration," he said.
"I am one of a rare breed of researchers who has spent nearly 50 years both in the industry and in academia. I am also a rare one in boldly criticizing negative aspects. In recent times, political correctness and groupthink have influenced deep-water research," said Shanmugam, who pointed out these problems in his May 14 lecture via the VooV platform.
Modern deep-water research began with explorers aboard the Royal Navy's H.M.S. Challenger discovering (circa 1872-76) the "Challenger Deep," the deepest known seabed in the Earth's hydrosphere, located in the Mariana Trench in the Pacific Ocean. Next came understanding trench-type tectonic setting (what happens in sedimentary basins) and deep-marine paleogeography. Now, imaging the modern sea floor provides markers like gravity-driven slides, slumps and debris flows that can indicate "large sand bodies with good potential as petroleum reservoirs in the deep sea," Shanmugam said.
His research using satellite images helps illustrate that conventional models fail to recognize, for example, that sediment flows at river mouths can change directions dramatically. "Sediment transport is diverted by a plethora of 22 oceanographic, meteorological, and anthropogenic external factors," he noted, with wind forcing the most dominant factor, along with tidal currents, ocean currents, and coastal upwelling, he said of his research published in 2019 and 2021. 
For more information about Shanmugam's work, see his comprehensive overview of deep-see processes published in 2021. The 2021 book, "Mass transport, gravity flows, and bottom currents: Downslope and alongslope processes and deposits" provides clear definitions and characteristics based on soil mechanics, fluid mechanics and sediment concentration by volume. His recent article in Earth Science Reviews, "Comment on 'Ichnological analysis: A tool to characterize deep-marine processes and sediments' by Francisco J. Rodriguez-Tovar," also helps illustrate the turbidite problem.
Shanmugam is the associate editor-in-chief of the Journal of Palaeogeography and adjunct professor of Earth & Environmental Sciences at the University of Texas at Arlington. He previously worked at Mobil Oil Co. (now ExxonMobil) from 1978 to 2000, where he conducted research on a wide range of topics—sedimentology, sequence stratigraphy, tectonics, diagenesis, paleobotany and organic geochemistry—on petroleum exploration and production.
Roadmap for researchers: use the known to interpret the unknown
Shanmugam's keynote presentation provides a roadmap for future research. Among his points, he identifies turbidity currents as one of the least-documented processes and deep-marine tidal currents as one of the most-documented processes. "And yet there are no facies models for deep-water tidalites," said Shanmugam, who also demonstrates that published articles by other researchers using computational fluid dynamics and rock record examples "in reality involved many brief episodes of nondeposition in turbidites." Therefore, these turbidites with hiatuses cannot function as predictive facies models. Shanmugam also cautioned against omitting original details from facies models in order to promote one's skewed narrative in ichnological analysis. In addition, Shanmugam is critical of a mixed system model that uses the term "bottom current" without defining it because bottom currents are composed of four different processes.
He encouraged researchers to find a way forward by allowing "ourselves a free flow of ideas for interpreting geologically significant deep-water processes that have been documented empirically in modern systems.... In short, our goal is to use the known (modern) to interpret the unknown (ancient). The present is the key to the past."
Shanmugam, one of the most widely published experts on sedimentology and petroleum geology, is taking this message to the world.
"Because of my global research on multiple domains while at Mobil and as post-retirement consultant since 2000 for oil companies in India and China, I have to my credit 380 published works that include three Elsevier books on process sedimentology and petroleum geology, with the first two books were translated into the Chinese language. I have authored six invited encyclopedia chapters for Elsevier and McGraw Hill book companies and have delivered 87 invited lectures worldwide during 1980-2021," he noted. Shanmugam won the top "Special Prize" from Springer Journal of Palaeogeography in 2020 for "Excellent Papers" based on the Science Citation Index (SCI) of five articles published during 2012-2018.
The COVID-19 pandemic allowed Shanmugam to expand his efforts in knowledge transfer by giving lectures on virtual platforms to academia, including to Royal Holloway, University of London, IIT Bombay, and Ohio University. His lecture "Recent advances in interpreting deep-marine deposits" at the 2021 OHIO University Geological Sciences Alumni Symposium on April 17, 2021 can be viewed on YouTube.
He also organized 23 onsite workshops on "Deep-water sandstone petroleum reservoirs" worldwide for organizations including the UK Government Department of Trade and Industry in  Edinburgh; Reliance Industries Ltd. in Kakinada, India; Hardy Oil in Chennai, India; Oil and Natural Gas Corporation in Mumbai and Kajuraho, India; Petrobras in Rio de Janeiro, Brazil; Research Institute of Petroleum Exploration and Development of PetroChina in Beijing; and China University of Petroleum, in Qingdao, China.
An 'angel' brought him to Athens
Shanmugam, of Indian origin, was born in 1944 in Sirkazhi, Madras Presidency, British India. He emigrated to the United States in 1970 and became a naturalized U.S. citizen in 1990. He has been married to his wife, Jean, since 1976, and they live in Irving, Texas. 
After earning his B.Sc. in Geology and Chemistry (1965) from Annamali University (Tamil Nadu, India) with a First Class, Shanmugam joined a local high school to teach science and math. Buit the head of geology, Prof. T. N. Muthuswami Iyer, strongly advised Shanmugam to resign from his teaching job and pursue an M.Sc. in Applied Geology at the Indian Institute of Technology in Bombay. Shanmugam took his advice and earned the Institute Medal for the top-ranking student in applied geology in 1968. Shanmugam began his research on soil mechanics and mass-transport deposits in 1965 in Bombay and then headed to Ohio University to pursue a master's degree.
"My ah-ha moment certainly was the moment I arrived in Athens in 1970 for the first time. As an international student from India, I arrived a day late in Athens because of international flight cancelations from India to Rome. In those days, there were no smart phones. So, no one knew my arrival date or time in Athens. I was very nervous when I arrived by Greyhound Bus from Columbus, not knowing what to expect," he said.
"To my great surprise, there was a lady who approached me at the bus station and asked me if she could help, giving me a ride to where I wanted to go. It was like dream come true. I accepted her offer. To this day, I don't know who that lady was. She did give me a ride to the address where I wanted to go. In all that excitement, I forgot to ask her who she was. Ever since that experience, I know that there are angels in Athens!"
At Ohio University, Shanmugam studied with Professor Stanley P. Fisher. "He helped me at many levels to get adjusted myself in a new country. He obtained samples from the Ordovician Simpson Sandstone from Texaco to conduct research for my master's thesis. He was not only my science adviser, but also my financial adviser and social adviser. He worked for major oil companies in South America."
Shanmugam completed his petroleum-oriented M.S. thesis at OHIO and then went on to conduct Ph.D. research under the guidance of Prof. Kenneth R. Walker at University of Tennessee on Ordovician tectonics and sedimentation in the Southern Appalachians. That led to him securing a research position with Mobil Oil Co. in Dallas, Texas, in 1978.
Now he's giving back
In 2021, Shanmugam honored the late Dr. Fisher by establishing the "Fisher-Shanmugam Endowment" worth $50,000. This endowment is 50 percent funded by the ExxonMobil Matching Gift Program. Its purpose is to support faculty and student research conducted at the Geological Sciences Department of OHIO University.
Shanmugam noted that his own journey was not an easy climb.
His first quarter at OHIO, he had to take both algebra and calculus at the same time in order fulfill his academic deficiencies, in addition to a heavy workload of geology courses.
"I had to teach an introductory geology lab for the first time in English. I had to adjust to a new diet in a foreign country. I am from South India, but I had to adjust to cold weather and snow for the first time in the fall quarter. And I had to manage my expenses with a $100 per month assistantship," he noted. "I overcame these challenges by sheer willpower. Failure was not an option."
But Shanmugam said he loved every second at OHIO and encourages current students to take advantage of weekends, recalling College Green activities on a weekend when he was here. "1970 was a time of hippies. College Green on a weekend was full of activities!"