Kaley Norris gets career, life experience during Keybanc summer internship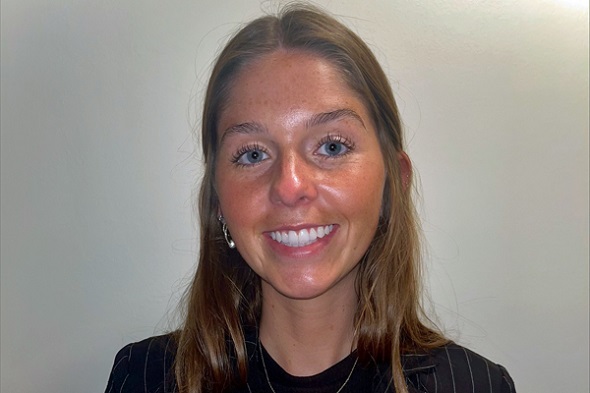 Kaley Norris '23 spent most of her winter break in Handshake, applying for summer internships that interested her.
She's now spending the summer at Keybanc Capital Markets Inc., as a Trading Systems and Analytics summer analyst in downtown Cleveland.
Handshake provides Ohio University students with access to more than 250,000 employers. Students can discover job and internship opportunities and direct message employers. Holly Seckinger in OHIO's Center for Advising, Career and Experiential Learning helped Norris create a resume and set up a profile in Handshake.
"A Key recruiter then reached out to me this past spring after looking through my application and resume. I started the interview process and got offered the position," said Norris, a mathematics major in the College of Arts and Sciences who is also pursuing a minor in finance in the College of Business.
Norris said the internship is providing insights into the world of work, the power of networking, and her future potential.
Q&A with Kaley Norris
Q: What's the most surprising thing you've discovered during your internship?
A: Along my journey thus far, it has been a surprise to me how many people have stayed working at Key. It's crazy how by simply networking, you can get yourself an opportunity in a new position if your current role doesn't align with your career goals. This has been such a great commonality to hear, as I have always struggled to know what X job does on a daily basis compared to Y and Z.
I love math and data, but I also love interacting with other human beings and talking through things. I think in the long run, I need a job to combine those both, and now I have the tools to guide me there.
Q: What was the most difficult thing to get used to?
A: Through this internship, I find it most difficult to find time for myself and to relax. With the commute to downtown plus working long days, it is difficult to get used to the evening feeling as though it flies by. There is only so much time in the day, and it's taken time to find a routine where I get home from work that allows me to have time to work out, eat dinner, pack lunch for the next day, shower, and take a second to just be.
Q: How is the internship helping to shape your career planning?
A: This internship is an incredible opportunity. I am grateful every day I wake up for work that I have this real-world experience under my belt. I get to see what a Trading Systems and Analytics Analyst does (and do meaningful work) as well as what my team does on a day-to-day basis. It has given me great insight on what I want for a full-time position next spring. It also doubles as great experience to put on my resume that will help me get more opportunities in the future.
Q: Who were your favorite professors and how did they make an impact on your life? Was it coursework or a life lesson that they passed on? And how did you apply that knowledge?
A: My favorite professors have been Susanne Freeland and Tobi Odunsi. Professor Freeland was such a great teacher. I learned so much in her Basics of Accounting class and have a solid foundation of financial knowledge. I feel confident in properly managing my money and being able to understand how a company operates successfully.
Furthermore, Professor Odunsi taught a class I was quite reluctant to take, Public Speaking. Public speaking has never been my favorite thing to do. However, I loved how we were encouraged to speak on a topic we were passionate about. This allowed me to enjoy all the coursework I did in addition to gaining knowledge in a real social issue I care about. Also by doing this, I was more comfortable and confident speaking in front of the class because I was well informed and truly cared about the message in my speeches. Lastly, it was evident Professor Odunsi cared for us as she was always checking in on our mental health and asking what we thought she could do better.
Q: What was your ah-ha moment at OHIO—that point where you said to yourself, "I've got this!"?
A: My ah-ha moment was when I passed my Complex Variables class with Professor Vladimir Uspenskiy. I put a lot of care, time and effort into my coursework and consequently have always done well. However, this class was different. I put in that same determination, even got a tutor, and still struggled. I ended up doing way better in the class than I thought I was going to, and I was very proud of myself.
Q: What was the hardest hill you had to climb (not counting Jeff Hill) at OHIO? And how did you overcome challenges or obstacles in your path?
A: The hardest hill I had to climb while being at OHIO was being away from my family. I have always been independent—friends and family told me I would thrive being alone at college. I'm not saying I have not succeeded, but the path has definitely had a few bumps in the road. I come from a big family; I am the middle child of five. It was a challenge to get used to living in a box and not having that warm welcoming kitchen and family room to relax in and hear about my siblings' and parents' days. I overcame this by getting involved in more activities to keep me busy and hanging out with the people I have become great friends with at OU.
Q: And what clubs and activities are you involved in at OHIO?
A: I was involved in the Association of Women in Mathematics, the Association of Women in Finance, Voigt Hall's Hall Council, and the National Society of Leadership and Success (NSLS).
Q: What are your favorite OHIO memories?
A: Most of my favorite OHIO memories consist of those unplanned nights you have with your friends. Nothing special, but the night just happens to be you and your best friends hanging out together having a great time. Other favorites include running events with my old boss Jen Harvey, weekends when my family comes and sees what OHIO and Athens is all about, and the days that the sun is out shining.
Q: What's the one thing you would tell a new OHIO student not to miss?
A: On a lighter note, do not miss out on Brenen's coffee, one of my favorite little things to do when I'm having a bad day or to catch up with a friend.