Ohio University Board of Trustees approves two new programs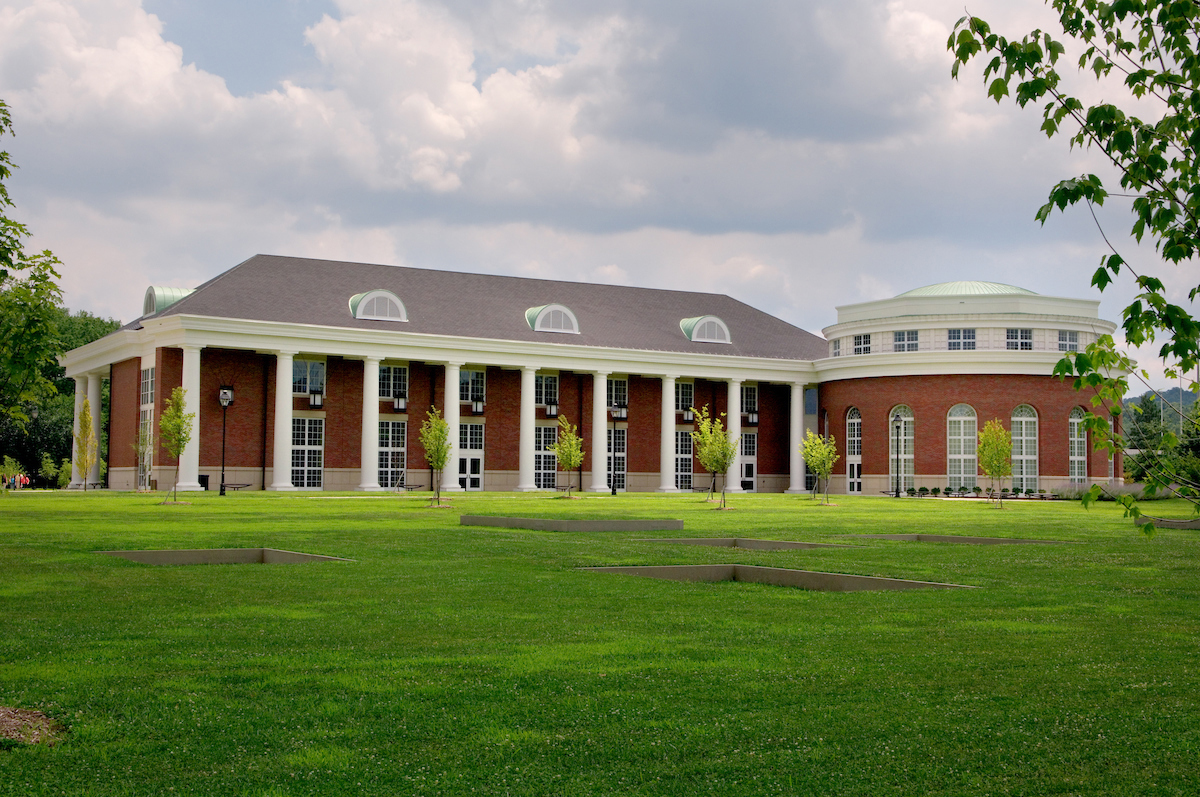 UCM
The Ohio University Board of Trustees received an update on the Housing Master Plan and approved an updated Capital Improvement Plan and a pair of new degree programs during its meetings June 13-14.
Representatives from the Scripps College of Communication also shared how the college incorporates experiential learning throughout the curriculum, especially in the esports program. 
Board agenda items included:
Scripps' experiential learning strategy in the GRID Lab and OHIO Esports Arena
Scripps College of Communication students and faculty joined Dean Scott Titsworth to discuss the College's emphasis on experiential learning opportunities, highlighting the Game Research Immersive Design (GRID) Lab and the new OHIO Esports Arena. They reviewed how the J. Warren McClure School of Emerging Communication Technologies is a key collaborator with other academic units to expand the learning opportunities available at OHIO, particularly in esports. The presentation included the myriad ways experiential learning fosters life-long curiosity and problem-solving, as well as how the Scripps College is addressing emerging student interests and industry trends. 
The Board toured the new OHIO Esports Arena, which will have its grand opening in Fall Semester 2022. The arena will expand students' opportunities for curricular and co-curricular experiential learning with its state-of-the-art esports arena that houses 30 high-end gaming PCs available for both classroom instruction and student co-curricular use, 12 high-end gaming PCs for use in competition, and a broadcasting facility designed to stream competitive events to Twitch, YouTube, and other contemporary streaming platforms.
Health care brand campaign development
University Communications and Marketing Vice President Robin Oliver shared an update on the development of a new branding campaign promoting Ohio University's leadership in preparing students for careers in health care. 
Following research and conversations with academic leadership, Ohio University has decided to pursue a phased approach to highlight key areas of academic excellence, beginning with health care education and service. University Communications and Marketing has developed the direction for the health care brand campaign with input from College of Health Sciences and Professions Interim Dean John McCarthy, Voinovich School of Leadership and Public Service Dean Mark Weinberg, and Heritage College of Osteopathic Medicine Executive Dean and OHIO Chief Medical Affairs Officer Ken Johnson. The goal is to launch the health care campaign this fall. 
New degree programs
Two new degrees, one in the College of Fine Arts and the other in the College of Health Sciences and Professions, were approved for Fall Semester 2022.
A Master of Arts in Applied Arts in Health in the School of Interdisciplinary Arts in the College of Fine Arts is designed for students with an undergraduate degree in fine arts who want to expand their practice to safely and effectively engage within the arts in health care and community environments post-graduation. The Master of Applied Arts in Health is a 30-credit hour, hybrid, one-year program and would be one of only two programs in the country to offer this type of degree.
A unique interdisciplinary degree that incorporates electives outside of fine arts, the program would be the only one in the country with a core curriculum designed and taught by fine arts clinicians and scholars who have knowledge and extensive expertise in arts in health disciplines and developed exclusively for fine arts students.
The Bachelor of Science in Nutrition and Food Studies in the School of Applied Health Sciences and Wellness in the College of Health Sciences and Professions is a 120-credit hour undergraduate program that would connect what people eat to how they live through the nutrition foundations; contemporary food awareness; cultural, social and political aspects of food systems; and environment and sustainability. Students will interact with faculty in as many as five colleges and a dozen or more departments in this multi-disciplinary program. 
Fee changes
The Board approved changes to several broad-based and course fees as well as the program fee for a graduate program and eCampus rates. It also reviewed changes to tuition and fees that were set earlier this spring.
Fall 2022 OHIO Guarantee tuition and fees for Athens campus undergraduates will be $13,352 for full-time students, as communicated to the incoming class earlier this spring. The new rates represent a 4% increase for the cohort. The University's commitment under the OHIO Guarantee means that incoming students' rates will be held constant for four years (12 semesters including summers).
Housing and meal plan rates were established for the 2022 cohort, with variable increases averaging 4.6% versus the 2021 cohort rates.
Bobcat Student Orientation will increase the one-day and two-day guest fees from $20 to $35 for one day and $60 for two days.
A Language Exam Proctoring fee will be established as a $5 optional fee for students who want to take a proctored exam to demonstrate competency to test out of language requirements.
Ohio University Lancaster will implement course fees for the new nursing program associated with certification testing. 
Aviation courses will see an increase to existing course fees associated with fuel and flight instructor cost. These course fees have not changed in 10 years. 
The Master of Engineering Management proposes a change in its program fee from $192 to $217 per credit hour. This request reflects the first increase since FY2020. The proposed total cost per credit hour, after the increase, will remain 38% below in-state competition.
OHIO Online will increase its instructional fees for eCampus undergraduate courses from $237 per credit hour to $304 per credit hour. The non-resident fee will increase from $3 per credit hour to $5 per credit hour. Online program pricing has not been changed since the quarter-to-semester conversion in FY13. There will also be a $25 per credit hour program fee for the nine core courses in the new online Bachelor of Science in Business.
Capital budget
The Board approved several capital projects to address deferred maintenance concerns and align the function of spaces with current programming needs.
The projects include:
Stocker Center deferred maintenance and programmatic renovation ($14.7 million): This project combines two projects approved in the FY23-28 Capital Improvement Plan: Stocker HVAC Phase 1 and Stocker Plumbing, HVAC, Programmatic Phase 2. This project's initial phase will fix/stabilize systems that exist within the building while paralleling that work with a design effort coordinated with the Office of the Executive Vice President and Provost, Russ College of Engineering and Technology, University Planning, Design and Construction and Facilities Maintenance to determine the future intent of spaces within the building. 
Boyd, Sargent, Treudley, and Tiffin lobbies renovation ($6.5 million): This project will renovate the lobbies of the four residence halls to improve the functionality of the spaces and upgrade the aesthetics.  
Ohio University Lancaster HVAC and Energy Improvements Phase III ($2.36 million): This project addresses essential building mechanical systems which have reached or exceeded their useful life and are critical in maintaining building integrity. 
Ohio University Lancaster Brasee Hall Nursing Renovations Phase I ($602,500): This project will allow development of a new academic program to fit market demands, respond to community and regional needs, provide future growth, and increase RHE enrollments and revenues. The renovation will include parts of the fourth and fifth floor for two instructional nursing labs, two observation/testing rooms, and an administrative space for the new program.  
Capital Improvement Plan
Interim Vice President for Finance and Administration, CFO and Treasurer Joseph Trubacz and Chief Facility Officer and Senior Associate Vice President Steve Wood presented an update for the FY23 Annual Capital Improvement Plan (CIP). The annual CIP represents prioritized projects expected to commence over the next year, including projects currently in design and construction with expected expenditures in FY23. 
As part of the annual CIP update process, leadership considered factors such as deferred maintenance needs, programmatic priorities, critical emerging needs, and operating budget constraints. As a result, the University is considering $160.7 million in new project starts and continuing $239.8 million of projects in progress. The Board also approved $11.1 million of Century Bond 2023 funds for deferred maintenance priorities.
Housing Master Plan update
Interim Vice President for Student Affairs Terry Hogan and contracted consultants provided an update on the Housing Master Plan, including a review of key plan drivers such as quantity and location of housing, target market and programmatic requirements informed by peer and student/parent survey results, financial accessibility and quality reconciliation and financial performance and capabilities. The update included investment and funding approaches that meet identified strategy and goals. 
In other business, the Board:
Approved the annual reappointment of President Hugh Sherman for a term beginning July 1, 2022, and ending June 30, 2023, crediting him with creating an open atmosphere of trust and accountability and, with his team, identifying areas of opportunity for a sustainable future for the University.
Approved the conferral of an honorary degree to Director Emerita Distinguished Professor of Dance Gladys Bailin Stern, who in 1986 became OHIO's first woman to be named a distinguished professor. Bailin Stern taught in the College of Fine Arts' School of Dance from 1972 until 2018, leading the school to national prominence and distinguishing it as one of the first modern dance-based programs in the state.
Approved the conferral of an honorary degree to Dr. Atsuo Iiyoshi, a distinguished physicist and academic leader serving as Chancellor and Chairman of the Board of Directors of Chubu University in Japan. Iiyoshi has been recognized three times as professor emeritus by two universities and the National Institute for Fusion Science, and received the 2018 Doctor Honoris Causa from the Russian Academy of Science. Iiyoshi has strengthened Chubu University's partnership with Ohio University for more than two decades, established the Kazuo Yamada Scholarship for hundreds of OHIO students to attend Chubu University, and supported Chubu's gift which allowed for the renovation and expansion of Yamada International House on the Athens campus. His efforts contributed to the creation of the Ryozo Ohnishi Graduate Fellowship, offering OHIO graduates full tuition scholarships to study in a Chubu University graduate program, as well as the corresponding creation of a similar program allowing Chubu students to study at OHIO.
Heard an update on developing fall 2022 enrollment trends and received recommendations on revising Ohio University's College Credit Plus program, illustrating how the changes will strengthen relationships with service area school districts, increase enrollment and access to the OHIO experience, and improve the college-going culture of Southeastern Ohio.
Approved an easement for the city of Athens to allow the city to extend a section of bike path along West Union Street. The parcel is about 1,250 feet long and 50 feet wide.
Approved an easement for Horizon Telecom to install fiber optic lines to connect a cell tower on The Ridges to a line on Dairy Lane. The line would be buried and installed through horizontal drilling to minimize surface impact.
Approved a long-term lease of land to the city of Athens of approximately 10.6 acres of land east of Stimson Avenue and north of the Hocking River. The lease will allow the city to build a new fire station and maintain the rest of the space as green space. The station is optimal for the city, but also will provide improved response times to the Athens Campus. The 40-year lease can be extended in 10-year increments upon mutual agreement. In return, the city will lease approximately 17.8 acres of land at the intersection of Dairy Lane and Richland Avenue, extending up South Park Drive, to the University, under the same lease terms as the Stimson parcel. Other leases between the city and University are also included.
Authorized an annual audit plan to evaluate internal management controls.
Changed the name of the Division of Communication Sciences and Disorders in the School of Rehabilitation and Communication Sciences in the College of Health Sciences and Professions to Hearing, Speech and Language Sciences, which more fully captures the breadth of research conducted within the unit and incorporates American Sign Language.
Accepted program reviews for the Honors Tutorial College; Interdisciplinary Health Studies in the College of Health Sciences and Professions; Journalism and Mass Communication in the Scripps College of Communication; and Individual Interdisciplinary Programs in the Graduate College.
Approved the appointment of members to the coordinating councils of OHIO's five regional campuses for terms beginning July 1, 2022, and ending June 30, 2025. They are:

John A. Gabis (Chillicothe), Terry Lee (Eastern, reappointment), Rick Szabrak (Lancaster, reappointment), Jennifer Hellmich and Jodi Rowe-Collins (Southern, both reappointment), and Eric Martin, Patrick Nash and Brian Wagner (Zanesville, all reappointments). 

Approved emeriti status for individuals for their dedicated service to Ohio University upon their retirement.
Received a report on 10 new graduate certificates available across OHIO's colleges.
Approved faculty fellowship leaves to allow faculty members to concentrate on research and scholarly activity.
Approved the University's completion plan update for 2022. The plan outlines the University's emphasis on first-year retention and graduation rates, expansion of the OHIO Guarantee+, assessment of general education guidelines, and commitment to being an inclusive excellence campus.
Appointed Janelle Coleman to serve as a National Trustee for a term that begins July 1, 2022, through June 23, 2023.
Appointed David Moore to serve as Board secretary from July 1, 2022, through June 30, 2023.
Appointed Joe Trubacz as Treasurer of the Board for a term beginning July 1, 2022. If a new interim vice president for finance and administration is appointed after that date, that person shall take over the role of Treasurer until June 30, 2023, or until a permanent vice president for finance and administration is appointed.
The full Board of Trustees agenda is available at https://www.ohio.edu/trustees.
CORRECTION: A previous version of this story indicated that a long-term land lease with the city of Athens was approved. The item was removed from the agenda and thus not approved.