Technology Help Center expands help content, adds new features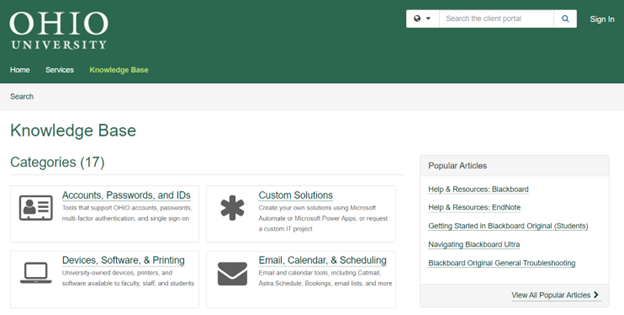 Ohio University's Technology Help Center is expanding to include an easy-to-search listing of all technology help pages and IT services offered by the Office of Information Technology.
The help pages are included in what is known as the knowledge base, and a description of all available services are listed in the new service catalog.  Both sets of pages are available to preview now. The site will officially launch on Thursday, June 23, when all pages under ohio.edu/oit/services are archived.
Both the Technology Help Center and the OIT homepage will feature a new search bar, making it easier to find the most relevant information from the knowledge base and service catalog. New categories based on user feedback have also been added to the knowledge base and service catalog, including a Microsoft Office 365 category, to help users find information faster. 
The new knowledge base will also allow any campus user to submit feedback on existing help articles and vote if the content is helpful or not. If you can't find the answer you need, technicians can draft an article and add it to the knowledge base for future reference.
Additionally, knowledge articles can be attached to tickets submitted to the Technology Help Center, leading to faster response times overall.
All pages under ohio.edu/oit/services will redirect to help.ohio.edu beginning on June 23. Website managers across the University are currently updating links to OIT help pages in preparation for the launch. If you have personal favorites or bookmarks, consider updating those prior to June 23 to ensure you have uninterrupted access to your most-used pages.