OHIO graduate opens home, heart to Ukrainian refugees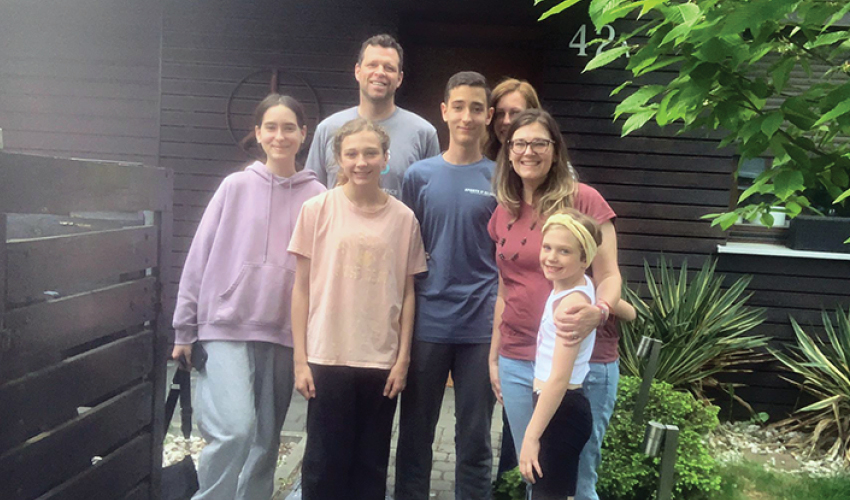 Photo courtesy of Amy Browns-Taylor
"It haunts me every day."
Ohio University alumna Amy Browns-Taylor, BSJ '98, MA '02, still doesn't know what became of a three-generation Ukrainian family she and her family were preparing to welcome into their home when communication fell silent. 
While questions about that family remain unanswered, the two-time OHIO graduate finds solace and purpose in knowing at least 15 Ukrainian refugee families have been helped—by her, her family and an intercontinental community of support that she continues to nurture.
Roughly six months after starting to build a new home for her family in a city more than 4,700 miles away their previous home in Cincinnati, Browns-Taylor found herself opening her home and heart to strangers enduring unimaginable loss and uncertainty.
On March 6—just 10 days after the start of the Russian invasion in Ukraine—Browns-Taylor, her husband, Carson, and children Avery and Parker opened the doors of their new home in Katowice, Poland, to a family of refugees. 
"When the war started, many people were feeling helpless," Browns-Taylor said of the Russian invasion, the fighter jets that took to the skies over Poland and the millions of Ukrainians rushing for the borders.
A native of Defiance, Ohio, Browns-Taylor and her family moved to Katowice in July 2021 for her husband's job. In February, the family found themselves approximately four hours from the Ukrainian border and in a country at the epicenter of a refugee crisis.  
A self-described activist for LGBTQ+ and women's rights, mental health awareness, dog rescue and arts education, Browns-Taylor observed the extreme generosity of her Polish neighbors who were readily opening their small European homes to Ukrainians in dire need.
"The amount of people who have opened their homes to strangers is truly unlike any humanity I've seen before. It's mind boggling," she explained. 
For Browns-Taylor, it was also inspiring. A graduate of Ohio University's E.W. Scripps School of Journalism and College of Business, Browns-Taylor employed the communication and marketing skills she learned at OHIO and further developed in industries ranging from higher education to craft beer and distilleries, taking to social media to offer whatever help she could.
Browns-Taylor soon connected with that first Ukrainian family — a grandmother, her daughter and her 4-month-old grandchild — en route to Poland and needing shelter, which she and her family were prepared to provide. 
"We don't know what happened to them," Browns-Taylor said of that family who suddenly stopped communicating with them.
It wasn't long, however, before they had new guests on the way—family members of a Ukrainian man living in Katowice who were fleeing Kyiv. The man's aunt, Natalia, and her 15-year-old twins, Alina and Yaroslav, soon arrived at their doorstep, followed shortly thereafter by one of the family's friends, Alona. Only one week after arriving, Natalia returned to Ukraine to work in a hospital in her war-torn homeland, leaving her twins under the care of Browns-Taylor for nine weeks.
While hosting the family and providing updates on social media, Browns-Taylor continued to receive requests from assistance from other Ukrainian refugees—and an outpouring of financial support from friends, family and strangers back in the United States eager to help. She decided to create a GoFundMe page, "Support for Ukrainian Refugee Families," which has raised nearly $22,000.
Working with a local real estate firm and landlords, Browns-Taylor has been coordinating the placement of Ukrainian families in apartments and temporary housing in Poland and helping refugees secure essential needs—everything from transportation, clothing, food and furnishings to something as basic as a suitcase. With the support of donors, she has been able to help 15 Ukrainian families so far, including Nastya Tolstaya, who fled Ukraine with her 8-year-old daughter and mother and took up residence in an apartment Browns-Taylor rented for the family.
"She helped us," Tolstaya said of Browns-Taylor. "I will never have enough thanks for her for how she helped us. We are definitely going to be in touch all of our life."
And they have stayed in touch—all of them. In June, Browns-Taylor helped Tolstaya and her family relocate to Berlin, where Tolstaya will begin teaching this fall with hopes to be able to return to her little village outside of Kyiv someday. Natalia and her family have already returned to Kyiv, where the war—and communication with Browns-Taylor—continues. 
"I don't know if there is anything that can describe what this experience has been," said Browns-Taylor, who has been sharing her experience—and the stories of Ukrainians in need—with a goal of raising awareness and funds to continue to meet the needs of her Ukrainian neighbors.
She's even received a little help from her OHIO roots, noting "Everything in my whole life has centered around Ohio University." While at OHIO, Browns-Taylor was actively involved in Pi Beta Phi fraternity and employed at Templeton-Blackburn Alumni Memorial Auditorium.
A fellow OHIO alumna and friend, Regan Walsh, BSC '99, who is a keynote speaker, author and chief Renegade officer at Renegade Global, connected Browns-Taylor with the company's founder and CEO, Amy Jo Martin. In May, Martin interviewed Browns-Taylor on her podcast, "Why Not Now." Click here to listen to that podcast. 
"I will forever be changed," Browns-Taylor said of sharing her home with those forced from their homes and country and of helping to spearhead humanitarian aid, which she continues to do. Her most recent plea for help? Funds to help purchase ballistic helmets for a humanitarian relief team in her community heading to Ukraine's Donbas region, which has suffered devastating loss.