Athena Cinema presents 'From the Hills and Hollers: Appalachian Stories Film Series'
Published: August 24, 2022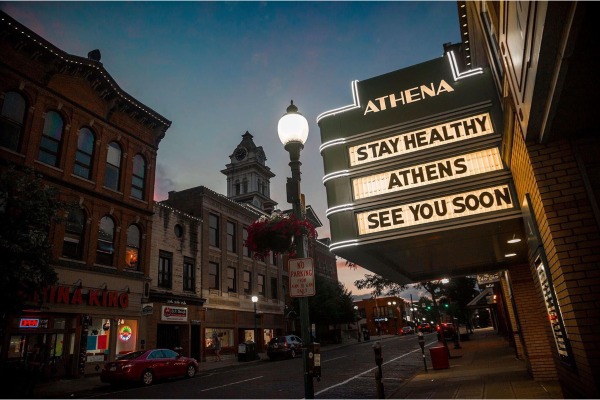 Celebrating the successes of the 50th anniversary of "Appalshop: Stranger With a Camera" in 2020, the Athena Cinema and its partners are excited to present a new film series that shows cinematic interpretations of Appalachia.
The series will take place from October 2022 to March 2023, as the Athena Cinema explores how this complicated and dynamic region has been depicted in film. Screenings will include introductions by speakers intended to increase cultural competency by educating viewers on how Appalachia has been portrayed in film by those who have maintained the power to manipulate stereotypes.
This series is screened with free admission thanks to the Building Cultural Diversity award from the Ohio Arts Council (OAC), made possible in part by state tax dollars allocated by the Ohio Legislature, and the following sponsors: 2023 Appalachian Studies Association Conference, Ohio Honors Program, Center for Campus and Community Engagement, Multicultural Center, Black Student Cultural Programming Board, Hocking Athens Perry Community Action Program, Athens County Public Libraries, University Libraries, Honors Tutorial College, Center for Advising, Career and Experiential Learning, and OHIO Fellows. 
The OAC is a state agency that funds and supports quality arts experiences to strengthen Ohio communities culturally, educationally, and economically.
'The Hills and the Hollers: Appalachian Stories Film Series' schedule:   
Sept. 8 at 7 p.m., "Coal Miner's Daughter": Directed by Michael Apted, a film portrayal of the life of Loretta Lynn, a country music superstar and feminist icon, and how she brought to light to the topic of women's liberation before the issue was well known. Rachel Terman, Ph.D., associate professor of sociology at Ohio University, will discuss the intersectionality of women, gender and diversity in Appalachian culture.  
Oct. 13 at 7 p.m., "The Mothman Prophecies": Directed by Mark Pellington, this movie tells the story of John Klein, a Washington Post journalist, who after losing his wife Mary, finds strange drawings of hers following her death. John finds himself lost on a highway in Point Pleasant, W.V., where he explores the possible relations of his wife's drawings to the town's unexplained phenomena. Tiffany Arnold, Ph.D., assistant professor of instruction at Ohio University, will share her knowledge of Appalachian studies, as well as the impact and cultural competency of Appalachian culture. 
Nov. 10 at 7 p.m., "We Are Marshall": Directed by Joseph McGinty Nichol, "We Are Marshall" centers on the tragedy of the plane crash that caused the deaths of 75 passengers on board, including 37 members of the Marshall University's football team. Here in Huntington, W.V., as devastation roared through the university and town, Coach Jack Lengyel is hired from the College of Wooster in Ohio to recreate and strengthen Marshall's football program. Alongside Lengyel, Red Dawson, an assistant coach who missed the fatal flight, will help to repair not only the team, but the town's emotional damage left behind by the crash. Nerissa Young, an associate professor of instruction at Ohio University who specializes in journalism ethics, journalism, trauma and media law, will speak from experience and note impact on the communities.
Jan. 19 at 7 p.m., "Holler": A film directed by Nicole Riegel which highlights the struggles of a young woman named Ruth Avery as she determines to make something for herself in southern Ohio, where job opportunities are crumbling. Teaming with her brother, they begin working at the scrap yards by day, and stealing precious metals by night. It is then that Ruth begins to question if these dangerous activities are worth her future education when she must leave her beloved family behind. 
Feb. 9 at 7 p.m., "Deliverance": Directed by John Boorman, "Deliverance" tells the story of Lewis Medlock, who sets out with his friends on a canoeing trip to the Cahulawassee River before it is dammed and made into a lake. Their dangerous adventure is one they will never forget as they explore the American backcountry. Coming to the screening, Jack Wright, a retired assistant professor of Ohio University's School of Film, will speak of his knowledge on the history, culture and challenges of mining in the Appalachian Mountains and coal mining towns. 
Friday, March 17 at 7 p.m., "Dark Waters":  Directed by Todd Haynes, "Dark Waters" depicts the true story of how a determined attorney exposes a chilling secret of unexplained deaths connected to one of the world's largest corporations. He quickly realizes the risks of seeking justice and exposing the truth, putting his future, family and own life at risk. Harry Deitzler, who worked on this class-action suit as a personal injury lawyer and is portrayed in the movie, will speak on the details of the real-life case. Corresponding with this film, the showing will be featured in the Appalachian Studies Association conference being held March 16-19 at Ohio University, examining the theme: "AppalachiaFest: From Surviving to Thriving in Appalachia."
Further information can be found on the Athena Cinema website or by contacting Athena Cinema Director Alexandra Kamody at kamodya@ohio.edu or 740.594.7382.