Ohio University to confer Honorary Doctor of Fine Arts degree to Gladys Bailin Stern, emerita director and distinguished professor in the School of Dance
Published: August 29, 2022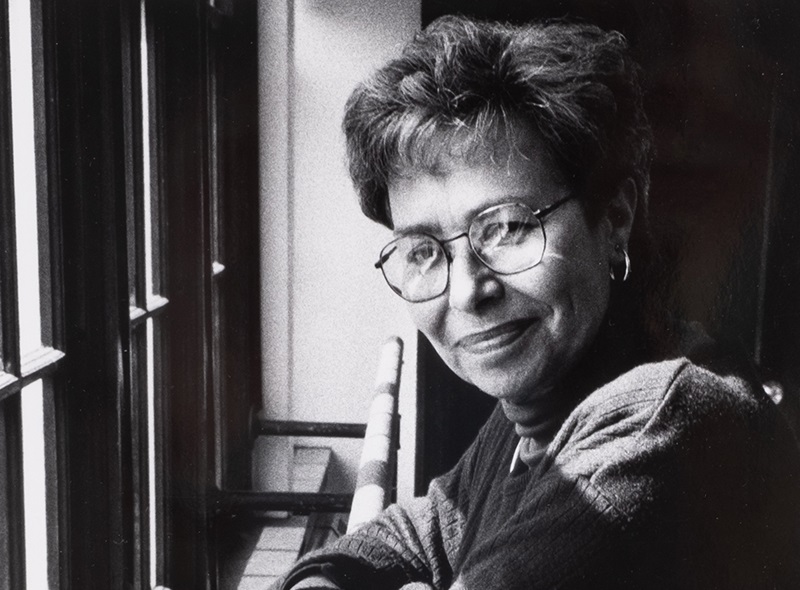 The Ohio University School of Dance is pleased to announce that Gladys Bailin Stern will be conferred the Honorary Doctor of Fine Arts degree in recognition of the breadth and depth of her accomplishments in the field of modern dance. 
The public is invited to join the School of Dance for an award ceremony and public screening of the short documentary dance film, "An Interview with Gladys Bailin," from 3 to 5 p.m. Friday, Sept. 9,  at the Athena Cinema at 20 S. Court St. in Athens, Ohio. This event is free and open to the public.
"Distinguished Professor Gladys Bailin Stern is an internationally-known dancer and visionary leader who has changed the lives of Ohio University students," President Hugh Sherman said. "She is very deserving of this esteemed honor."
A tireless champion of dance as an art form, Bailin Stern has inspired generations of dancers with her keen wit, amiable humor and discerning eye. In her endeavors as a performer, choreographer, teacher, administrator and mentor, she is perennially creative, rigorous and energetic. 
Bailin Stern toured nationally and internationally for several decades with the Alwin Nikolais Dance Company, the Murray Louis Dance Company, the Don Redlich Company and as a freelance soloist. She has presented her original choreography at dance festivals around the world as well as at major theaters and universities. Bailin Stern joined the faculty of the Ohio University School of Dance in 1972, where she profoundly influenced the dance curriculum, giving the school a national reputation for a diverse program centered on composition and a conceptual approach to movement.
"Gladys has been, and still is, a true dance pioneer, a fearless visionary who is part of a generation of forward thinking and doing women who have made our cherished Modern Dance the important art form it is today," said David Dorfman, professor of dance at Connecticut College and artistic director of the internationally renowned dance company, David Dorfman Dance.
The documentary dance film produced by Ohio University Libraries draws on archival film clips, photographs, programs, and a series of interviews with Bailin Stern conducted in 2020. Much of this material comes from the Alwin Nikolais and Murray Louis Dance Collection and the Gladys Bailin Papers. These are housed in University Libraries' Mahn Center for Archives and Special Collections and are a testament to Bailin Stern's illustrious career as well as her deep ties to Ohio University.
In the documentary, Bailin Stern reflects on her early training in New York City with dance legend Nikolais, her international career as a performer and choreographer, and her impact on the School of Dance at Ohio University.
In 1948 when Nikolais joined the Henry Street Playhouse in NYC to run the dance and theater department in the Lower East Side, it was a turning point for American modern dance, and for the young people in the neighborhood, like Bailin Stern, whose lives were forever altered. In the early days of dance at the Playhouse, the growth and intimacy between his dancers were unmistakable.
By the late 1950s, Nikolais and his company of dancers were combining innovative visual effects through lighting and costuming and experimenting with a form of music composition, whose sounds were totally modern and unfamiliar, to radically transform modern dance of its day.
Among the brilliant group of young dancers who brought Nikolais' innovative ideas to life, Bailin Stern stood out with her musicality and her impeccable sense of motion. She lent her own movement ideas to Nikolais' creative process, originating roles in all of Nikolais' groundbreaking works of this period.
"Nik would say, 'Okay, Gladys, Murray we have a date. Get a concert together… You've got the theater, I'll do the lighting, get your work together,'" Bailin Stern said. "What a great thing for a teacher to do."
She brought this approach with her to Ohio University in 1972, when she joined the faculty of the School of Dance. In particular, she emphasized the importance of dance composition as creative activity.
"There were tons of technical dancers. I mean they are everywhere, and that is not unique," Bailin Stern explained. "The fact that we had creative work as part of the curriculum, I thought, was something to encourage. It doesn't mean that you're going to be a choreographer, but you are going to tap into something in yourself that is going to open up other doors…If you become a creative thinker, you can use this in every aspect of your life."
"Gladys is a link to the origins of American modern dance, emerging from the first company of [dancers from] dance legend, Alwin Nikolais. She used that work [by] drawing inspiration for dance work from music, from visual design elements [and] from props to teach us new ways of approaching dance composition," said Lucy Sexton, BAA '82, executive director of New Yorkers for Culture and Arts and co-choreographer/creator of DANCENOISE, BESSIE award winner, and College of Fine Arts 2003 Outstanding Alumnae recipient. "She welcomed radical new ideas and encouraged us always to make work that engaged audiences. She remained in touch with generations of dance artists coming out of OHIO and remained an influential teacher and member of the community for decades."
Bailin Stern provided key leadership for the academic study of dance in the 1980s and 1990s, a time of enormous growth for dance in higher education, served as an onsite accreditor of higher-education programs for the National Association of Schools of Dance, and her work has been funded by four fellowships from the National Endowment for the Arts. Bailin Stern served as the director of the School of Dance from 1983 to 1995, and in 1986, she was the first woman to be named a Distinguished Professor at Ohio University.
"I look back on my life and think how lucky I was," Bailin Stern said. "To get to do what you love is pretty special…A sort of dream, in a way." 
For more information contact Tresa Randall at randall@ohio.edu or Christi Camper Moore at campermo@ohio.edu.