Academic Achievement Center supports students with new services
Published: September 14, 2022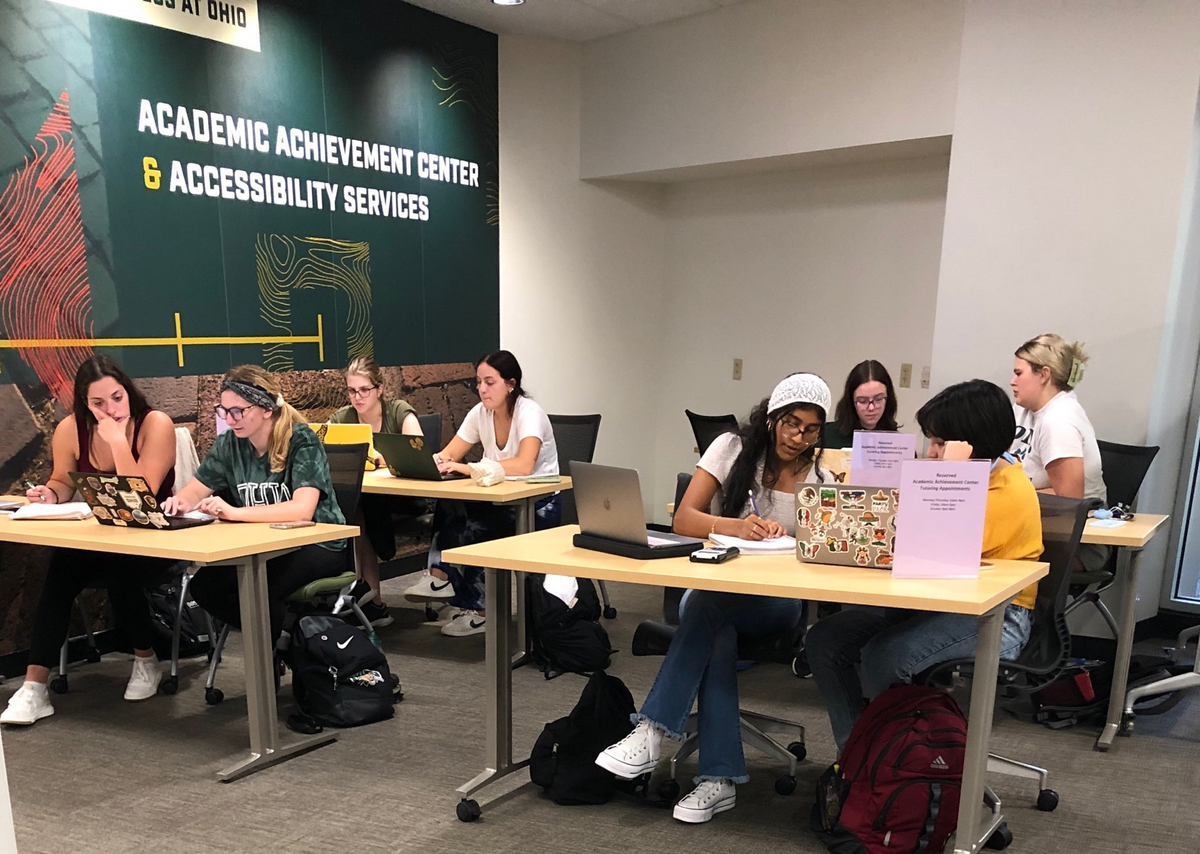 This fall, the Academic Achievement Center launched several new services to support Bobcats in their academic endeavors, already having helped more than 1,000 students with academic assistance since the start of the semester.  
These new services include:
Homework Hubs
Homework Hubs provide students a place to work together with support from trained tutors. If additional support is needed, tutors can also assist students in finding the right one-on-one or small group session for follow-up. See the Academic Achievement Center website for times and locations.
Peer Navigators
Students who experience a COVID-19 diagnosis or become ill can still stay on track with help from the Academic Achievement Center. Students who are unable to attend class because of illness can request a Peer Navigator to help them communicate with professors, navigate Blackboard, and stay current on assignments. Students can request an online Peer Navigator via TutorTrac or at the front desk of the Academic Achievement Center.
Multimedia Tutoring
Multimedia Tutoring provides support to students, faculty, and staff who need to increase their familiarity with various forms of technology. These tutors can provide support and information on using multimedia applications such as Adobe Creative Suite, Microsoft Office, and video/audio editing software. Members of the OHIO community can request a Multimedia Tutor via TutorTrac or at the front desk of the Academic Achievement Center.
First Bobcats
Approximately one-third of OHIO students are first-generation, and the Academic Achievement Center is here to support a first-generation student's journey every step of the way. First Bobcats have access to numerous resources, such as:
weekly Peer Mentorship group

priority scheduling for Academic Coaching and Tutoring Services

weekly info sessions on overcoming imposter syndrome, keeping track of assignments, and managing academic stress

tailored support from Counseling and Psychological Services

a newsletter to help you manage deadlines and upcoming events

assistance with planning Study Abroad/Study Away trips
First-year student Julia Umanzio is taking advantage of the first-generation programming to make connections and find support.
"First-gen programming is a fantastic way not only to meet and connect with people in the same situation as you but also to learn how to navigate college as a first-generation student," Umanzio said. "I hope other students here at Ohio University take the opportunity to get involved with this program and use all the resources provided."
First-gen students can email firstgen@ohio.edu to join.
The Academic Achievement Center also provides free Academic Coaching, Peer Tutoring, Writing Tutoring, and Supplemental Instruction.