Musical theater student Rhys Carr pushes limits during Maine-based dance intensive
Published: September 16, 2022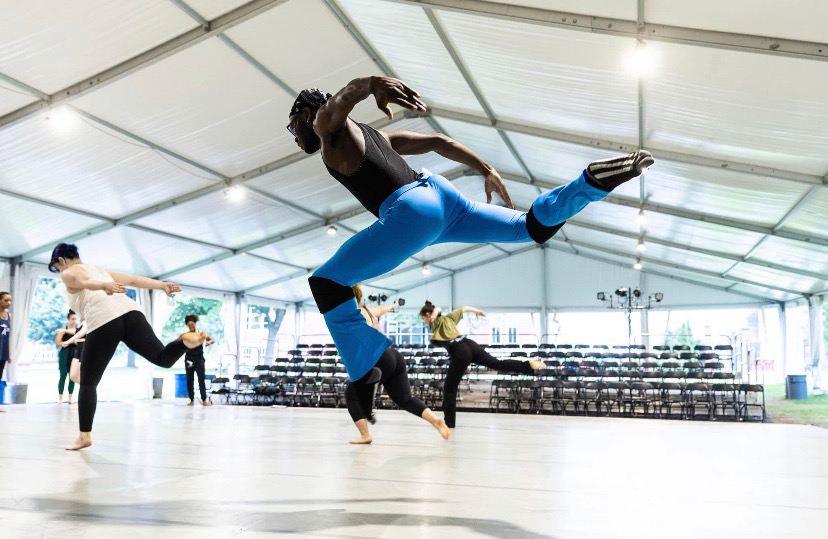 Rhys Carr (they/them), a fourth-year musical theater student, said they have never danced more than the three-weeks they spent in Maine as a part of the Bates Dance Festival. The Festival, which describes itself as "global, celebratory, rigorous, and engaging" is comprised of four programs. Carr was part of the Professional Training Program, serving dancers ages 18 and up.
Each morning, Carr took a variety of dance classes and attended a longer class in the afternoon that changed each week. This class covered topics like the Horton Technique, improvisation and choreography, and rest and refuge. Carr said they also attended workshops throughout the day and weekend performances. 
"This year was the 40th anniversary of Bates," Carr said. "And it was the first festival back in person since COVID. I felt very fortunate and grateful to be a part of that experience."
The welcoming community at the Festival drew Carr in, and their favorite part (besides the dancing) was connecting with the other students. 
"I met a really amazing group of people that I probably will never forget," they said. "By the time [my roommate and I] reached week three, the people that we had met were asking if we knew each other before we came here."
For Carr, the program was both physically and mentally demanding. 
"A lot of it was [learning about] me, myself and I; [how I get into] my head and [get] in my own way," they said. "I think there are a lot of things about myself that I really had to unpack and declutter before really seeing the way I was progressing in the class. By the end, my teacher was like, 'You've improved a lot over the last few weeks.' It felt really good to hear that."
Because of the Festival, Carr was encouraged to claim the title of dancer, even though they are still studying both musical theater and dance.
"I think all the classes in general really taught me to live in how my body moves and not try to adjust for other people," they said. "Rather than being down on myself for the things I can't do, [it's better to] understand the grand scope of what I can do and how amazing that actually is."
Carr said they're encouraged to make dance a regular practice in their theatrical life and to continue to learn how to tell stories through movement.
"It showed me that I am a very creative person," they said. "Even at times when I don't feel creative."
Carr says all Ohio University students and artists should engage in experiences outside of the Athens community to find other inspirations for their art.
"It's so important for a lot of artists to go to a place you've never been and do what it is they love," Carr said. "You develop a new relationship with it … I'm an artist, wherever I am; It's just a matter of what I decide to create in those locations."