Accomplished pianist visits OHIO, teaches students about becoming "artist citizens"
Published: November 18, 2022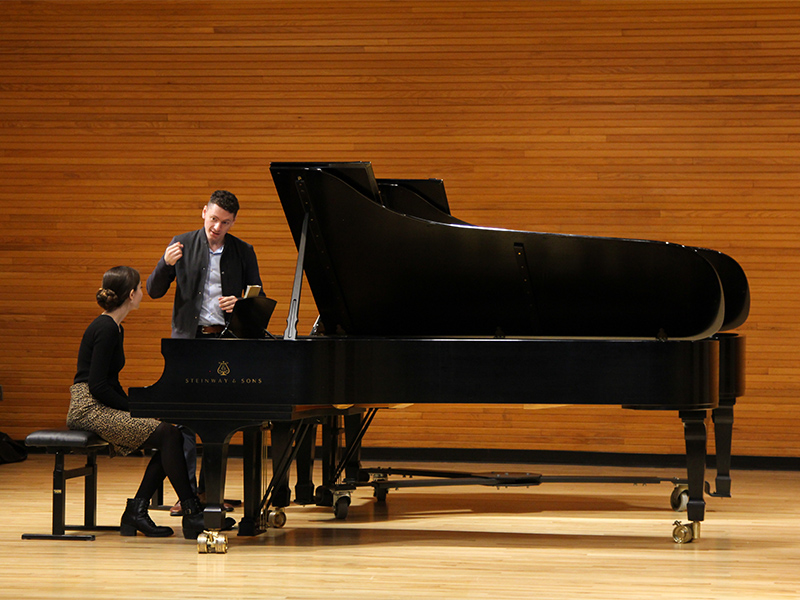 Photo by Sophia Dicuirci (BFA '25)
Dominic Cheli was compelled to learn the unique language of music at an early age.
Cheli, a seasoned pianist, visited Ohio University Monday, Nov. 14 to hold a masterclass with piano students and perform for the public that evening in Glidden Recital Hall. Cheli has performed with symphonies across the country and in renown concert venues like Carnegie Hall and Alice Tully Hall.
Artist and teacher of piano at OHIO, Emely Phelps, said Cheli's visit has been in the making for a couple of years.
"You can tell that his interests extend not just to playing the piano, but to being an artist citizen," Phelps said. "He has a number of really thoughtful research focuses and interdisciplinary focuses, and I think it [was] a really great fit to have him here as a performer and a teacher."
Cheli describes his role as an artist citizen as someone who works toward building the musical community. One way he does this is through his work with tonebase piano, a virtual education platform that makes learning to play the piano more accessible.
"I work very hard to democratize music education so that everyone has access to it, and also to really break down stereotypes of elitism … that people sometimes associate with classical music," he said. "Making music relatable and welcoming everyone into the musical fold is very important."
Phelps said because Cheli has had so much success in the industry at a relatively young age, she hopes students can look up to him as a role model.
"I'm sure his concert will inspire a lot of imagination and a lot of motivation for our students," she said. "Every person that we bring has something unique that they [offer] as a musician and as a person. I always feel much more motivated when I've heard a great concert, I get all these ideas about what I could do in my own playing."
She also said she hopes students take away a different perspective and insight on the artistic process.
"That hands-on experience for our students to get to work with someone of this caliber is really unparalleled," Phelps added.
For Cheli, teaching is extremely important and valuable. At a young age, Cheli said he was inspired by pianist Steven Hough after he attended Hough's masterclass.
"What stuck with me more than just his fantastic playing was how he spoke to me and the other students, and how he included us and made it feel fun," Cheli said. 
Cheli was looking forward to working with collegiate-level students and to discovering the "infectious energy" at OHIO.
"One of my passions beyond performing, of course, is education," he said. "That is a big part of what I value … I had a lot of mentors and teachers that gave me a lot, and so I feel like it's my obligation for me to pass that down to the next generation as well."