Fall Grad Spotlight: Sydney Walters graduates with a list of things to remember forever
Published: November 28, 2022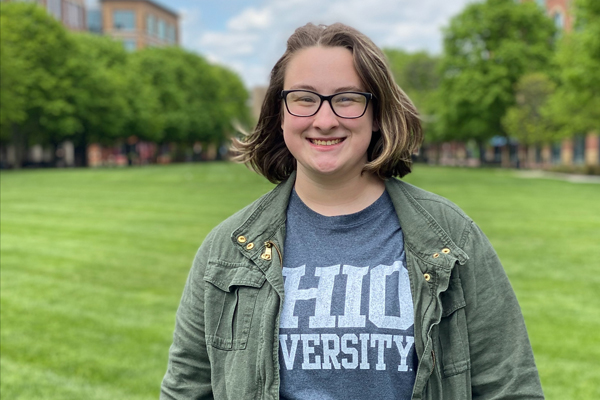 As senior Sydney Walters looks ahead to life after Ohio University, she has some big plans as she waits to hear on her graduate school applications.
As she looks ahead, though, she knows that it's the little things she'll miss.
Her advice to new OHIO students:  "Don't miss the little moments. You're probably already aware of the things you'll want to remember: Homecoming, Halloween, football games, your 21st birthday, and the like. But savor the little moments. Take in the late nights in the library studying for an exam with your friends. Take in the laughter when you and your lab partner can't figure out how a physics lab works. Take in the memories made around the table at Nelson. Take in every walk across College Green. These four-ish years will go by so fast, so take every single opportunity, even if it's scary. Make every little memory you can, and step outside of your comfort zone as often as you're able."
Walters is set to graduate in December with a B.S. in Geography - Meteorology from the College of Arts and Sciences, with minors in religious studies and journalism. 
What are your next steps/future plans?
While my goal after graduation would be to go to grad school, it's extremely difficult to start a grad program in this field during the spring semester. So, until I find out if I'm accepted to a grad program, I'll be working a full-time job somewhere. If grad school doesn't work out, I'd love to work as a weather/science writer somewhere (dream job is working for the Capital Weather Gang), or explore jobs in operational meteorology/emergency management/aviation. 
How did working with OUCAMS make a difference in your time at OHIO?
I have met some of my best friends in OUCAMS, from my future bridesmaid to my boyfriend. The connections I've made as a part of my time in the club and as an officer have benefited me personally and professionally. I know I'll always have these friends cheering me on and I'll always know so many Bobcats across the country as I try to figure out my place in this field.
Getting to put on two of our annual meteorology symposiums as an officer has introduced me to several professionals in this field, as well as attending the annual AMS conference in Houston this past January. I've really built my confidence and networking skills as a result of my time in OUCAMS.
What inspired you to become a Climate and Sustainability Ambassador, and what was your favorite activity or accomplishment?
I've always been concerned about the future of our world, but I really didn't understand the magnitude of the danger our world was in when it came to climate change until I dove more into the meteorology coursework. I wanted to become a Climate and Sustainability Ambassador to begin to make small impacts on this future. I desired to take an active, hands-on role in changing our future, mostly through education and outreach.
My favorite event, and the one that I'll remember the most, was our big outreach event during fall of 2021. A group of us set up a table in the District on West Green to educate on recycling and composting and promote a more sustainable dining environment. We were able to have a lot of good conversations and teach some students new things, so it felt really good to see that direct impact on people. 
What kind of research did you do with Dr. Ryan Fogt?
I worked with him on a part of his sea ice reconstruction project. I took pictures of hand-written log books from whaling ships around Antarctica and digitized the meteorological and sea ice data to later be used to help put together what sea ice in this region may have looked like in the early 20th century.  
What learning community did you help lead? And what's your best advice for first-years interested in getting involved on campus?
During fall semester in 2021, I worked with undecided students who were interested in engineering. This fall, I worked with two different groups; aviation and journalism students. I might be biased, but the best way to get involved during your first year is to do things with your learning community, whether planned by a Learning Community Leader or not. I met my best friend in my learning community during my first semester, and I've watched so many lifelong friendships form among my students in the learning communities I've led. 
Who were your favorite professors and how did they make an impact on your life?
Obviously I've gotten to work closely with Dr. Ryan Fogt in many capacities, so his impact on my life and career has been profound. His courses have challenged me to become the best meteorologist and student I can be, but also watching the way he carries himself as an educator and a person has inspired me to be more passionate, caring and involved in the world around me. While she's not at OHIO anymore, I couldn't exclude Dr. Jana Houser. Getting to work with one of the best in this field, both in the classroom and out in the field while storm chasing was an experience like no other. She continually pushed us to understand things deeper and was such an excellent educator and mentor. 
Outside of my program, several professors stand out to me for the way they've taught and carried themselves. One professor I'll never forget is Dr. Cory Crawford. His sense of humor and wit made the courses I got to take with him beyond enjoyable, and his knowledge was incredible. I learned so much from him, but I was also amazed by the care he showed his students. Both fall semesters I took courses with him, he was so kind as to invite students who had nowhere to go for Thanksgiving into his home with his family. 
What was your ah-ha moment at OHIO—that point where you said to yourself, "I've got this!"?
That moment would've been when I realized how important collaboration and working with my peers would be to getting to the finish line. I tend to want to work independently, and I started to struggle with coursework as I got into the upper-level courses in my degree when I tried to do it myself. It wasn't until I acknowledged that my peers were in the same boat as me and that we were all willing to support each other to the end that I began to succeed and was confident I would make it. I couldn't have made it this far without the support of my friends and peers, both personally and professionally. 
What was the hardest hill you had to climb (not counting Jeff Hill) at OHIO? And how did you overcome challenges or obstacles in your path?
Like everyone graduating during the past few years, COVID has absolutely been the biggest obstacle during my time here. I am very much an extrovert, and having to spend a year and a half away from my friends and without face-to-face instruction was extremely challenging. It took a lot of determination and focus, but I adapted to the difficulties and pushed through, knowing we'd be back in Athens together eventually, and it was so worth it. 
What are your favorite OHIO memories?
There are so many, I can't even begin to summarize them. Spending four and a half years as a student here has opened the door for so many memories and experiences. As cliché as it sounds, I've loved all the late nights studying in Scalia Lab with my classmates and the inside jokes we've formed. I've also loved every Homecoming weekend with my closest friends. Finally, this past summer, I was able to go on a storm chasing trip with Dr. Houser for a week, and getting to experience new places with my best friends, along with experiencing the things we learned in class first-hand, was probably the best memory from my time at Ohio University.