Claudia González-Vallejo brings her policy expertise to role as NSF program director
Published: March 28, 2023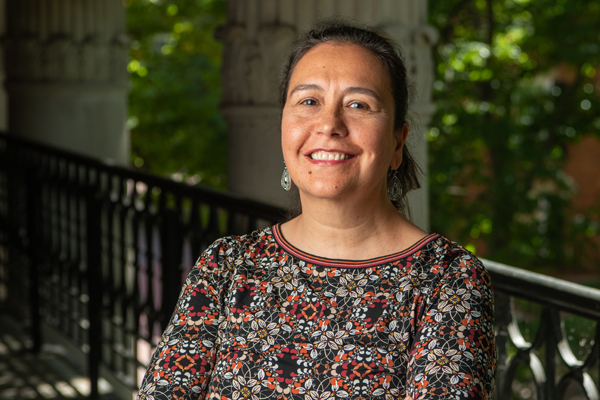 Psychology Professor Claudia González-Vallejo has been selected to serve as program director for the Decision, Risk, and Management Sciences Program at the National Science Foundation.
The NSF appointment is enabled through the Intergovernmental Personnel Act, which allows for the temporary assignment of skilled personnel between the federal government and state and local governments, colleges and universities, Indian tribal governments, federally funded research and development centers, and other eligible organizations.
González-Vallejo also was named a Fellow of the Psychonomic Society, an international community of scholars involved in the experimental study of cognition, in 2022. The society was created nearly 60 years ago and has grown to include over 4,300 scientists. Fellowship status occurs by nomination with letters of support from renowned scientists who recognize the scientific contributions of a member.
"The Fellows program recognizes members who demonstrate clear evidence of independent scholarship, active engagement in methodologically rigorous and theoretically interesting high level research, and indications of an imminent national/international reputation for excellence in the psychological sciences," according to the Psychonomic Society website.
González-Vallejo joined the Psychology Department in the College of Arts and Sciences at Ohio University in 1996. Her research expands areas of judgment and decision-making sciences including judgment accuracy, pre-decisional dynamic processes underlying decision difficulty, and mathematical models of choice behavior. She has published in premier journals in psychology, including Psychological Review and she is also on the editorial board of prestigious journals including Decision, Decision Analysis, Journal of Behavioral Decision Making, and Journal of Mathematical Psychology. She has also served at the National Institutes of Health as a permanent member of the scientific review panel of the Cognition and Perception study section.
González-Vallejo earned a Master of International Affairs from the School of International and Public Affairs at Columbia University and a Ph.D. in cognitive and quantitative psychology from the University of North Carolina at Chapel Hill. She has prior experience in international affairs working for the United Nations Development Fund for Women (UNIFEM), and public policy working for the Center for Policy Research at the Rockefeller College, SUNY at Albany. She was also the recipient of a prestigious award by the National Academies of Sciences and worked for the Bureau of Conflict and Stabilization Operations at the State Department as a Jefferson Science Fellow in 2019-2020. She also served at the National Science Foundation under the Visiting Scientist, Engineer, and Educator Program (VSEE).
How has González-Vallejo been putting her academic expertise to use in the policy arena, having been serving in various roles in the nation's capital for the past several years?
Q&A with Claudia González-Vallejo
Q: You've spent several years in Washington, D.C., the public policy center of the United States. Why is it important to have faculty serving in roles at our top research and granting agencies?
A: I have served both at the U.S. State Department and the National Science Foundation via fellowships and awards. The contribution of scientific knowledge and expertise to the formulation and implementation of U.S. government policy is well recognized. Government agencies have thus established mechanisms for bringing scientists onboard to aid in the understanding of complex issues, manage programs, and provide channels for academics to directly contribute expertise to day-to-day operations.
The gains are mutual. Professors gain a much deeper understanding of global trends in their areas of expertise and the workings of government.
More specifically at the National Science Foundation, I am gaining unique insights of the granting mechanisms and this knowledge will be very valuable for future grant applications by me and colleagues at Ohio University. It goes without saying that grants are extremely important in the production of knowledge and faculty at Ohio University have a strong record as reflected in Ohio University's new R1 status.
Obtaining external funding from agencies such as NSF is crucial to advancing creative research. Federal funds including direct support to faculty and students plus indirect costs, allow universities to maintain their research and educational standards and functions. Having professors serve at the National Science Foundation, in addition, solidifies this national ranking and promotes education.
Knowledge-producing faculty are essential to advancing educational goals, and ultimately it is the students who gain by having professors with strong knowledge in their areas of expertise and with real-world experiences that make teaching deep and broad.
Q: What are the highlights of your career so far (i.e. research and teaching)?
A: My career has included several positions at universities and other non-academic institutions with many things to highlight because they brought me challenges, joys and experiences that weave to make me whom I am today. Early in my career, I worked as a consultant for the United Nations Development Fund for Women, helping to advance development goals in countries facing economic and other challenges and support women's works. This was an exciting, rewarding, and humbling experience. I also participated in planning efforts for the UN Women's Conference that took place in Beijing in 1996. This conference is considered an important turning point in the global agenda of promoting gender equality. And of course, attending the General Assembly was certainly unforgettable.
In terms of teaching, I have taught different topics at various institutions, such as statistics at Ohio, SUNY, and Columbia universities, and decision making to graduate students in executive business programs at the University of Chicago, INSEAD France, and our Psychology program. The many participants with varying career interests have given me unique insights on effective communication.
Highlights in teaching include discussing decision making challenges of students in executive business programs to advising and guiding many students in psychology who have successfully followed a variety of career paths in part due to my eclectic academic background. In my visiting scientist position at the Max Planck Institute in Berlin, Germany, I collaborated with young scientists with mutual benefits to our careers. Highlights also included meeting many leading figures in the field.
Highlights of my recent government appointments include organizing two panel sessions in the first Non-State Armed Actors Conference of the Bureau of Conflict and Stabilizations Operations at the U.S. State Department. These panels brought experts from academia to discuss key psychosocial aspects related to issues of rehabilitating and reintegrating violent extremists, and community/person factors related to joining and disengaging from armed groups. These interactions resulted in establishing new connections between academics and policy makers demonstrating the importance of having faculty serve in government posts, and thus have scientific knowledge impact programming.
At the National Science Foundation, highlights include 1) the funding decisions I made to advance scientific endeavors of many researchers throughout the country, and 2) the involvement in inter-directorate initiatives; these promote novel research that combines scientific knowledge from different fields. I was a co-director of the AI for Decision Making Institute within the National Artificial Intelligence (AI) Research Institutes Accelerating Research, Transforming Society, and Growing the American Workforce program.
Q: What were the hardest challenges you had to overcome?
A: Institutional and procedural knowledge is necessary to work successfully in a government agency; it takes effort to gain such knowledge. Fortunately, agencies such as NSF have educational offices dedicated to training and development with workshops and classes that aid in the transition. Thus, the challenge of adapting to many new processes is met with training.
Q: And the greatest rewards?
A: The greatest rewards of my recent appointments expand from meeting many top scientists to working along with individuals tasked to advance U.S. policy sometimes in complicated domains. As part of my Jefferson Science Fellowship at the U.S. State Department, I gave a Distinguished Lecture at the National Academies of Sciences which was extremely rewarding. At NSF, I run successful panels and made granting decisions that support the works of many scientists throughout the USA.
More generally, the last few years serving in government have been extremely rewarding. especially when asked to participate in information gathering efforts and/or provide insights/views to the White House Office of Science and Technology and other officials.