Tristen Luken reflects on time with the Kennedy Museum of Art
Published: March 21, 2023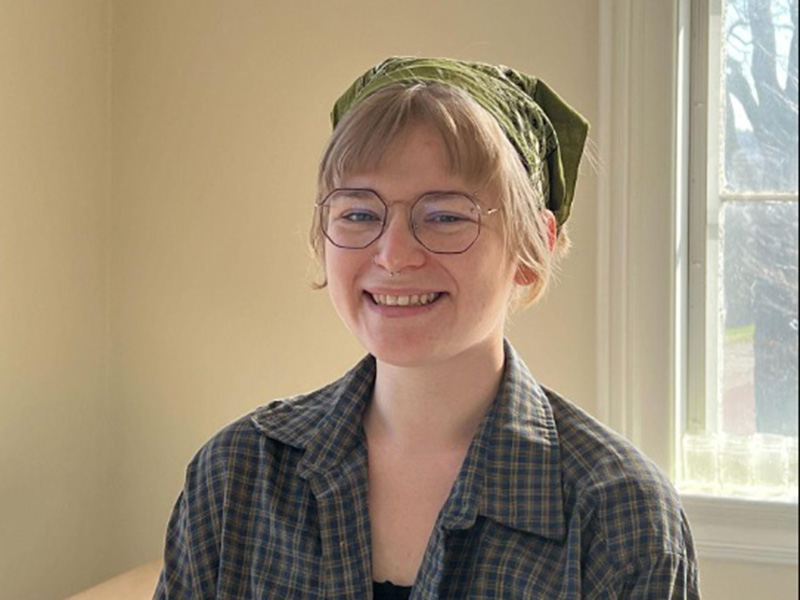 From the delicately curated exhibitions to the carefully maintained architecture, passion exudes from every corner of the Kennedy Museum of Art. The museum's education program offers a prime example, says program-director Sally Delgado, of the way OHIO students engage in "experiential learning opportunities while serving the community."
One of these students is Tristen Luken, a senior printmaking student from Kettering, Ohio. Luken has been working at the museum for three years, in addition to having earned a certificate in museum studies. 
"The first time I heard about this program was when I was in high school. My high school art teacher went to OHIO, and she was also a printmaker. She would tell me about this job she had at the art museum, so when I was a freshman and we visited the museum, I said to my current boss that I was really interested in getting a job there," Luken said.
Luken's main responsibilities involve working on the academic team. The team helps organize programs for local groups to experience the exhibits in an interactive and personalized way, like when an activity was designed for a group of high school Spanish students to participate in a creative studio workshop inspired by their coursework. Additionally, Luken assists with planning monthly open studios for families, and enjoys assisting in curatorial work around the museum. 
One of the specific projects Luken spearheaded is the "Alumni Spotlight," in which she connects with alumni of Ohio University to share their experiences with the Kennedy Museum of Art on the museum blog. This was a project that began during Luken's first semester at the museum, which coincided with the shift to virtual learning due to the pandemic. The project started with an interview with her high school art teacher and mentor, Meghan Dillon, BFA. 
Having worked at the museum throughout so many different time periods, Luken possesses a unique perspective on how time has changed the museum and how confidence levels increase as years go by. 
"[It's important to be] okay with critique and feedback, and knowing that it doesn't mean that you're bad. It's just how you continue to grow," she said.  
Luken has held a myriad of different positions at the museum, called a "connective force" by Delgado. 
"She has worked individually with each member or our small senior staff and has been a team leader with a changing group of student staff. She also just has an inner spirit that I would say feeds on collaborative experiences which are at the core of what we do," said Delgado. 
Watching Luken walk through the museum, it is apparent that her appreciation for the exhibits is not contingent on her involvement, but is based on an understanding of the beauty and uniqueness of each piece at a fundamental level. This quality represents the best of what the Kennedy Art Museum education program has to offer. 
"[The most valuable thing I've learned is] the importance of a good team, having good connections, and being present," she added. 
Luken's plans for the immediate future include another year at Ohio University to earn a masters in arts administration. After that, she hopes to work in a museum or print shop somewhere outside of the state she has lived in her entire life.
Luken hopes for the same outcome as many people: a job she doesn't hate that allows her to be creative. Delgado believes that Luken has the drive and skill to pursue a variety of options, and asserts that she will have the support of the museum team wherever life takes her.