Alumnus Ben Holt starts his next adventure as VP for Innovation at AgBiome
Published: April 25, 2023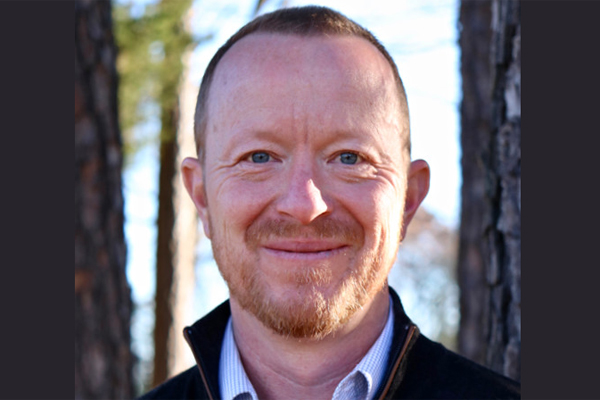 Alumnus Ben Holt didn't have his career path mapped out when he arrived at Ohio University with a bachelor's degree in wildlife to study for a master's in plant biology, got hooked on biochemistry and genetics, and eventually left Athens to pursue a Ph.D. in molecular biology.
Holt, recently named Vice President for Innovation at AgBiome, continued to defy gravity in his career path.
He earned his Ph.D. at the University of North Carolina at Chapel Hill and then spent four years there as a postdoctoral researcher before joining the tenure-track ladder at the University of Oklahoma. He made full professor in 2017, teaching molecular biology and plant physiology, with research focus on developmental genetics, transcription factors, and synthetic biology. In 2018 he was named the Kinney-Sugg Outstanding Professor.
By early 2019, Holt left behind the comfort of tenure for the challenge of a corporate R&D position. He and his family were headed back to Research Triangle Park in North Carolina, where he would "partner with the microbial world" at AgBiome in the search for safer products to enhance global food production.
AgBiome's website
says its products compete with and complement synthetic pesticides, and offer significant advantages:
Lower carbon footprint
Reducing synthetic chemical residues on food
Reducing worker exposure to synthetic pesticides
Overcoming pest resistance that limits most synthetic chemical pesticides
In his new role, Holt will be looking to build corporate partnerships that leverage AgBiome's world class technical platform.
How did Holt go from studying fish in the mountains of Maryland to joining a research effort to help feed the world in a more environmentally friendly way?
Q&A with Ben Holt
Q: What has been your greatest success or achievement in your career?
A: I don't have a single greatest achievement I would list. Because I have worked in number of very different and unique environments — academia (professor at the University of Oklahoma), federal government (program officer at the National Science Foundation), and industry (currently the vice president for innovation at AgBiome), I have had the honor of impacting and advancing the careers of many excellent people. Those people were collectively able to achieve so much more than me and have acted like a force multiplier for my own small efforts.
At the end of the day, when I have purposely directed my efforts towards a big and meaty personal achievement, the outcomes have mostly been a letdown—a big lesson many scientists learn when they earn their Ph.D. When I was at OHIO, Ivan Smith (that's Dr. Smith to you, young man!) always emphasized learning something new every day. I think he had all this figured out. The great achievements are my accumulated learnings and impacts on other careers from a lifetime of small, consistent efforts.
Q: What path did you follow to get where you are today?
A: I am terrible at following paths. I wish someone had told me this was OK when I was younger. If you are the type of person who has the next 10 years mapped out and that works for you, I applaud you — genuinely. But I am not that person and I have still managed to achieve plenty to feel good about in my career.
Could I have done more with a planned route? Maybe, but I have done so many different and interesting things, and I have always followed my own instincts, usually in real time. I wouldn't, and truly couldn't, change that — it's intrinsic to my personality. At each stage of my career, the next stage has just organically arrived in an unpredictable manner. Instead of a path, I have been guided by a simple internal guideline: Choose novelty over what I already know, and if doing something new doesn't scare me (appropriately), it's not worth doing.
Q: What were your majors and degrees?
B.S. in Wildlife and Fisheries Management, Frostburg State University
M.S. in Plant Biology from the College of Arts and Sciences at Ohio University
Ph.D in Biology (Molecular), University of North Carolina at Chapel Hill
Q: Did you do any research projects or other experiential learning opportunities?
A: I started building my research career early in my undergraduate years. I studied water quality in streams with a professor at Frostburg. I ran a crew for two years that assessed trout populations in western Maryland mountain streams, and I spent a summer working for the Student Conservation Association in Utah. I ran a large garden that supplied food for families in need (and I taught gardening classes) while simultaneously working on my M.S. degree at OHIO.
I found lots of ways to follow my interests and expand my education throughout my life. By temperament, I like to work. My amazing wife, Angie, of 32 years still has to remind me that it's OK to take a break! I am a slow learner, but I am getting there.
Q: Who were your favorite professors and how did they make an impact on your life?
Dr. Ronald Barry, Animal Behavior, Frostburg, taught me how to organize thoughts and be a good professor, many years before I knew I would be a professor.
Dr. Donald Duckson, Hydrology, Frostburg, taught me that synthesizing ideas trumps regurgitating facts, every time.
An English professor at Frostburg taught me the trilogy of being an educated person: Reading-Writing-Thinking in equal measure.
Dr. Brian McCarthy, Ecology, Ohio University, taught me not to patronize students and to relentlessly expect more. He taught me that intellectual gain comes at the cost of genuine effort.
Dr. Ivan Smith, Biochemistry, Ohio University, my M.S. advisor, taught me that I wasn't the smartest person in the room, and massively, positively impacted my belief in my own potential in his typical understated and English way.
Dr. Gar Rothwell, Paleobotany and Morphology, Ohio University, my unofficial second advisor at OHIO, taught me how to get after it and how to write a paper, fast.
Dr. Art Trese, Plant Molecular Biology, Ohio University, taught me that it is important to know yourself and to be kind and helpful to others.
Dr. Jeff Dangl, Molecular Biology, UNC, my Ph.D. and postdoctoral advisor, taught me to expect greatness in myself, others, and our research group, and that what you expect is what you have a shot at achieving. He also taught me that the best things you can do to help smart people achieve great things are to find them the necessary resources, remove unnecessary obstacles, and help them develop important goals—the "why should anyone else care about this?" standard.
Q: What was your ah-ha moment at OHIO—that point where you said to yourself, "I've got this!"?
A: OHIO was the first time I was legitimately a good student, from start to finish. During my undergraduate years, I over relied on my native intelligence to get by (barely), and I didn't start developing good study habits, or a serious attitude about my education, until I was in my junior year. I consistently under-performed academically, as evidenced by a 2.9 GPA. When I arrived at OHIO, I was married (still am, very happily!) with a 2-year-old son and an underperformance-chip on my shoulder, of my own making.
I owed it to myself and my family to grow up, not to mention that Ohio gave me an opportunity that I was fortunate to receive. I studied incredibly hard my first year and, for the first time in my life, I was one of the high-achieving students. This was an ah-ha revelation — I could be that student. I could create my own opportunities; excellence in academia was available to me.
Q:  What was the hardest hill you had to climb (not counting Jeff Hill) at OHIO? And how did you overcome challenges or obstacles in your path?
A: I think my wife, Angie, climbed a much, much harder hill than me. When we arrived in OHIO, we had only been married a few years, and I left her alone most days in a quiet neighborhood with an infant to manage. We had very little money. I was still learning to be a better husband and partner. Her service to me and our family was extraordinary. It's too easy to say that those sacrifices were necessary or turned out well for us — that's true AND it's true to say that I asked for far too much. I am forever thankful that Angie stuck with me and keeps sticking with me.
Q: What are your favorite OHIO memories?
A: Lying on the floor of my study in Albany, Ohio, listening to the radio announcements of OHIO Bobcat basketball games. This was the era of Gary Trent, and it was such a needed break from the regular stress of daily life.
Q: What's the one thing you would tell a new OHIO student not to miss? 
A: Stop and take in some sun on a nice day along the Hocking River.
Connect with Ben Holt on Linkedin.
Editor's Note: Read more about OHIO's leadership in health education.